Electronic Drum Set
Based on the Alesis Advanced Drum module

Contains 671 sounds

54 Presets and 20 user kits

Import your own samples via USB

Additional input for a fourth tom and a second crash pad

2 Master outputs 6.3 mm mono jack

Headphone output 3.5mm stereo jack

Aux input 3.5mm stereo jack

MIDI input and output

USB connection for MIDI connections and for loading new sounds

Required surface area approx.: 120 x 80 cm
Set configuration
1x 10 "Two-Zone Mesh Head Snare Drum

3x 8 "Two-Zone Mesh Head Tom Pads

1x 8 "Mesh Head Kick Pad including Kick Drum Pedal

1x 10 "Hi-Hat Pad

1x 10 "Crash Cymbal Pad

1x 10 "Ride Cymbal Pad

Including chrome drum track, connecting cable, drum sticks and tuning key
available since
March 2018
A lot to discover under the bonnet
The Alesis Command Mesh Kit is an eight-piece e-drum set that fits easily into any flat due to its compact dimensions and can be played at extremely low volume thanks to its dual-zone mesh heads. Well over 600 sounds ensure that you can still discover new sonic possibilities even after many years, and in addition to 54 preset drum kits, which cover all imaginable musical genres, there are also 20 memory slots for self-created kits. As the icing on the cake, you can even import your own sounds, samples, or loops into the module.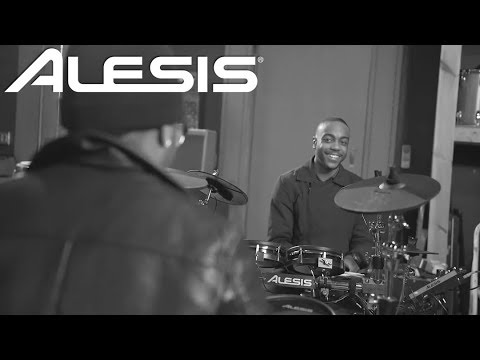 A true all-rounder
Whether you're into Rock, Metal, Jazz, Reggae, Bossa Nova, or any other genre of music, the Command Mesh Kit can do it all. And that applies not only to the sounds but also to the numerous play-along tracks that cover a huge stylistic range. On the other hand, if you prefer to drum to your own favourite music, simply connect your smartphone, CD player, or laptop to the audio input and you are ready to go. And if you also want to use your favourite samples, you can easily transfer them to the module via a USB stick.
Learning at home works best
Anyone who wants to play the drums at home in a relaxed manner without disturbing the family and likes to be creative in different styles will find the ideal partner in the Alesis Command Mesh Kit, which is just the right tool for both ambitious hobby drummers and drum students who need an instrument for daily practice at home. It's good to know that the ultra-stable chrome rack can withstand even the wildest escapades unscathed, because after all, things can get particularly wild when young drummers are involved.
About Alesis
Alesis was founded in 1984 by Keith Barr in Hollywood, California, and has become one of the leading manufacturers of signal processors, drum machines, synthesizers, and other studio equipment. The company's most successful products during its early years were the MIDIverb, the HR-16 drum machine, and the ADAT multitrack digital recorders. In 2001, Alesis was acquired by Numark owner Jack O'Donnell and is now part of his InMusic parent company alongside brands like AKAI, Denon, and many other well-known names in the audio manufacturing industry. Alesis has also been a major player in the field of e-drums for many years and offers a large choice of products in all price ranges.
The mobile drum kit
Almost all components of the Alesis Command Mesh Kit are attached to a solid rack, but as the compact design of the pads keeps the weight within reason, the entire drum kit can be easily carried by one person. This means you can move the set to another spot without further ado when mum comes into the room to vacuum or your little sister wants to play with her dolls. It also comes in handy that the kit can be folded up and stored in a corner of the room to save space without having to disconnect cables or remove pads.