E-Drum Set
385 Sounds

40 kits

60 songs

Additional input for a fourth tom and a second crash pad

2 Master outputs 6.3 mm mono jack

Headphone output 3.5 mm stereo jack

Aux input 3.5mm stereo jack

MIDI input and output

USB

Required surface area approx: 120 x 80 cm
Set configuration:
1x10 "Two-Zone Mesh Head Snare Drum

3x 8 "Two-Zone Mesh Head Tom Pads

1x 8 "Mesh Head Kick Pad including Bass Drum Pedal

1x 10 "hi-hat pad

1x 10 "Crash Cymbal Pad

1x 10 "Ride Cymbal Pad

Including drum track, connecting cable, drum sticks and tuning key
available since
March 2018
Ready for any surge
The Alesis Surge Mesh Kit is an upper entry-level e-drum set that is fully equipped with mesh heads and makes a solid impression thanks to its stable chrome-plated rack. The set includes three toms, a snare, a bass drum, two cymbals, and a hi-hat - which is absolutely sufficient for beginners and advanced players. The control centre of the Surge is a compact module that promises long-lasting drumming fun with 385 sounds, 40 drum kits, and 60 songs.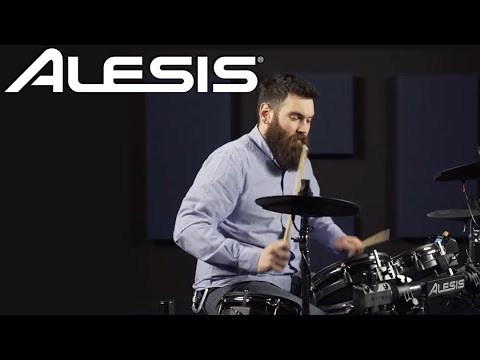 Everything on board
With the Surge Kit, the focus has been placed on the widest possible range of sounds, so in addition to numerous acoustic drum kits, it also features trendy electro sounds and lots of percussion kits. Because it features mesh heads - mostly in the dual-zone version - the playing feel is close to that of an acoustic drum set. In addition to 24 preset drum kits, you also get 16 memory slots for your own kit configurations. There are various options for practising, and of course the module also has a recording option on board.
A tad quieter, please?
Because the pads are equipped with mesh heads, the volume from each hit is significantly lower, which makes the Surge Mesh Kit perfect for use as a practice set at home. For beginners who want to learn how to play the drums, the 60 play-along songs offer an excellent opportunity to cover a wide range of musical styles. An important basis of playing the drums is learning the correct foot technique, which is easy with the Alesis Surge Kit, as it comes with a regular bass drum pedal instead of a foot controller.
About Alesis
Alesis was founded in 1984 by Keith Barr in Hollywood, California, and has become one of the leading manufacturers of signal processors, drum machines, synthesizers, and other studio equipment. The company's most successful products during its early years were the MIDIverb, the HR-16 drum machine, and the ADAT multitrack digital recorders. In 2001, Alesis was acquired by Numark owner Jack O'Donnell and is now part of his InMusic parent company alongside brands like AKAI, Denon, and many other well-known names in the audio manufacturing industry. Alesis has also been a major player in the field of e-drums for many years and offers a large choice of products in all price ranges.
And the winner is ...
It's a well-known fact that kids love competitions, and what better motivation to practise diligently than the judgment of an incorruptible referee? As the product specialists at Alesis know this too, they have given the Surge Mesh Kit several practice options which rate your playing at the end - if you wish. Fun is also guaranteed by the many different sounds that will not let you get bored. If you want to use sound libraries from your computer instead of the internal sounds, you can easily do so thanks to the MIDI and USB connections.
This is what customers who viewed this product bought