2-Channel USB2.0 Audio Interface with USB-C Connection
24 Bit / 192 kHz

XLR/TRS combo input for microphones, line signals and instruments

+48 V phantom power switchable

VU meter

Monitor level control

Headphone level control

Switchable direct monitoring with mix control

2 Line outputs: 6.3 mm jack, balanced

Stereo headphone output: 6.3 mm jack

Integrated USB-A hub (USB-MIDI, max. 250 mA)

MIDI in / out

USB bus-powered

Dimensions (W x D x H): 200 x 100 x 43 mm

Weight: approx. 0.5 kg

Colour: White

Includes USB cable (type C to A) as well as Ableton Live Lite, NI Guitar Rig LE, Arturia Analog Lab Intro, Pre 1973, Plate 140, Tape 201, JUN 6
available since
December 2021
Recording / Playback Channels
2x2
Number of Instrument Inputs
2
Number of S/PDIF Connectors
0
Number of ADAT Connectors
0
Numer of AES/EBU Connectors
0
Number of MADI Connectors
0
Max. sample rate (kHz)
192 kHz
Max. resolution in bit
24 bit
Connection Format
USB port Type C
Included in delivery
Software Bundle (Download): Ableton Live Lite, Analog Lab Intro, Pre 1973, Rev PLATE-140, Delay TAPE-201, Chorus JUN-6 und NI Guitar Rig LE; free 3 Months Auto-Tune Unlimited and Splice Creator Plan; USB cable (Type C to A)
Zero latency monitoring
1
The Arturia MiniFuse 2 is a two-channel USB recording interface that provides all the essentials you'll need to start recording at home – at a very attractive price point. Rather than be burdened with multiple superfluous connections and features, often redundant in small studio setups, Arturia has instead focused on delivering the best sound quality possible, in the most effective and straightforward way possible. The MiniFuse 2 is, literally, "plug and play". It operates easily and intuitively and comes bundled with a noteworthy software package (which includes an industry-standard DAW, amongst others) that will get you started right off the bat, without having to invest any further. The Arturia MiniFuse 2 is also future-proof, thanks to its fast USB-C socket.
Nothing else required
The Minifuse 2 is fitted with two frontal combo XLR / 6.3mm jack inputs which can be used with a microphone, a guitar or a bass (line levels are also possible). Switchable 48V phantom power is available for condenser mics. The Minifuse 2's front panel also features a dedicated gain input knob, to control input levels, as well as a larger "central volume" control knob, which allows quick and easy access to not only the main outputs, but also to many important internal parameters. The 6 LED VU meters help with monitoring and staying clear of that dreaded "red zone". The direct-monitoring output is pre-DAW to avoid system-induced latency during recording. A headphone output and its dedicated control knob complete the front panel. The back panel features two balanced, 6.3 mm jack outputs and two USB ports (both types A and C).
For solo home recording
The Arturia MiniFuse 2 is an excellent starting block for those wishing to take their first steps into the world of home-recording. While many people certainly like the idea of recording their own songs, or indulge in wild sonic experimentations, within the comfort of their walls (or elsewhere), many are put off by what are perceived as insurmountable technological hurdles. Enter the MiniFuse 2: it's "no nonsense" design and philosophy will appeal to the many, whether inexperienced neophytes, looking for a simple and intuitive interface, or accomplished home-studio producers, looking for the same qualities, alongside an uncompromising sound. The Minifuse 2 will suit perfectly, amongst others, guitarists, bassists, singers or podcasters, since they generally require only two channels.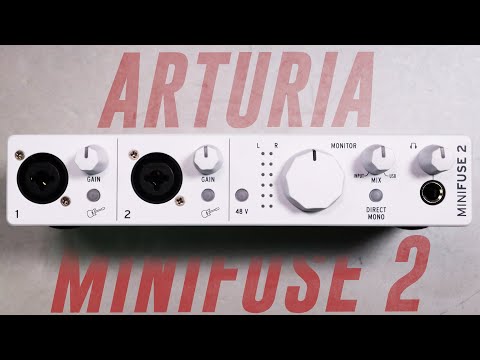 About Arturia
Arturia's success story began with software emulations of well-known analogue synthesizers such as Moog Minimoog, Sequential Prophet-5 and Oberheim SEM. The popular software instruments included in the V Collection are still flagship products of the French developer today. Over time, Arturia has gradually expanded its range and now also offers a host of hardware devices, ranging from synthesizers, keyboard controllers to sequencers. Thus, the former software developer has since also become a household name in the world of analogue synthesizers and other equipment.
Everything in one device
After buying an audio interface, it's likely you'll want to get started ASAP. For this to happen, you'll also require the appropriate software. Conveniently, The Arturia MiniFuse 2 comes with everything you'll need to get started (and more), including, at its heart, the world-renowned DAW (Digital Audio Workstation) Ableton Live Lite. Arturia's Analog Labs is an excellent keyboard and synthesizer emulator, for those classic sounds and hands-on experimentation, while bassists and guitarists will appreciate Native Instruments Guitar Rig 6 LE, a wide collection of amp and cab simulations, which often make external amp-miking redundant. A handy auto-tune plug-in is also included, as is a sample/loop editor (with access to a vast sound library), and, finally, four high-quality FX developed by Arturia round-off the package.
This is what customers who viewed this product bought