Four-Voice Analog Synthesizer
37 Velocity-sensitive full-size keys

4 Oscillators, each with triangle, sawtooth and pulse waveforms (including pulse width modulation), octave selector switch, controls for fine tuning and volume

Oscillators can be played in unison (with chord memory) and polyphonically

Oscillator synchronisation and cross modulation with adjustable intensity

Noise generator

Low-pass filter with resonance and adjustable keyboard tracking

2 ADSR envelopes for VCF & VCA

LFO 1 with 4 waveforms (triangle, square, rising and falling sawtooth) and adjustable intensity via modulation wheel

LFO 2 with triangular waveform for pulse width modulation

Arpeggiator

Pitch and modulation wheel

Adjustable control panel

Dimensions (W x D x H): 648 x 361 x 90 mm

Weight: 10.3 kg

Includes external power supply unit (12 V DC)

Suitable optional case: Art.512982 (not included)
Connections:
Line output: 6.3 mm mono jack

Headphone output: 6.3 mm stereo jack

CV and trigger inputs / outputs: 6.3 mm mono jack

CV inputs for VCO FM and VCF cutoff modulation: 6.3 mm mono jack

Foot switch input for portamento: 6.3 mm mono jack

Arpeggiator sync input: 6.3 mm mono jack

MIDI In / Out / Thru

USB-B port
Available since
December 2020
Number of simultaneous Voices
4
MIDI interface
1x In, 1x Out, 1x Thru
Number of Analog Outputs
1
Dimensions
648 x 361 x 90 mm
A modern reincarnation of the 4-VCO classic
The name says it all: The original 1982 Mono/Poly was a monophonic analogue synthesizer that could also be played polyphonically. The trick behind this feat was that its four VCOs could each be assigned to an individual voice before being sent through the filter and VCA stages together. At the time, this concept made the Mono/Poly an inexpensive alternative not only to contemporary large polyphonic synths, but also to its monophonic competitors such as the Minimoog and the ARP Odyssey. During the 90s, the Mono/Poly became something of an insider secret on the dance scene, since its four VCOs could produce a powerful bass response and rich lead sounds. As a result, its price rose steadily on the second-hand market. Behringer's MonoPoly is a largely faithful recreation of the original classic that makes this characterful synthesizer available to everyone once again while adding a few updated features.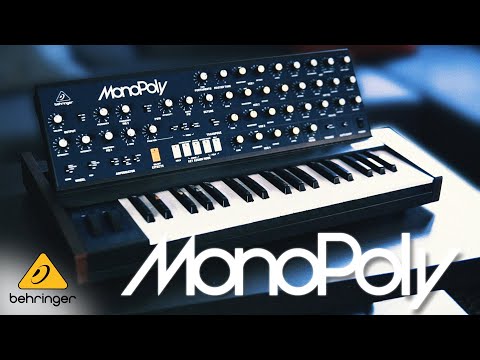 Unison, polyphony, and chords
The Mono/Poly was remarkably well equipped for an 80s analogue synthesizer. Its four VCOs with sync and cross-modulation functions, along with its distinctive resonance filter, made it stand out from the crowd. This synth certainly has character and can even sound pretty aggressive when needed. The Key Assign Mode switches between the monophonic Unison and paraphonic Poly modes, as well as a combined Share mode. The Chord Memory function is a specific setting in Unison mode: Up to four-part chords can be programmed and then played with a single key. This is a very popular feature, especially in House music and other minimalist styles, which can be expressed creatively and flexibly in conjunction with the integrated arpeggiator.
An affordable replica
Until now, the dream of owning an original Mono/Poly has not been an easy one to fulfil, since the original units are rather rare and the few that can be found generally fetch very high prices. The Behringer MonoPoly is a truly affordable version of the classic, and can thus be easily acquired by small studios and taken on tour without having to worry. In addition, modern features have been added, including MIDI and USB capability, inputs and outputs for CV/gate control and synchronisation, and a flip-up panel which makes the synth more easily operable when playing or adjusting the sound. This straightforward synthesizer will appeal primarily to musicians looking for an expressive mono synth and has the further advantage that one can create simple soundscapes and chords quickly and easily. The arpeggiator and Chord Memory function interact perfectly when it comes to sequencer-oriented tracks, as they can be effortlessly synchronised.
About Behringer
The company, which was founded in Germany by Uli Behringer and now manufactures its products in China, has been known for affordable and great-value equipment since its very first product, the Studio Exciter F. An array of mixing consoles (such as the Eurodesk MX8000), signal processors, and later sound amplification and monitoring equipment, has made it possible for countless musicians to fit out their home studios, practice rooms, and mobile PAs within budget limits that were previously unthinkable. The acquisition of other companies, including Midas, Klark Teknik, and TC Electronic, meant that new product groups were added - and also resulted in the technical expertise of these companies being incorporated into product development.
Compact (poly)-keyboard
With its 37 keys, the MonoPoly is well adapted to lead solo and bass line playing. However, the keyboard also has sufficient range for simple chords. Its real strength lies in this combination of paraphonic mode and Chord Memory function. In conjunction with the arpeggiator, complex patterns can quickly be put together. Controlling the synthesizer with a multi-track analogue sequencer allows separate rhythmic control of the filter and VCO FM. When the panel is folded down, the MonoPoly is ready to travel and can be taken to live gigs or to the project studio without any problems.
In the spotlight: Is paraphonic equivalent to polyphonic?
A polyphonic synthesizer requires all of its component sound generators, i.e. oscillators, filters, VCAs, envelopes, and LFOs to be present for each voice. With a paraphonic synthesizer, on the other hand, only the oscillators are assigned to a respective voice and the other components are shared. The oscillators can therefore be played independently of one another, whereas the post-processing elements such as filters, VCAs, and modulations remain the same for all of the voices. This generally goes unnoticed in practice, for example when playing chords or making moderate use of the filter. However, this may not be the case when using slow envelope times and deep filter sweeps, when the sound of sustaining notes is affected by new notes that are played.
This is what customers who viewed this product bought