4-Voice Polyphonic Analogue Synthesizer
37 Full-size velocity-sensitive keys

4-Voice polyphonic design with mono-, unison- and polyphonic mode

4 Analogue VCOs with triangular-, sawtooth- and pulse waveforms

Noise generator with white and pink noise

24 dB Ladder filter with resonance

Switchable low pass-/high-pass filter

Analogue LFO with square-/ triangular waveforms

2 ADS envelope for VCF and VCA

Analogue BBD stereo chorus

Integrated distortion with tone control

32-Step sequencer

Arpeggiator

Pitch- and modulation wheel

Adjustable control panel and 84 controls for intuitive operation

Includes an external power supply (12 V DC)

Suitable cover: Article Nr. 493960 (not included)
Connectors:
Balanced stereo output: 2x 6.3 mm jack

Adjustable stereo headphone output: 6.3 mm jack

External audio input: 6.3 mm jack

Inputs for V-trigger, modulation, pitch-CV, filter & loudness: 6.3 mm jack

Sync In/Out: 6.3 mm jack

Outputs for V-trigger, pitch, velocity and aftertouch: 6.3 mm jack

MIDI In/Out/Thru

USB-B port

Dimensions: 647 x 89 x 360 mm (W x H x D)
Available since
December 2019
Number of simultaneous Voices
4
MIDI interface
1x In, 1x Out, 1x Thru
Number of Analog Outputs
2
Dimensions
647 x 89 x 360 mm
A four-voiced return to the 70s!
The Behringer Poly D is a four-voice analogue synthesizer that includes a keyboard with complete with pitch bend and modulation wheel. The oscillators are also analogue and can produce triangle, sawtooth, and pulse waveforms. The features include a filter, an analogue LFO, and a noise generator. With these modules, classic synthesizer sounds of the 1970s can be performed. The design of the Poly D puts the sounds of bands and artists such as Kraftwerk, Keith Emerson, and Vince Clarke at your fingertips. The Poly D also includes a sequencer, a distortion unit, and a chorus effect in addition to a multitude of inputs and outputs on the rear panel. The swiveling user interface can be set to three different angles.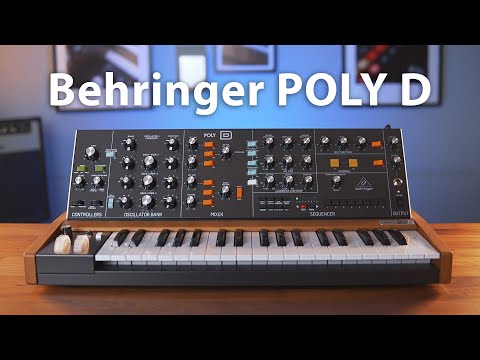 Classic vintage synthesizer
The Poly D can be operated in poly, mono, and unison mode. All four VCOs are adjustable in terms of their bandwidth, frequency, and waveform (triangle, sawtooth, and pulse). The pulse width on the oscillators can be dialled down to 50% or 25%, and the oscillator section is extended to include a noise generator that can produce white as well as pink noise. The analogue LFO can produce triangle and square waveforms. The envelope curves have adjustable attack, decay, and sustain phases. Decay can also be switched to a release mode here. The resonant 24 dB ladder filter is switchable between high-pass and low-pass. A chorus effect is integrated, which can really bring the Poly D's sound to life, and the distortion section, located on the right-hand side, can also be adjusted using the tone and level controls in addition to a distortion control that regulates the degree of distortion.
Paraphonic sound engine
If you are looking for fat polyphonic sounds in the style of the 70s, you will find what you are looking for in the Poly D. The signal path in the Poly D is purely analogue with an authentic reproduction of the original "Type D" circuit using adapted transistors and JFETs. The sound generation is paraphonic, which means that it takes place polyphonically with the oscillators. On the other hand, the sound shaping with VCF, VCA, and envelope curves only works monophonically. The keyboard with its illuminated pitch bend and modulation wheels covers three octaves. Furthermore, the Poly D has a switchable glide function. On the underside, the scale and range settings of the oscillators can be individually modified with a screwdriver. In addition to audio and MIDI connections, there are also patch outputs such as After Pressure, Pitch, V-Trig, and Velocity, which can also be used to control external synthesizers.
About Behringer
The company, which was founded in Germany by Uli Behringer and now manufactures its products in China, has been known for affordable and great-value equipment since its very first product, the Studio Exciter F. An array of mixing consoles (such as the Eurodesk MX8000), signal processors, and later sound amplification and monitoring equipment, has made it possible for countless musicians to fit out their home studios, practice rooms, and mobile PAs within budget limits that were previously unthinkable. The acquisition of other companies, including Midas, Klark Teknik, and TC Electronic, meant that new product groups were added - and also resulted in the technical expertise of these companies being incorporated into product development.
Sequencer and arpeggiator for diversified textures
With the voltage-controlled 32-step onboard sequencer, you can programme up to 64 positions using the keys positioned on the left. Once you have a sequence running, you can move the oscillators individually and let them play different pitches. By using the arpeggiator in combination with the LFO, the chorus effect, and the distortion, interesting textures can be created. Depending on the orientation of the two switches for key tracking, this can be implemented at levels of 25%, 50%, and 100%. To be able to control other interesting functions with the keyboard, you can connect the aftertouch output to the filter input, for instance. If you want to achieve the kind of classic distorted sound characteristic associated with an analogue filter, you connect the headphone output to the external input with a jack cable. In this way, you can add more "drive" to the sound via the filter.
This is what customers who viewed this product bought