Vocoder
Analogue vocoder and string ensemble synthesiser

Keyboard with 37 semi-weighted and velocity sensitive keys

"Human Voice" (Male and Female) and "Strings" sections mixable for classic string and choir sounds

Analogue vocoder with tone control

BBD chorus for ensemble effects

Vibrato LFO

Pitch shift fader

Metal case with wooden side parts

Dimensions (H x W x D): 103 x 649 x 257 mm

Weight: 6.6 kg

Suitable protective cover: Art.481849 (not included)
Suitable case: Art.482980 (not included)
Connections:
Stereo / mono audio output: 6.3 mm jack

Headphone output: 6.3 mm jack

Microphone input: XLR / 6.3mm jack

External audio input: 6.3 mm jack

Hold and pitch input for vocoder: 6.3 mm jack

MIDI In / Out / Thru

USB-B port
Available since
April 2019
MIDI interface
1x In, 1x Out, 1x Thru
Number of Analog Outputs
2
Dimensions
103 x 649 x 257 mm
The perfect trio
The Behringer Vocoder VC340 has been created with the sound and looks of a long-discontinued vocoder classic from 1979 in mind and keeps the tradition alive. In terms of design, a vocoder, a string ensemble, a human voice sound generator, and a keyboard with 37 velocity-sensitive keys have been combined here to create a high-performance analogue instrument equipped with an opulent control panel and up-to-date MIDI and USB-MIDI interfaces. Get ready for those classic, warm-sounding, and musical tones that fans of the 70s and 80s know and love.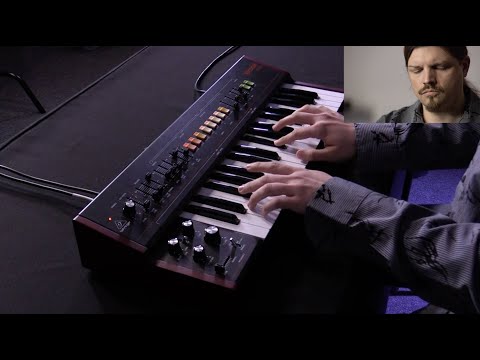 Speech, choirs, and strings
The vocoder plays a unique role in electronic music, since it allows synthesizers to talk. The voice signal comes in via an external dynamic microphone, which allows an internal or external sound source to speak or sing via an analogue filter bank with ten frequency bands. But that is not all: The Vocoder VC340 also combines an analogue string ensemble and the sound of a human voice choir, which can be played polyphonically and assigned to different parts of the keyboard. Combined with the integrated vibrato and chorus effects, this provides wonderfully smooth-sounding textures that do a lot more than perfectly enhance the vocal effects.
An electronic time machine
Vocoders became a regular part of electronic music at the end of the 1960s and were heard on countless chart hits in the two decades that followed. Polyphonic sounds at this time were often obtained from string ensembles, which means that the combination on offer here almost automatically delivers a vintage feel, making the Vocoder VC340 the perfect choice for those looking to revive the sounds of this era. At the same time, the instrument's intuitive user interface makes sound generation easy, which in turn makes this without doubt a musical instrument that is perfect for the stage and the studio.
About Behringer
The company, which was founded in Germany by Uli Behringer and now manufactures its products in China, has been known for affordable and great-value equipment since its very first product, the Studio Exciter F. An array of mixing consoles (such as the Eurodesk MX8000), signal processors, and later sound amplification and monitoring equipment, has made it possible for countless musicians to fit out their home studios, practice rooms, and mobile PAs within budget limits that were previously unthinkable. The acquisition of other companies, including Midas, Klark Teknik, and TC Electronic, meant that new product groups were added - and also resulted in the technical expertise of these companies being incorporated into product development.
Strings and vocals
The Vocoder VC340 gives you an analogue vocoder that reproduces the warm and distinctive sounds that have become synonymous with artists like Vangelis, Laurie Anderson, Tomita, and even Genesis and Pink Floyd. These are accompanied by dense string ensemble and choir sounds that can be played polyphonically and formed intuitively as well as enhanced with chorus, vibrato, and pitch-bend effects and distributed across two sections of the keyboard. Together with the 37 dynamic keys, this gives you a uniquely intuitive performance instrument that will excel both on stage and in the studio.
In the spotlight: Vocoder
The vocoder was developed by Bell Labs in the 1920s with the aim of transmitting spoken conversations via telephone lines with a low bandwidth. This technology was initially also employed in military applications before finding use in the musical sector. A vocoder works by passing the input signal – human speech – through a large number of parallel band-pass filters whose level curves are recorded by envelope followers. On the output side, these modulation signals are applied to a second filter bank, which is fed by a carrier waveform. The carrier signal thus takes on the modulations of the speech signal and is made to "speak". The pitch of the carrier signal is variable, which means that the synthesised speech information can be played musically using a keyboard and can even be used polyphonically.
This is what customers who viewed this product bought