Studio headphones
Dynamic

Open

Circumaural

STELLAR.45 driver

Impedance: 48 Ohm

Sound pressure level: @1 mW / 500 Hz 100 dB SPL

Frequency response: 5 - 40.000 Hz

Power rating: 100 mW

Max. input level : 30 mW

Distortion @ 1 mW 0.80% @ 100 Hz (0.05% @ 500 Hz , 0.04% @ 1 kHz)

Spring steel headband with memory foam

Interchangeable ear and head pads

Velour ear pads

Single-sided, pluggable cable

Weight: 345 g

Incl. Straight 3 m cable with mini XLR and 3.5 mm stereo jack plug with 6.35 m adapter, straight 1.8 m cable with mini XLR and 3.5 mm stereo jack plug with 6.35 mm adapter and a case
available since
October 2021
Frequency range
5 Hz – 40000 Hz
Type Of Connector
Mini Jack
From the Pro X series
The beyerdynamic DT 900 Pro X is a dynamic premium headset for studio applications that features an open-back, over-ear design and is part of the Pro X series launched by the company in 2021. Its new driver system was developed in Heilbronn (Germany) and delivers optimum sound quality, and the visually appealing ear pads ensure a high level of comfort – with the added bonus that they can also be replaced if necessary, as can the padding on the headband. The DT 900 Pro X has a single cable connection located on the left side, and users can choose between two removable mini-XLR cables – 1.8 m and 3 m long, respectively, and each equipped with a 3.5 mm stereo jack and a 6.3 mm adapter. Of course, the scope of delivery also includes the obligatory transport case.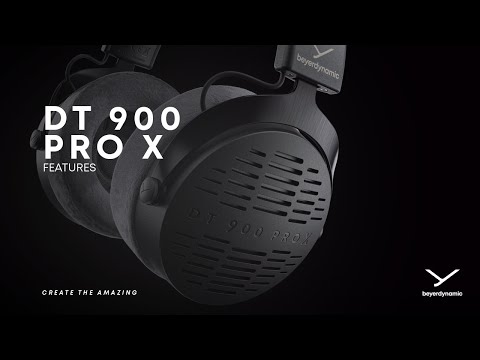 Newly developed drivers
The beyerdynamic DT 900 Pro X is characterised by its newly developed, highly efficient Stellar.45 driver system, which allows an extremely high level of playback quality with excellent spatial representation, a precise transient response, and a neutral sound character. All this of course makes the DT 900 Pro X far more than just a stylish headset for everyday use: It is also a precision monitoring tool for professional users. Its low impedance of just 48 ohms is also noteworthy, since this makes the DT 900 Pro X suitable for a wide range of applications and ensures a satisfying level of playback volume when used in conjunction with mobile devices.
Secure, snug, and comfortable
Besides delivering a pure-sounding, professional-quality signal, the DT 900 Pro X premium studio headphones are also very comfortable to wear, so "fatigue" won't set in even when they are worn for extended periods of time. The padded spring steel headband with an optimum contact pressure of 5.3 N keeps the DT 900 Pro X with its replaceable soft velour ear pads perfectly in place during those prolonged sessions at the studio desk or mixing console. The DT 900 Pro X is therefore an interesting choice for sound engineers, musicians, and producers looking for a comfortable studio headset for mixing and mastering.
About beyerdynamic
beyerdynamic was founded in Berlin in 1924 as a manufacturer of cinema loudspeakers. In 1937, Eugen Beyer developed the DT 48, the first set of dynamic headphones, followed two years later by the M 19 dynamic microphone. After the Second World War, the company moved to Heilbronn, Germany, and now also has a US subsidiary with headquarters in Farmingdale, New York. Beyerdynamic's most popular products traditionally include headphones and microphones for both live and studio use, and the company also has a strong presence in the consumer and conference technology sectors as well as in the field of installation microphones, interpreter consoles, and tour guide systems.
For studio pros
The open-back design of the beyerdynamic DT 900 Pro X means that the headset is less well-suited to use in the tracking room, since ambient noises are allowed to pass virtually unhindered and prevent the user from hearing the monitor mix without interference. On the other hand, however, the DT-900 Pro X is an excellent tool for assessing and editing music recordings in professional quality: The newly developed Stellar.45 drivers deliver a highly detailed signal with a neutral-sounding character, which means that all of the usual music production tools can be deployed with complete precision.