Condenser microphone
Suitable for vocals, acoustic guitar, piano, strings, broadcast applications, universal use for room miking as well as recording of drums, choir and orchestra

Extended and balanced frequency response

Integrated elastic system suspension

Polar pattern: Cardioid

34 mm true condenser capsule

Phantom power supply: 20 - 52 V

Operating principle: Pressure gradient receiver

Frequency range: 20 - 20.000 Hz

Nominal impedance: 180 Ohm

Max. sound pressure level (at 1 kHz): 133 dB

Very low inherent noise of 5.6 dB

Open circuit voltage at 1 kHz (0 dB = 1 V/Pa): 36.3 mV/Pa (-28.8 dBV ±2 dB)

3-pin male XLR connector

Dimensions (length x diameter): 197 x 52 mm

Weight: 296 g

Incl. Elastic mount, studio pop filter with gooseneck and bag
available since
October 2021
Switchable Polar Pattern
No
From the Pro X series
The beyerdynamic M 90 Pro X is a universal large-diaphragm condenser microphone and is part of the Pro X series launched by the company in 2021. It features a balanced frequency response and delivers high-resolution sounds in professional recording quality. The microphone's capsule is internally mounted in a way that effectively prevents the transmission of mechanical vibrations and handling noises, and the scope of delivery includes a pop filter with a gooseneck mount, which together with the integrated high-density foam suppresses unwanted noises such as plosives. The accessories supplied also include a carrying case and an elastic shock mount to allow the M 90 Pro X to be used with a microphone stand.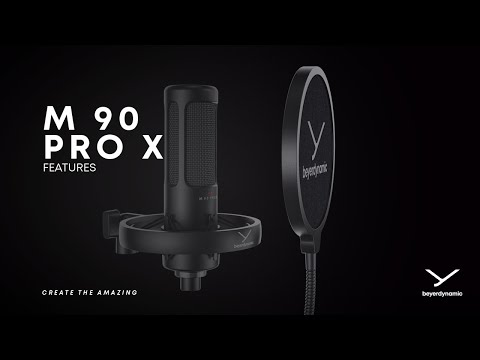 Designed for optimum results
The M 90 Pro X, which weighs in at just 296 grams, features a 34 mm true condenser capsule and has a pronounced cardioid polar pattern that suppresses ambient noise. Just like all other microphones of this type, the M 90 Pro X is also characterised by a high level of definition, a high output voltage, and a crystal-clear sound in addition to a very well-balanced proximity effect. The microphone's amplification circuit is custom-matched to the capsule and has been developed from scratch with state-of-the-art components that ensure a clear, low-noise signal that covers the range from 20 Hz to 20 kHz.
For content creators
With the M 90 Pro X, beyerdynamic has created a versatile condenser microphone that combines a top-quality, robust construction with great ease of use and thus delivers an excellent price-performance ratio. Regardless of whether it is used to record speech, vocals, or instruments, the M 90 Pro X picks up even the finest nuances and delivers a natural, richly detailed sound, and noise interference is minimised thanks to the integrated elastic capsule mounting and the shock mount and gooseneck-type pop filter included in the scope of delivery. All of this makes the M 90 Pro X a high-quality companion that will satisfy any creator of music or spoken-word content.
About beyerdynamic
beyerdynamic was founded in Berlin in 1924 as a manufacturer of cinema loudspeakers. In 1937, Eugen Beyer developed the DT 48, the first set of dynamic headphones, followed two years later by the M 19 dynamic microphone. After the Second World War, the company moved to Heilbronn, Germany, and now also has a US subsidiary with headquarters in Farmingdale, New York. Beyerdynamic's most popular products traditionally include headphones and microphones for both live and studio use, and the company also has a strong presence in the consumer and conference technology sectors as well as in the field of installation microphones, interpreter consoles, and tour guide systems.
A universal tool
Whether it is used as a single mic for recording singers, voiceovers, or instruments, paired with a bidirectional microphone as part of a mid/side stereo setup, or used in tandem for overhead drum miking or to create a pleasing stereo sound image when recording a choir or a string section, the M 90 Pro X performs well in a wide range of situations. As an all-round microphone for home, project, and professional studios, it can certainly hold its own against significantly more expensive microphones – and of course it is also a great option for broadcasting applications.