Modelling Combo for Electric Guitar
Completely wireless guitar amplifier - with radio transmitter for guitar

5 Unique ampsounds from the Katana Stage series

With 50 BOSS effects

For jamming - stream music via Bluetooth from mobile devices and computers

6 Onboard memory slots for storing your favourite amplifier and effects setups

Operates on 8 AA batteries or power adapter (included)

Channels: 6

Power: 30/20 W (power adapter/batteries)

Equipped with: 2 x 3" (7.5 cm) custom speakers

Cabinet construction: Bass reflex

Controls: Amp Type - Gain - Volume - Bass - Middle - Treble - Dst/Mod - Delay/FX - Reverb - Master

Switches: Dst/Mod - Delay/FX - Reverb - Tap - Bluetooth - On/Off - Ch

A - CH B - panel

Connectors: Input (6.3 mm jack) - Phones/Rec Out (stereo mini jack) - AUX In (stereo mini jack) - USB connection - power supply connection

Dimensions (W x D x H): 340 x 144 x 181 mm

Weight: 2.2 kg

Radio transmitter and power adapter included

Suitable replacement transmitter: Article no. 486908 (not included)
available since
June 2018
Connection for External Speaker
No
Battery Operation in hours
7 h
Ultra-compact stereo guitar amplifier with integrated wireless function
Boss presents the Katana Air: An extremely compact but extensively equipped guitar amplifier that comes equipped with a transmitter for wireless operation. The five basic sounds that the Katana Air has on board cover a wide range of tonal requirements, and the amp is also equipped with 50 high-quality effects that provide even more scope for players to sculpt the tone to suit their own individual taste. What is more, the Katana Air can be operated comfortably using the Boss Tone Studio app via the amp's integrated Bluetooth interface. Thanks to its extensive connectivity, the Katana Air – which incidentally weighs in at just a little over two kilogrammes – is ideal for practice, recording directly to a computer, and for small jam sessions.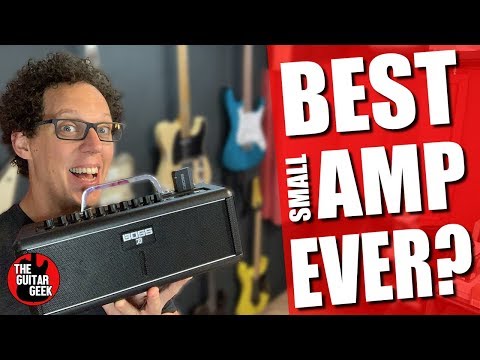 Five basic sounds that deliver the goods
The Boss Katana series offers a selection of excellent-sounding amp simulations, five of which have been integrated into the Katana Air. Players can thus choose between an acoustic simulation, a shimmering clean tone, a crunch sound, and two lead sounds, which are easily selectable using the dedicated knob on the amp's control panel. The Katana Air is also child's play to operate in every other respect, and it delivers everything that players expect from a "real" guitar amplifier: An EQ section with controls for bass, mid, and treble frequencies, together with a gain and a volume control that govern each of the individual basic sounds. On top of all that, the master volume control sets the volume for the amp's 30-watt power stage and its two built-in 3" speakers. Since it has two speakers, the sound of the Katana Air can of course be enjoyed in stereo, which means that the numerous on-board effects – including Chorus, Delay, Phaser, and Flanger – sound even more impressive. All this is topped off by six memory slots for players to permanently save their own settings.
The cables can stay at home
The Katana Air delivers two reasons for players to leave their cables at home – but that is not all: The scope of delivery includes a transmitter that provides up to 12 hours of wireless playing time and is equipped with a standby function. The system's motion sensor thus activates the standby mode when inactive and, when it is not in use, places the system in sleep mode. The W-LT transmitter can be charged either by connecting it to the amplifier or via its integrated USB socket. Besides no longer needing a cable to connect the guitar to the amp, players also no longer need a power cable, since they can also operate the Katana Air for extended periods on battery power without needing to connect the included power adapter to the mains.
A loyal sparring partner for a wide range of situations
There are plenty of reasons to add a Boss Katana Air to your desktop setup, whether it's for practising, spontaneous jam sessions, or recording to your computer in high quality via the USB port. Its five potent basic sounds that can be enhanced with great-sounding effects, together with easy operation using the Boss Tone Studio app, and the reassurance of having 30 watts at your disposal (plenty of power for small jam sessions) all make this ultra-compact amp a reliable companion for a range of situations.
About Boss
The Boss brand has been an important part of the Japanese Roland Corporation since the mid-1970s and has caused a sensation from its inception, especially with its compact effect pedals but also multi-effect units and other helpful tools for guitarists. The company's single effect pedals in particular are legendary and can be found in almost every guitarist's home. An incredible 15 million have been sold to date. With its Katana series, the manufacturer now also offers excellent amplifiers at a very interesting price point.
Everything from acoustic to Death Metal
Whether you're looking to record acoustic guitars or Metal sounds, Blues or Funk, Pop or Alternative Rock, the Boss Katana Air has the right sound for virtually every situation, and its 30-watt stereo power stage is easily sufficient to be heard during small jam sessions. The amp's integrated wireless system and the included transmitter mean that a cable is not needed, which in turn means one less tripping hazard to worry about. The wide selection of effects, which can all be controlled via Bluetooth using the Boss Tone Studio app, ensure clear and easy operation, and the amp's connectivity has been configured with practicality in mind. Last but not least, its housing is highly robust, so the Katana Air is more than a match for the rigours of use beyond the confines of the rehearsal room and stage.