Desktop Loopstation
For live and studio applications

Ideal for loop artists, multi-instrumentalists, vocalists etc.

5 Stereo tracks with separate control

AD/DA conversion: 32 bit / 44.1 kHz

48 V phantom power

Input FX and Track FX sections with 4 effects each and 4 Quick Access banks

Customisable FX and track buttons

Onboard effects: 49 input FX, 53 track FX and 2 master FX types

Mark Back function for flexibility in undo/redo operations

Memory for 99 phrases with 5 tracks each

Custom effects and playback settings as well as control assignments etc.

Max. recording time: approx. 1.5 h per track and approx. 13 h total memory

Over 200 integrated rhythm patterns and 16 drum kits

External control via MIDI

Optional foot switch or expression pedal

USB audio/MIDI functionality for use with DAW software

Phrase import/export and pattern import

Rec/Play, Start/Stop, Undo/Redo and Tap Tempo buttons

Level fader

LC display

Power supply via enclosed mains adapter

Dimensions (W x D x H): 420 x 234 x 67 mm

Weight: 1.8 kg
Connections:
2 Balanced microphone inputs: 3-pin XLR

2 Stereo line inputs: 6.3 mm jack

3 Stereo line outputs: 6.3 mm jack

1 Headphone output: 6.3 mm jack

2 CTL/EXP: 6.3 mm jack

1 MIDI input/output: 5-pin DIN

1 Type-B USB connector

1 Power supply connector
Available since
December 2021
The premier desktop looping station
BOSS presents the RC-505 MKII, a new and enhanced version of its top-of-the-line looping station, featuring five channels and a massive selection of onboard effects and features. This looping station both provides a template for the smaller RC-202 model and represents a "hand-operated" version of the RC-600 loop station, which was launched simultaneously and primarily designed to be operated with the player's feet. In addition to its wealth of creative effects, the RC-505 MKII also features a range of practical tools, including an input mixer and an output mixer with compressors and independent EQs for each channel, so that incoming and outgoing signals can be mixed on the device itself, all of which makes for more elegant and imaginative live performances.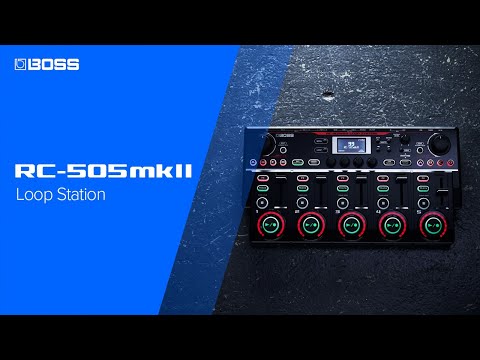 Five channels for live looping
Thanks to its two mic inputs in XLR format and two stereo jack inputs for instruments and the like, the RC-505 MKII is equipped to handle numerous types of audio sources. Each loop has a maximum recording time of 90 minutes and the unit can store up to 13 hours of audio material, so you can make your performance as long as you like without having to worry about running out of memory. To make it even easier to record loops, the RC-505 MKII also has an onboard metronome with a tempo recognition facility. The user can set the metronone to be audible via the headphone output while performing, in which case the stereo output transmits only the audio signals themselves. Loops can be stored in multiple banks, which allows them to be assembled into a complete song arrangement during a performance.
The ultimate tool for live improvisation
The RC-505 MKII looping station is perfect for creative live looping performances, whether you are beatboxing, singing, or playing synths or other instruments. The intuitive overdub recording technology used here means that it is now easier than ever to combine different instruments and audio signals while performing. As the bigger brother of the RC-202, this loop station with its five channels offers both a greater degree of creative freedom and a significantly extended range of general functions. These include a volume fader on each channel to speed up the mixing process, as well as a much broader selection of effects. It therefore goes without saying that the RC-505 MKII is primarily aimed at experienced looper users and those who need more channels and a wider range of key features than those offered by the RC-202 for their performances.
About Boss
The Boss brand has been an important part of the Japanese Roland Corporation since the mid-1970s and has caused a sensation from its inception, especially with its compact effect pedals but also multi-effect units and other helpful tools for guitarists. The company's single effect pedals in particular are legendary and can be found in almost every guitarist's home. An incredible 15 million have been sold to date. With its Katana series, the manufacturer now also offers excellent amplifiers at a very interesting price point.
Unleash your creativity
With the MKII version of its RC-505 loop station, Boss has enhanced and updated the available range of effects while also adding quite a few new ones, giving users a total of 50 input and master effects with extended paramaterisation options to give them more creative freedom than ever before. The "Input" and "Track" block can combine up to four effects simultaneously, with the input effects applied only to the incoming audio signals; these can also be added to the individual channels, however. The master effects in turn only affect the loops that have already been recorded on the individual channels and can be used to create transitions from one loop to the next, for example.
Advantages of the MKII version
The RC-505's internal audio engine has been overhauled and now offers 32-bit conversion and processing, thus providing better audio quality and higher gain levels compared to the previous model. The expanded input and output section and enhanced effects selection with EQ controls for each channel allow both the incoming and outgoing audio signals to be edited, and the channel faders' throw has also been extended from 30mm to 45mm for more precise adjustment, thus eliminating the need for an external mixer. The overall number of available effects has been expanded as well, and as mentioned above, both the "Input" and "Track" blocks can now utilise up to four effects simultaneously - one more than provided by the MKI version.
This is what customers who viewed this product bought