Drum Set
Complete acoustic drum kit equipped with DDrum Acoustic Pro Triggers

Drum shells with connector via integrated XLR outputs to electric drum module

Shell material: Birch

Colour: Satin black
Set configuration:
20" x 20" Bass drum

10" x 07" Tom tom

12" x 07" Tom tom

14" x 12" Floor tom

16" x 12" Floor tom

13" x 06" Snare drum

2 Tom holders

2 Multiclamps
Stands, drum hardware and electric drum module not included
available since
October 2014
Shell Finish
Lacquer, Matt
Colour of Shell Hardware
Red
The electro-acoustic all-in-one solution
At first glance, the DDrum Hybrid Kit looks like an acoustic drum set, but there's more to it than just that. Each of the drums is equipped with a trigger and an XLR socket, which means that the set can be converted into a purely electronic drum kit if required. With two rack toms and two floor toms, the features are extremely luxurious, and the use of birch wood as the shell material shows that no compromises were made despite the two-pronged concept. Bright red lugs create a striking contrast to the matt black lacquered drums, which perfectly meet the demands of the modern drummer with their combination of flat toms and an ultra-deep bass drum.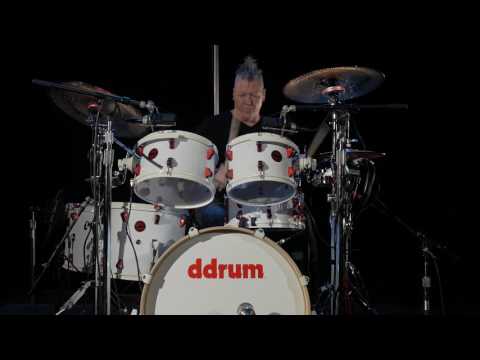 This is how good an e-drum set can look
First and foremost, the DDrum Hybrid Kit is an acoustic drum set with birch shells in a six-piece configuration. A mighty 20" x 20" bass drum forms the foundation, plus two rack toms in 10" x 7" and 12" x 7" sizes, two floor toms in 14" x 12" and 16" x 12" sizes, and a 13" x 6" snare. However, the special feature of the kit with which the drums are equipped are the triggers, which make it possible to trigger electronic sounds in addition to the acoustic sounds. For this purpose, the drum set is equipped with special Mylar skins that produce an acoustic sound and at the same time offer a very good trigger performance.
The perfect features for the modern drummer
Today's production methods require drummers to be flexible and to be just as familiar with electronic sounds as they are with their acoustic drum kit. Because of this, you can see more and more drummers on stage with hybrid kits that are mostly made up of components from different manufacturers. The DDrum Hybrid Kit offers an all-in-one solution and is ideal for live drummers who need electronic sounds for certain songs as well as for those who only play electro sounds but want to have the look and feel of an acoustic drum set.
About DDrum
DDrum was founded in Sweden in 1983 and was originally an offshoot of the manufacturer Clavia, world-famous for its NORD keyboards. The first electronic DDrum was introduced in 1984 and its continuous further enhancement reached its commercial peak in 1993 with the successful and at the time groundbreakingly sophisticated DDrum 3. The DDrum 4 was the last version of the series, and when the company was taken over by Armadillo Enterprises in 2005, a new era began. Since then, acoustic drums, hardware, and accessories have also been offered under the DDrum name, and well-known endorsers such as Vinnie Paul and Carmine Appice were brought on board. The current range of acoustic drums offers a wide range, from entry-level to high-end kits.
The wolf in (black) sheep's clothing
Let's imagine a live concert by a modern Rock band. A black drum kit is on stage, which with its combination of an extremely deep bass drum and four flat toms, equipped with bright red lugs and badges, looks extravagant and cool at the same time. With its birch shells, the kit produces a sound that comes across as fat and clear over the PA, and suddenly the drummer incorporates crazy sound effects and samples into their groove. The audience stares in disbelief at the acoustic drum set, wondering where these sounds are coming from. Such moments of surprise, which are possible with the Ddrum Hybrid Kit, leave a lasting impression and can enhance a show tremendously.