DJ Controller
Dedicated sub-layer control for SC6000, SC6000M, SC5000, SC5000M Prime media players

Compatible applications: Virtual DJ, Algoriddim djay Pro AI and Serato DJ Pro

8.5" Jog wheel with adjustable tension

3.5" HD colour display on the jogwheel

8 Multifunctional performance pads

Dedicated loop control and navigation control

100 mm Pitch fader with dual precision

Track search via touch strip

USB-powered

Dimensions (W x D x H): 360 x 320 x 120 mm

Weight: 2.83 kg

Includes USB cable and power supply
available since
April 2021
Stand Alone Mixer Function
No
Premium-quality controller for Denon Prime and DJ software
The Denon LC6000 Prime is a "performance expansion controller". Visually identical to the Denon SC6000 Prime minus the display and audio outputs, it provides an affordable but high-quality add-on for direct access to the second layer of Denon players and can also be used as a controller for DJ programmes like Serato DJ Pro, djay Pro AI, and VirtualDJ 2021. The versatile LC controller features the same high-end operating elements as the SC players, so a full DJ setup featuring two complete decks and plug-and-play connectivity can be created with just a Denon SC6000 or 5000 Prime and an LC6000 Prime, without complicated configuration work.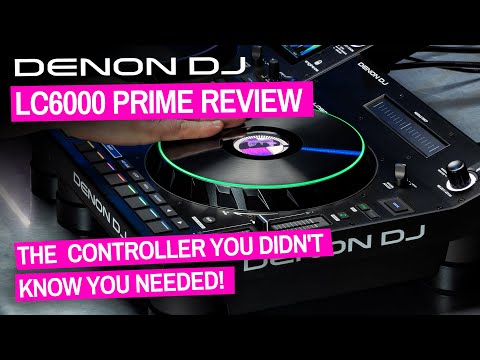 Two in one
Denon's idea – to simply omit the touchscreen and the audio engine of the SC6000 and offer its high-quality operating elements as a controller – is an ingenious one and immediately makes the LC6000 Prime one of the most professional DJ controllers on the market, if not the most professional. It is primarily aimed at DJs who wish to add an extra deck to their Denon SC Prime setup at a budget-friendly price. A handy feature is that the controller is compatible with all Prime Players, including the older 5000 series. Even "computer jockeys" aiming to get the most professional mixes possible with software like Serato DJ Pro, djay Pro AI, and Virtual DJ 2021 will find the LC6000 Prime to be the perfect companion to their DJ apps, since its construction and functionality are every bit as high-quality as those of Denon's stand-alone Prime players and thus unsurpassed in their superiority to most other compact DJ software controllers.
Mix like a boss
The Denon LC6000 Prime acts like a hardware unlock device for the second layer on Denon's SC6000, SC6000M, SC5000, and SC5000M players, and its quality and looks mean that it fits seamlessly into the picture. It features the same 8.5" jog wheel with its circular display for showing all of the most relevant information, as well as other familiar elements such as Transport, Loop, and Beat Jump buttons, rapid-response performance pads, a high-sensitivity pitch fader, and slick Pitch Bend buttons for precise manual beat matching. A high-speed cue point search within the relevant track can be made using the Needle Drop strip above the jog wheel. Even the playlist navigation and track loading functions take place entirely via the LC6000's operating elements, and the display of the connected player or computer serves only to provide visual orientation.
About Denon
The Japanese-American company Denon was founded in 1910 and established itself as a leading brand in the 1930s. It has long stood for ground-breaking technological innovations that were frequently world firsts in their time. Denon's passion for invention has produced many remarkable technologies, including the first professionally usable recording device for gramophone records (1939), the first Japanese stereo records and stereo systems (1951), and the first PCM recorder, which was based on the same principle as today's CDs (1970). In 1982, Denon launched the first CD player for home use, the DCD-2000, another milestone among its already widespread innovations. Today the company belongs to D&M Holdings Inc. and is famous for its hi-fi and DJ products.
Plug and play
Getting set up is child's play: Simply connect the Denon LC6000 Prime controller via USB cable to a Denon SC player, connect the latter's two audio outputs to two channels on the mixer, and you're ready to get mixing. A practical feature of the LC6000 is that it is also powered via the USB port by the SC player or, frequently, the computer. The Serato DJ Pro, VirtualDJ 2021, and djay Pro AI DJing apps are already prepared to allow them to be controlled via the LC6000, so no configuration or driver installation is required. Combinations with controllers from other manufacturers are also possible here, which is great news for DJs who use Serato Vinyl and want to expand their DVS setup by adding a truly professional Denon Prime/CDJ-style controller. Two turntables and two LC6000s? Check!
In the spotlight: Double-layer technology
Denon's SC600, SC6000M, SC5000, and SC5000M Prime players feature a so-called "double-layer", which means that they are equipped with a second, integrated player that DJs can access by switching the user interface. DJs will already be familiar with this feature from four-channel controllers with two jog wheels that allow the user to switch between two different virtual decks provided that the DJ software includes four virtual decks. This is a blessing for bedroom DJs in particular, since it means they don't necessarily need to purchase a second player. The downside, however, is the risk of forgetting which deck is currently active while mixing, and techniques like manual beat matching, juggling, and scratching generally require two actual decks. The LC6000 Prime allows DJs to make optimum use of the SC player's internal second layer without switching, so they feel like they are DJing and mixing with two complete players.
This is what customers who viewed this product bought