4-Deck Standalone DJ System
10" HD Multi-Touch display (gesture controlled)

Serato DVS compatible

Dedicated XLR zone output (optionally sends separate playlist to a second room)

Built-in 2.5" SATA drive bay

Direct audio recording of sets on USB stick / SD card / 2.5" SATA hard disk possible

Robust 6-inch metal jog wheel with central HD display

4 Assignable input channels for external media sources

2 Dedicated XLR inputs for microphones with own control

StagelinQ connection for Event / Pro DJ lighting and video control

Plays uncompressed audio formats (FLAC, ALAC, WAV), precise 24-Bit Denon DJ Legacy Audio

4 USB inputs and 1x SD input for music playback

Supports USB keyboard

2 XLR outputs master (left / right, balanced)

1 RCA output pair master (left / right, unbalanced)

2 XLR outputs Booth (left / right, balanced)

2 XLR outputs zone (left / right, balanced)

1x 6.35 mm (1/4") stereo output (headphones)

1x 3.5 mm (1/8") stereo output (headphones)

2 RCA input pairs (Line-Level, unbalanced)

2 RCA input pairs (phono or line level, unbalanced)

2 XLR / jack combo jacks

Dimensions: 728 x 497 x 104 mm

Weight: 9.7 kg

Includes Serato DJ Pro

Suitable case: Art.494082 (not included in delivery)
Suitable bag: Art.480105 (not included in delivery)
Supported audio formats:
AAC/M4A

AIF/AIFF (44.1 - 192 kHz, 16 - 32 Bit)

ALAC

FLAC

MP3 (32 - 320 kbps, VBR)

MP4

Ogg Vorbis

WAV (44.1 - 192 kHz, 16 - 32 Bit)

24 Bit Denon DJ Legacy Audio
available since
June 2019
Controller type
All in one
incl. software
Serato DJ Pro
Stand Alone Mixer Function
Yes
Construction Type
Tabletop Device
Fully equipped DJ workstation
The Denon DJ Prime 4 is a well-thought-out and outstandingly robust complete workstation for DJs. This console can be used as a controller for the Serato-DJ software, but its true strength lies in stand-alone operation, and DJs can also stream music from Beatport, Beatsource LINK, Soundcloud, Tidal, or from their own Dropbox accounts via Wi-Fi. For performing, the DJ Prime 4 provides four complete channels with three-band EQ, two microphone channels, effects, and cue buttons as well as mix recording functions – and it goes without saying that further external devices such as CD players and drum machines can also be connected. Turntables can be connected and used as controllers for Serato DVS, and the corresponding Serato DJ Pro software is included. And thanks to its StagelinQ connectivity, the DJ Prime 4 can even control event lighting and video feeds.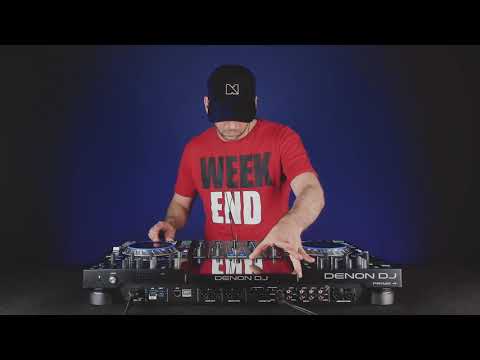 Main stage vibes
The generously dimensioned Denon DJ Prime 4 exudes main stage vibes from the moment it is switched on. The control elements have a high-quality look and feel and are intuitively laid out, and the two fully equipped player interfaces have access to four digital decks. Alternatively, external signals can also be routed to the mixer channels. Each player is equipped with eight performance pads that make the rapid selection of cue points and the creative use of loops and beat juggling child's play. Beat matching can of course be done automatically using the Sync buttons or manually via the high-precision pitch faders, which cover a range of 4 to 100%. The master tempo function ensures that pitch remains constant even when extreme tempo changes are made, and the pitch can be adjusted in semitone increments for harmonic mixing. The mix can then be recorded to any medium connected to the Prime 4.
The new benchmark for mobile DJs
The Denon DJ Prime 4 is a surprisingly affordable all-in-one solution for DJs looking for a complete Denon DJ setup that combines all of the essential functions in a single stand-alone device: Two fully equipped player interfaces with high-precision jog wheels that feature scratching capability together with a central HD display, a fully equipped four-channel mixer, two microphone channels with separate EQ, talk-over, and integrated echo effects as well as a range of additional effects and connections for external devices. This console is the perfect solution for home DJ booths – whether it's for mixing, streaming, or preparing for the big stage. The option of integrating an SSD means that mobile DJs can carry their entire music collection with them wherever they go and thus leave their laptops at home, since they can use the 10" HD multi-touch display or an optional USB keyboard to find any song in seconds.
About Denon
The Japanese-American company Denon was founded in 1910 and established itself as a leading brand in the 1930s. It has long stood for ground-breaking technological innovations that were frequently world firsts in their time. Denon's passion for invention has produced many remarkable technologies, including the first professionally usable recording device for gramophone records (1939), the first Japanese stereo records and stereo systems (1951), and the first PCM recorder, which was based on the same principle as today's CDs (1970). In 1982, Denon launched the first CD player for home use, the DCD-2000, another milestone among its already widespread innovations. Today the company belongs to D&M Holdings Inc. and is famous for its hi-fi and DJ products.
Simply switch on and you're ready to mix
Music can easily be prepared using the free Engine Prime software, for which regular updates are available. Cue points and loops can be added, and tracks can be grouped into playlists and synchronised on USB sticks or SD cards. Once these external data carriers have been connected to the Prime 4, DJs can use the folding HD multi-touch display to select, load, and play their playlists. What is more, an SSD can also be integrated, thus providing ample space for even extensive music libraries. The Prime 4 also directly allows tracks to be analysed and playlists to be created without the aid of a computer, and these are then transferred to the computer's Engine Prime library when the next USB synchronisation takes place. And an important feature for mobile DJs is that the DJ Prime 4 workstation can also access popular streaming services such as Beatport, Beatsource LINK, and Soundcloud as well as private Dropbox accounts via Wi-Fi, without the use of data carriers.
In the spotlight: Zone Out
In addition to its Master Out and Booth Out connections, the DJ Prime 4 also features a so-called "Zone Out", to which a dedicated playlist can be assigned. This professional-quality dual XLR output allows mobile DJs to play completely different music in a separate room, which opens up entirely new creative possibilities: At a party, for example, they can thus provide the perfect music mix for the dancefloor indoors and simultaneously use channel 4 to play relaxing lounge music for the guests outside. This special feature means the Denon DJ Prime 4 is also perfect for applications that go beyond the scope of "normal" DJing.
This product is currently sold out
These are other customers' choices: