E-drum set
6-ply birch shells

Drum module with aluminium housing

98 multi-layer sounds

17 preset kits

83 user kits

15 recording user songs

Metronome

Integrated USB audio interface (8 out / 2 in)

Bluetooth for audio in and MIDI

MIDI out

Finish: Black Oak

Includes snare stand, 3 x cymbal boom stands, 1 x tom holder, and cymbal arm for splash pad
Set configuration
16" x 12" bass drum pad

12" x 5" triple-zone snare pad

10" x 7" dual-zone tom pad

12" x 12" dual-zone floor tom pad

13" x 13" dual-zone floor tom pad

8" dual-zone splash pad

14" dual-zone hi-hat pad with controller

Two 16" triple-zone crash pads with choke

18" triple-zone ride pad with choke
Note: Bass drum pedal and hi-hat stand not included
available since
September 2021
Great looks and outstanding sound quality
The Efnote 5X is an e-drum set for users with high demands, which can hardly be distinguished visually from an acoustic drum kit and makes no compromises in terms of dynamics and sound quality. Five six-ply birch shells, equipped with double-ply mesh heads, create a familiar atmosphere when you take a seat behind the kit. Of particular note are the cymbal pads - including an 8" splash - whose trigger elements are distributed over the entire playing surface. With the 98 multi-layer sounds, which only include acoustic sounds, the focus has been placed on the greatest possible authenticity, making the Efnote a fully-fledged replacement for an acoustic drum set.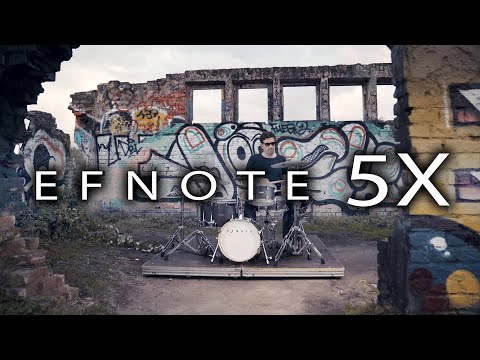 Less is more
Whereas many e-drum manufacturers try to outdo each other in terms of the number of module sounds, understatement is the order of the day with the Efnote 5X. The module, which features a high level of workmanship and is equipped with a touchscreen, offers almost 100 top quality sounds, and anyone who can do without electronic sounds and effects will be more than happy with this. The sounds can be edited in many ways and stored as user samples to 128 memory slots. In addition to 17 preset drum kits, 83 memory slots are available for user kits. A Bluetooth function enables you to wirelessly jam along to your favourite songs on your smartphone, and for recording sessions, the Efnote 5X can send eight separate channels to a computer via USB.
A serious alternative to an acoustic set
With its chic vintage look, the Efnote 5X is an absolute eye-catcher on every stage. Hardly anyone in the audience will notice that it is an electronic drum kit, and the sound that comes out of the PA speakers is in no way inferior to an acoustic kit. The setlist function, which enables entire concert setlists to be saved, makes this kit an even better choice for live performances. The kit is also suitable as a rehearsal room drum set in noise-sensitive environments or as a practice drum set for demanding amateur drummers. Various practice functions are available for this purpose, and you can also easily record your own performance and save it to one of the 15 song storage slots.
About Efnote
Efnote was founded in 2018 by former employees of the Roland e-drum development department. The company's portfolio includes various e-drum sets in the upper price range, with the greatest value being placed on maximum sonic authenticity. In terms of both design and technology, Efnote's e-drum sets offer innovative features such as module operation via touchscreen, cymbal pads with a 360° playing surface, and eye-catching hardware systems. The most popular model is the Efnote 5, which looks like a conventional acoustic drum kit with its birch wood shells and sparkling silver foil.
Made for the stage
Thanks to its stunning looks, the Efnote 5X e-drumset is almost predestined for the stage, and it also offers the ideal technical requirements for this application: Flexible routing of the instrument channels, authentic drum sounds with a wide dynamic range, large playing surfaces, and a setlist function. Your fellow musicians will enjoy a transparent stage sound, so that the overall volume can be reduced to a comfortable level and everyone can adjust the drum volume individually on their monitor. Of course, this also applies to rehearsal room sessions, where the Efnote 5X can certainly replace the acoustic drums, provided you have an appropriate PA.