Digital Drum Machine
8 Internal audio tracks

8 Dedicated MIDI tracks

1 Multimode filter per audio track

2 Assignable LFO per track

Delay and Reverb send effects

Built-in sequencer

Support for sampling

OLED display

64 MB Sample memory

1 GB + drive storage

10 Knobs

16 Pads

2 x 6.3 mm jack input

2 x 6.3 mm balanced jack output

1 x 6.3 mm headphone out

1 High speed USB 2.0 port

MIDI IN, OUT and THRU ports

Supports electron overbridge

Power supply: 12V DC 1 A

Dimensions (W x D x H): 215 x 184 x 63 mm

Weight: 1.45 kg

Suitable case: Art.489608 (not included)
Suitable case: Art.491691 (not included)
MIDI interface
1x In, 1x Out, 1x Thru
Number of analog outputs
2
Extras
Overbridge Support
A must for every beatmaker
With the Digitakt, Elektron has landed a real hit for beatmakers and live performers. The digital drum machine unleashes creativity with eight audio tracks, integrated sampling, and first-class effects. Also on board is the established Elektron sequencer with many performance functions such as parameter locks. And with eight MIDI tracks for controlling external synths, the Digitakt is the born control centre for an electronic setup - not just on stage.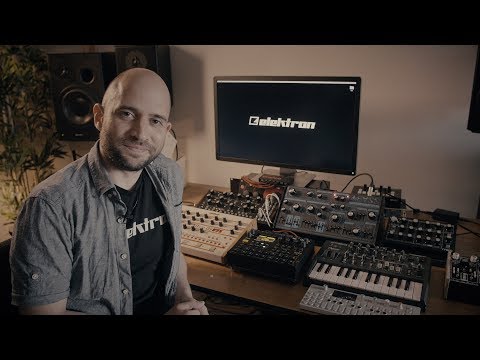 Unlimited sampling sound variety
As a sampling-based drum machine, the Elektron Digitakt has no limits in terms of sound. Over 400 samples are preinstalled, including acoustic and electronic drum kits, as well as synth stabs and effects. There even is the possibility of sampling, which works very intuitively so that you can create your own sounds in no time at all and convert them into fat beats. With 64MB of sample memory for the open project and a 1GB non-volatile +Drive, there is nothing to worry about in terms of memory. In order to improve your sound, the Digitakt offers an overdrive effect and a multimode filter with envelope and LFO for each audio track; in addition, reverb and delay effects are available.
Performance drum machine par excellence
The Elektron Digitakt is a performance machine. If you perform live or in the studio with an electronic setup and don't want to do without sampled drums, you can't pass on the Digitakt. With its intuitive sequencer, it can take control of the entire setup using the MIDI tracks. And because the Digitakt belongs on the stage, it additionally stands out thanks to its impressive manufacturing quality. With its stable metal housing, non-slip rubber feet, and high-quality controllers and pads (designed for 50 million operations), it leaves no doubt that it can cope with the tough everyday club life.
About Elektron
The Swedish firm Elektron was founded in Gothenburg in 1998. The company develops aids for producers, artists, and DJs to perfect their respective crafts. Its award-winning Overbridge software is designed to seamlessly integrate electronic musical instruments into computer-based DAWs as controllers and as external sound cards. Elektron is continuously bringing new innovations to the market in order to seamlessly integrate music into our day-to-day lives.
Have you sampled today yet?
Sampling-based drum machines have a decisive advantage: They can play any available drum sound - whether it's an analogue drum machine, acoustic drums, or completely different sounds. This makes the Elektron Digitakt an extremely flexible tool for anyone who doesn't like to be limited. Samples can be transferred from your computer to the Digitakt or recorded directly with the Digitakt - either from external sound sources or from the Digitakt itself. In combination with the very powerful sequencer and the possibility of controlling external devices, this results in a rhythm machine that is unparalleled in terms of flexibility and sound.
In the spotlight: Elektron Overbridge
Overbridge is a technology from Elektron that seamlessly integrates a variety of the manufacturer's instruments, including the Digitakt, into a DAW (music software on a computer). Using Overbridge, you can exchange audio and MIDI data between the software and the connected Elektron device via a single USB cable - in both directions. The audio output of the Digitakt is connected to the DAW mixer without additional cabling and can be further processed there. If desired, the Digitakt can be controlled via a plug-in in the DAW. Besides this, the Digitakt can also be used as an audio interface via Overbridge. Other advantages of Overbridge include easy synchronisation and te option of saving Digitakt settings with the DAW project.