This item runs exclusively on an operating voltage of 230 and therefore requires a voltage transformer to run in your country of United States.
Active Multifunctional Speaker
Equipped with: 12" woofer and 1.5" tweeter

Class-D amplifier

Power rating: 1000 W

Max SPL: 132 dB

Frequency range: 60 - 18,000 kHz (-3 dB)

@Coverage: 90° x 50°

2 Inputs: XLR/ jack (mic/ line switchable) and XLR/ jack/ RCA

1 XLR Link output

Tripod flange mount

Dimensions (HxWxD): 607 x 362 x 340 mm

Weight: 18.8 kg

Fitting protective cover (not included) available (Article Nr 271566)
available since
April 2011
Power (manufacturers info)
1000 W
Multifunctional Housing
1
Midtone Driver in Inch
none
Frequency range (-3dB) from
60 Hz
Frequency range (-3dB) to
18000 Hz
Frequency range (-10dB) from
50 Hz
Frequency range (-10dB) to
20000 Hz
Great performance
Here comes efficiency. Users of the ELX 112P active full-range speaker will experience an enormous sound for this price range. -This is ensured by a large mid/bass driver combined with a powerful compression driver. The speaker, which features an on-board amplifier and a multifunctional connection panel, has a vertical angle of coverage that tapers off relatively sharply. In this way, it can be aimed at the audience in a targeted manner and is also suitable for rooms with low ceilings. The high-quality workmanship makes the cabinet durable and suitable for parties at the same time. The robust multiplex wooden housing is coated with textured paint and the surface is sealed to make it impact-resistant. The powerful sound makes its way through a solidly processed front grille with switchable logo illumination.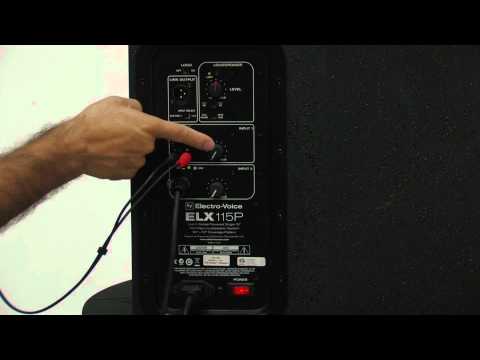 Powerful sound
The Electro-Voice ELX 112P delivers some real loudness. It always retains its powerful yet pleasantly warm sound and can certainly be described as one of the best active full-range speakers. Equipped with a 12" woofer and a 1.5" titanium driver, it can deliver up to a whopping 132 dB maximum SPL. The cabinet is made for sound reinforcement in halls or for use as a stage monitor. Equipped with a 35 mm flange, it can be placed on a standard tripod or on a subwoofer with a spacer rod. The built-in Class D power amplifier has an output of 1000 watts. There are two combined jack/XLR sockets on the connection panel. One of the inputs can be switched from microphone to line level, the other also has a cinch stereo input. The two inputs as well as the overall volume can be adjusted separately. If needed, a suitable subwoofer provides more punch in the bass range.
Front-of-house and monitor sound
Now, what room sizes and music styles is the ELX 112P designed for? First of all, the speaker represents an honest sound. Here, loud is loud and quiet passages are quiet without compression. Organisers of Rock, Pop, or Techno concerts reach up to 200 people with a classic stereo sound system. Put a subwoofer underneath each side of the stage and up to 400 guests can get a powerful sound. If you run a multifunctional stage, you will benefit from the high speech intelligibility that this system delivers. Bands and DJs will appreciate the comfortable handling. With a weight of 16.8 kg, the speaker can be easily carried to the location on tour using the conveniently positioned handles.
About Electro-Voice
Electro-Voice was founded in 1927 and has been dedicated to building sound reinforcement systems and microphones since the 1930s. The firm, originally based in Indiana, USA, is considered one of the industry pioneers and has developed many new technologies still in use today. For example, their hum-cancelling coil was not only a milestone for microphone construction, but also was at the origin of the humbucker pickups still used in many guitars. In the long history of the company, Electro-Voice has constantly expanded its offer and today sells a wide range of products for sound reinforcement tasks from entry to professional levels.
Grows with the audience
For those first small gigs in the rock bar around the corner, simply place two ELX 112Ps on speaker stands. Up to a room size of 100 m², the drum kit will do well without a subwoofer, and the electric bass will also have a full sound. To do this, connect the mixing desk in the hall to the two inputs. If you later play in front of a larger audience, the bass presence can be increased by two additional ELX 118P subwoofers under the ELX 112Ps. Simply connect the left and right mixer outputs into each of the two subwoofers and from there upwards into the ELX 112Ps, and select the operating mode "With Sub" in the loudspeaker section. Now all you have to do is supply power to all speakers and switch them on. By the way, the speakers can be protected during transport with light, optionally available covers, which are also water-repellent.
Explained in detail: Full-range EQ
This is where the sound is optimised. In the "EQ Flat" position, the mids sound powerful, which is perfect for speech performances and all styles of singing. If the ELX 112P is used as a monitor, the prominent-sounding voice makes the performing artist feel secure. However, sometimes it makes sense to let the mids stand back a bit, which may be the case if the speaker is for example only being used at low volume or is to provide music playback for unamplified vocals. In this case, try the "EQ Mid Cut" setting. By lowering the mid-range, the sound is made especially powerful in the low range, while the voice still convinces the listener with conciseness and comprehensibility.
This is what customers who viewed this product bought