Electric Guitar
Body: Basswood

Neck: Maple

Fretboard: Indian Laurel

21 Medium frets

Scale: 648 mm

Nut width: 42 mm

Pickups: 1 humbucker (bridge) and 2 single coils (neck and middle)

5-Way switch

Single-ply white pickguard

Chrome hardware

Colour: Black
available since
April 2018
Great quality at an affordable price
The Squier Bullet Strat HSS BK is a Stratocaster with an impressive price-performance ratio. As the "HSS BK" designation indicates, the guitar combines a humbucking bridge pickup with single coils in the middle and neck positions and comes in a classic black finish. The light maple neck, laurel fingerboard, contrasting white pickguard, and chrome machine heads give this guitar a classy look that belies its price, and its solid basswood body provides plenty of sustain. The hardware also includes a vibrato system, making this a very convincing instrument for beginners.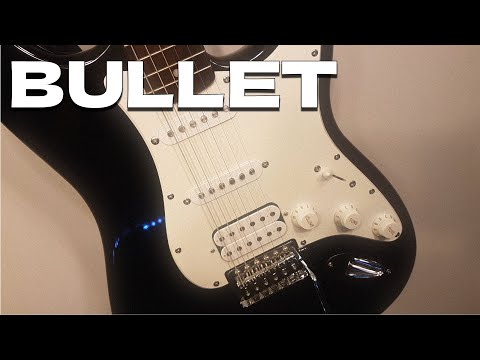 Get your riff on
The Fender Squier Bullet Strat HSS BK features a bridge humbucker, which guarantees a warm sound that is perfect for playing powerful riffs, in addition to two single coil pickups that deliver the typical "Strat" tone, and the five-way switch allows the player to select each pickup individually or combine the bridge and middle or middle and neck pickups. The neck itself has a comfortable C profile that ensures excellent playability and lends itself to a wide range of techniques and playing styles. The scale length of 648mm (25.5") is typical for Fender and gives the guitar a clear, punchy sound, while the corresponding fret spacing makes the fingerboard comfortable even for players with long fingers.
Perfect for beginners
The Fender Squier Bullet Strat HSS BK gives beginners a classic Stratocaster model at an affordable price, so newcomers who aren't sure whether they will stick with the guitar in the long term can give it a try without having to make a huge investment - and players who started out with a low-budget instrument can pick up this model as an affordable upgrade. The Bullet Strat's long scale length makes it suitable for children aged 10 and over, so it is a great point of entry into the world of the Stratocaster for players of all ages.
About Squier
Fender is without doubt one of the most legendary guitar and amplifier manufacturers of all time. The company was founded in 1946 by its namesake Leo Fender († 1991), whose innovative ideas brought a breath of fresh air into the musical world. His Telecaster, Stratocaster, Precision Bass, and Jazz Bass are not only classics – they also continue to shape the styles of musicians in countless genres to this day. Incidentally, Squier has existed as a company since the 19th century. It supplied Fender with strings right from the start, before being acquired by the company in 1965. Fender has been producing its iconic guitar and bass models at beginner-friendly prices under the Squier brand since 1982.
Ideal as a backup guitar
The Fender Squier Bullet Strat HSS BK is a sturdily built electric guitar for beginners aged 10 and upwards that offers a variety of sound options thanks to its pickup configuration. Players looking for a second guitar can't go wrong with this Strat, which can be a great backup for a song or two when they break a string on their beloved US or Mexican model. And those who don't want to be without a Strat on holiday but also don't want to subject their expensive favourite guitar to the rigours of travel will find the Fender Squier Bullet Strat to be a worthy replacement. This guitar is also ideal for those who are thinking about modding their Strat into a custom instrument (like Eddie Van Halen did with his legendary Frankenstrat) and want a genuine Stratocaster that they can cut up and repaint without feeling bad about it.
This is what customers who viewed this product bought