2.4 GHz Wireless System
Set with plug-n-play transmitter and receiver

Built-in rechargeable 750 mAh lithium battery

Range of up to 30 m

Latency < 5 ms

2.4 GHz band

24 Bit / 48 KHz

Impedance input (transmitter B1): Approximately 1 MOhm

Impedance output (receiver): Approximately 2 kOhm

4 Channels

Auto sleep/wake-up function

Battery life up to 6 hours (depending on operating situation)

Battery indicator with LED display

Frequency range: 20 - 20000 Hz

Adjustable 220° angle for the plug

Compact click system for safe storage

Dimensions: 73 x 40 x 15 mm

Includes Duo Pin USB charging cable
Note: Not compatible with active pick-up systems.
Available since
December 2017
Transmission Format
Digital
Transmitter Type
Guitarbug
Transmitter with Accu
Yes
Output
6,3 mm Jack unbal.
Receiver Width in mm
73 mm
Receiver Height in mm
40 mm
Receiver Depth in mm
15 mm
Receiver Weight in kg
0,1 kg
The AirBorne Instrument is a digital wireless system that frees guitarists and bassists from the restrictions of using a cable and, with a radius of up to 30 metres, allows them to move freely to even the farthest corners of the stage. The rechargeable 500mAh lithium batteries provide around 4.5 hours of playing time, and of course this astonishingly affordable system conforms to the latest 2.4GHz standard. The AirBorne Instrument is supplied as a complete set for instrumentalists that comprises a rechargeable transmitter and receiver as well as the corresponding USB charging cable.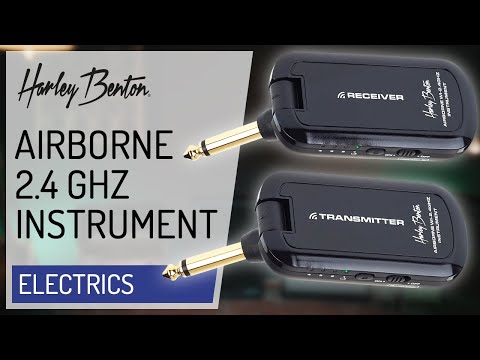 Digital wireless on a budget
The AirBorne Instrument is a wireless transmitter/receiver system for guitar, bass, and other instruments that offers a selection of four transmission frequencies in the 2.4GHz range. Transmission takes place digitally across the whole frequency range with a 24-bit/48kHz resolution and with less than 5ms latency. The transmitter and receiver both operate without a power supply, and both are housed in a compact casing with swivel-mounted 6.3mm (1/4") jack plugs that can be securely folded away. Thanks to its 500mAh lithium batteries, the AirBorne Instrument system provides up to 4.5 hours of playing time, which is maximised by both an "Auto-Sleep" and a "Wake Up" function. What is more, the USB charging cable has a double connector, which allows the transmitter and receiver to be charged at the same time.
Nothing to hold you back
The AirBorne Instrument is a plug-and-play set aimed at guitarists and bassists who regularly perform on stage or in other live environments, and it covers a range of around 30 metres in any room, thus unchaining the player from the confines of a cable. Simply plug the transmitter in and away you go. The selection of four frequencies gives each player in the band their own channel without crosstalk, and the 2.4GHz band transmits the entire frequency range with a 24-bit resolution and a minimal latency of below 5ms. The transmitter and receiver both feature an LED battery indicator, so you will always know exactly when it is time for a recharge.You have to mind one thing: It's made for instruments with passive pickups only.
About Harley Benton
Since 1998, the Harley Benton brand has been catering for the needs of numerous guitarists and bassists. In addition to an extensive range of stringed instruments, Thomann's house brand also offers a wide choice of amplifiers, speakers, effect pedals, and other accessories. In total, the range includes over 1,500 products. Built by established names in the industry, all Harley Benton products combine quality and reliability at attractive and affordable prices. The continuous expansion of the range ensures that Harley Benton always provides new, exciting, and innovative products that keep players perfectly in tune with the musical world, day after day.
The stage is yours
The AirBorne Instrument is tailor-made to be used on stage: It means you are no longer tied to your amp or pedalboard and thus have the freedom to move anywhere on the stage. Dance, jump, spin, do whatever you want – without tangled cables or tripping hazards for anyone else in the band. In other words: This digital wireless system allows you to interact with your audience better than ever before while still enjoying excellent sound quality. Eliminating cables is beneficial in other situations too, of course, like in the rehearsal room and whenever cables are not visually desirable, e.g. in the field of performance art.
This is what customers who viewed this product bought