Electric Guitar
Body: Basswood

Bolt-on neck: Maple

Neck profile: Modern C

Fretboard: Roseacer

24 Frets

Matched reversed headstock

Scale: 648 mm

Nut width: 42 mm

Double-action truss rod

"Predator" inlay on the 12th fret

Pickup: 2 High output humbuckers

Black hardware

Die-cast machine heads

Standard tremolo

Factory stringing: .009 - .042

Colour: Black, matte
Available since
September 2016
A Metal guitar ready for battle
The Harley Benton HWY-25BKS Progressive Series is an entry-level Metal axe that has a lot to offer despite its budget-friendly price tag. Its looks alone are nothing short of classy, particularly at this price point. The ST-shape body features the matt black finish and twin humbucking pickups you would expect from a Metal guitar. The hardware – from the machine heads and nut to the bridge and tremolo arm, control knobs, and pickup switch – is finished in black and ensures that this guitar looks ready for battle. Even the back of the neck features the same matt black finish. The two humbuckers in the Harley Benton HWY-25BKS Progressive Series follow suit, of course: They are mounted in black pickup rings and feature matt black covers.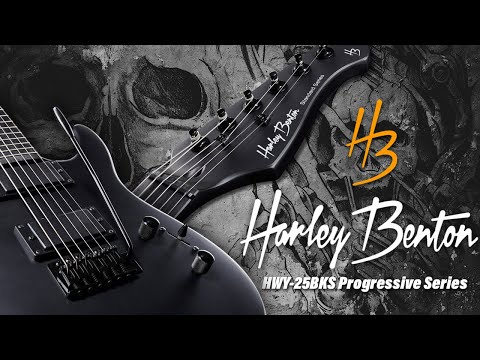 Perfect for fast runs
The fingerboard is made from thermally treated maple and has no dot inlays – instead, it sports a stylish tribal design at the twelfth-fret position. But not to worry: The upper edge of the neck features dot markers for easy orientation. The neck, with its modern C-shape profile, is ideal for fast runs and full-on shredding. Its 24 frets and correspondingly deep cutaway give budding metal virtuosos everything they need to start breaking their first speed records, and the characteristic 648mm (25.5") scale length ensures that even those with long fingers will feel comfortable playing this guitar. The neck also features a double-action truss rod for optimum adjustability.
For heavy beginners
The humbuckers with which this model is equipped have a comparatively high output and are therefore ideal for Rock and Metal guitarists. The standard tremolo can be used to create classic whammy bar effects, making it easy for budding and advanced players alike to try out their first dive bombs. The factory-fitted strings have gauges of .009-.042 and are thus perfect for standard tuning and allow effortless bending – which should also benefit less experienced players.
About Harley Benton
Since 1998, the Harley Benton brand has been catering for the needs of numerous guitarists and bassists. In addition to an extensive range of stringed instruments, Thomann's house brand also offers a wide choice of amplifiers, speakers, effect pedals, and other accessories. In total, the range includes over 1,500 products. Built by established names in the industry, all Harley Benton products combine quality and reliability at attractive and affordable prices. The continuous expansion of the range ensures that Harley Benton always provides new, exciting, and innovative products that keep players perfectly in tune with the musical world, day after day.
Convincing arguments
The Harley Benton HWY-25BKS's looks alone provide a point of entry into the metal guitar world, and of course it doesn't end there: Its great playability also makes lead guitar a joy to practise, while the high-output pickups make for some serious riffing. This guitar is more than just a fine first instrument for beginners, however. If you are looking for a classy second guitar or an eminently playable and above all affordable one to bring on the road, you should definitely take a closer look. Given its extremely low purchase price, this model is also perfect for extensive modding – such as upgrading the existing pickups and machine heads. If you play in a metal band and don't yet own a back-up guitar for budgetary reasons, this instrument will soon have you running out of arguments not to pick one up.
In the spotlight
Roseacer
Rosewood is a particularly hard wood that has long been popular as a material for making guitar and bass fingerboards. This wood is now considered endangered, however, and resources are scarce and expensive – which is why guitar makers have already spent several years searching for alternatives. The wood that Harley Benton has chosen as a fingerboard material for many of its guitars is a type of thermally treated maple known as "roseacer" (a word coined from "acer", the name of the genus to which maple belongs). The heat treatment to which the wood is subjected reduces its water content to around three percent, which prevents subsequent shifting or warping and increases the wood's stability while also giving it a visual appearance similar to that of rosewood.
This is what customers who viewed this product bought