Electric Guitar
Vintage Series

Body: Basswood

Arched top

Set-in maple neck

Neck profile: C shape

Fretboard: Blackwood <i>(Pinus Radiata) </i>

Fretboard radius: 350 mm

Fretboard inlays: Block

22 Frets

Scale: 628 mm

Nut width: 43 mm

Double action truss rod

Pickups: 2 Vintage style humbuckers

3-Way pickup toggle switch

2 Volume- and 2 tone controls

Gold DLX hardware

Tune-O-Matic bridge

DLX machine heads

Strings: Harley Benton .010 - .046

Colour: Black high-gloss
available since
July 2015
An elegant guitar for very little money
The Harley Benton SC-500 BK is part of the manufacturer's Vintage series. This guitar adopts the classic look of single-cut models with a solid body and short scale. A combination of multi-ply and single-ply creme binding give it a classy look. This encompasses both the basswood body with its arched top and also the set neck. The neck is made of maple, which provides strong sustain, and features a blackwood fingerboard made of Monterey pine. With its dark colouring, it is a visually fitting match to the high-gloss black body finish and black pickguard. Block inlays provide a good overview of the fingerboard, and two vintage-style humbuckers ensure a powerful sound. The elegant look of the guitar is emphasised in no small way by its gold-plated hardware.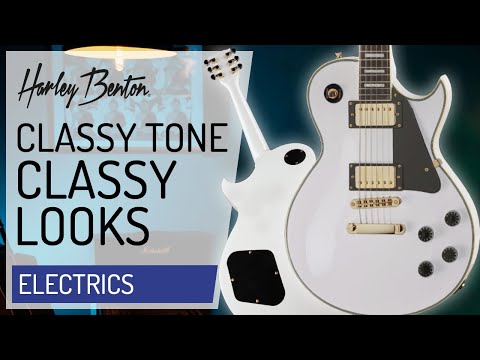 Classic specifications
The C-shaped neck profile of the Harley Benton SC-500 BK Vintage Series is designed for both riffs and solos and feels comfortable to play. It also features the same 628mm (24.75") scale length typically found on single-cut guitars. Younger guitarists and musicians with smaller hands can therefore easily manage on its 22 frets. At 35cm, the compound radius of the fingerboard is very large and its transverse curve consequently quite small. Playing bends on this neck is thus quite easy, even with a very low string action. Another advantage is the .010 string set with which the guitar comes equipped. The double-action truss rod is made of two firmly fastened metal rods with counter-rotating threads, which can be used to adjust the neck bow perfectly.
Timeless design, individual sound
If you've always wanted to own a guitar in the timeless style of a great classic, but were put off by the price, you might hit the jackpot with the Harley Benton SC-500 BK. This beloved design has been popular for decades and suits guitarists of all styles, from Rock to Metal. Beginners will appreciate its price and good playability, while advanced players will enjoy a solid backup guitar that doesn't require the same level of careful handling that a far more expensive custom model would require. And crucially: The sound can be individually shaped thanks to the separate volume and tone controls for both humbuckers and the three-way toggle switch for pickup selection.
About Harley Benton
Since 1998, the Harley Benton brand has been catering for the needs of numerous guitarists and bassists. In addition to an extensive range of stringed instruments, Thomann's house brand also offers a wide choice of amplifiers, speakers, effect pedals, and other accessories. In total, the range includes over 1,500 products. Built by established names in the industry, all Harley Benton products combine quality and reliability at attractive and affordable prices. The continuous expansion of the range ensures that Harley Benton always provides new, exciting, and innovative products that keep players perfectly in tune with the musical world, day after day.
Variable and fun
With its Tune-o-matic bridge, the Harley Benton SC-500 BK Vintage Series can be kept in tune even when the guitar's pitch needs to be adjusted in a hurry. This means that both Rock and Alternative as well as Metal can be played in many variations. Its humbucker sound is perfect for boosting everything from crunch to distortion, and power chords with a lot of punch are therefore just as easy as impressive solos. But this guitar can also deliver clean sounds for ballads and Jazz styles or a smoky-sounding breakup for Blues music. Even without a tremolo system, the SC-500 BK offers a lot of fun.
In the spotlight: Double-Action Truss Rod
The double-action truss rod consists of two firmly joined metal rods with opposing threads. It is inserted into the neck and covered by the fingerboard, which is glued to the front of the neck. A clockwise turn of the nut at the end of the truss rod (also called the T-rod) straightens the neck, bringing the strings closer to the fingerboard, and in extreme cases causes a convex neck bow so that the strings rest on top of the middle frets. An anti-clockwise turn, on the other hand, causes a concave neck bow, which significantly raises the strings above the middle frets. Double-action truss rods are mainly used in thin necks because they fit into a narrow groove and therefore take up only a small amount of space.
This product is currently sold out
These are other customers' choices: