Thinline Steel-String Guitar
Spruce top

ABS Thinline body

Modern D maple neck

Roseacer fretboard (thermally treated maple wood)

Fretboard radius: 350mm

21 Frets

Multiply ABS Corpus Binding

Scale length: 648mm

Nut width 43mm

Blackwood Bridge

Die-cast machine heads

Dual Action Truss Rod

HB 010-047 Bronze strings

Integrated pickup with 4-band EQ

Colour: Black (high gloss)
Design
Thinline Semi-Acoustic
available since
March 2018
A perfect crossover
No, your eyes aren't playing tricks on you: It's a black Harley Benton acoustic in an ST shape! This design possesses all of the inherent advantages of the ST design, such as the double cutaway and slim maple neck for pure playing comfort – and its sound is also unique. Amplification is provided by an integrated pickup and the tone can be modelled to suit your taste using the guitar's 4-band EQ. Though the ST's spruce top and bridge are reminiscent of a traditional acoustic guitar, its thinline body is constructed largely from plastic (ABS), which makes it very light. Put it all together, and you have an interesting hybrid and a definite eye-catcher.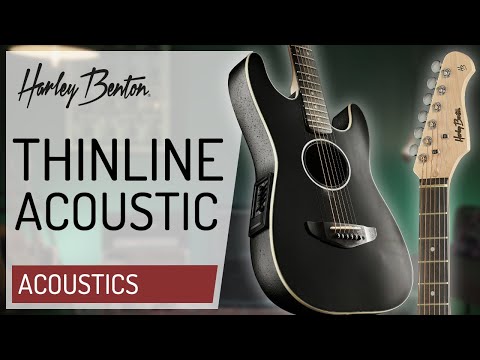 Pure ST feeling
The Harley Benton ST-Acoustic Black is the perfect cross between an ST-style electric guitar and a traditional acoustic guitar – both in terms of looks and in terms of feel. The modern D profile of the neck lets the player's hand glide up and down the fretboard with ease, while the double cutaway (a characteristic feature of ST-style guitars) provides effortless access to all 22 frets. Its surprisingly light thinline form sits perfectly against the player's body and allows hours of comfortable playing. Although this guitar can be played acoustically, it really feels at home with an amp, and the comparatively low volume of the ABS body means that feedback issues are reduced in comparison to larger-sized acoustic guitars. The built-in pickup and the 4-band EQ provide the ST-Acoustic with all the necessary power and versatile sound adjustment you will need.
Well, I only play electric guitar…
One could argue that the Harley Benton ST-Acoustic is a perfect compromise for electric guitarists who normally have little enthusiasm for conventional acoustic guitar designs, such as the dreadnought. The ST-Acoustic is a lot slimmer and thus far less cumbersome than most acoustics, and the neck alone ensures that it feels much more like an electric guitar. This design also makes it possible to play on stage for a long time. The Harley Benton ST-Acoustic is very inexpensive and offers the perfect introduction to the world of acoustic guitars for purely electric-oriented guitarists. At any rate, this guitar will make you stand out – so if you are looking for something out of the ordinary, satisfaction is guaranteed.
About Harley Benton
Since 1998, the Harley Benton brand has been catering for the needs of numerous guitarists and bassists. In addition to an extensive range of stringed instruments, Thomann's house brand also offers a wide choice of amplifiers, speakers, effect pedals, and other accessories. In total, the range includes over 1,500 products. Built by established names in the industry, all Harley Benton products combine quality and reliability at attractive and affordable prices. The continuous expansion of the range ensures that Harley Benton always provides new, exciting, and innovative products that keep players perfectly in tune with the musical world, day after day.
Your lightweight performing partner
As mentioned already, the ST-Acoustic is the perfect on-stage companion – largely due to its lightness, its ergonomic shape, and its built-in pickup and 4-band EQ. This affordable guitar is also ideal for practising. Besides conveying the feeling of an electric guitar, it is also far quieter than a large dreadnought, for example, when it isn't amplified – which is perfect for practising at bedroom volume, especially late at night.
In the spotlight: Roseacer
Rosewood is a particularly hard wood that has long been popular as a material for making guitar and bass fretboards. This wood is now considered endangered, however, and resources are scarce and expensive – which is why guitar makers have already spent several years searching for alternatives. The wood that Harley Benton has chosen as a fretboard material for its ST Acoustic series and many other guitars is a type of thermally treated maple known as "roseacer" (a word coined from "acer", the name of the genus to which maple belongs). The heat treatment to which the wood is subjected reduces its water content to around three percent, which prevents subsequent shifting or warping and increases the wood's stability while also giving it a visual appearance similar to that of rosewood.
This is what customers who viewed this product bought