This item runs exclusively on an operating voltage of 230 and therefore requires a voltage transformer to run in your country of United States.
Class AB Combo for Electric Guitar
1 Channel

Class AB

Power: Switchable 15 W / 1 W

Preamp tubes: 3x ECC83 / 12AX7

Power amp tubes: 2x EL84

Equipped with: 12" Celestion Seventy speakers

Controls: Gain, Volume, Tone, Bass, Middle, Treble, Reverb

Switch: Power attenuator 15 W / 1 W

Effects: Reverb

Instrument input: 6.3 mm jack

Send / Return effect: 6.3 mm jack

Foot switch connector: 6.3 mm jack

6.3 mm jack speaker output: 8 - 16 Ohms (if an external speaker is connected, the internal one is deactivated)

Dimensions (W x H x D): 427 x 435 x 235 mm

Weight: 11.5 kg
available since
January 2020
Connection for External Speaker
Yes
Footswitch connection
Yes
Harley Benton's TUBE15 Celestion is a tube amp through and through. This open-backed, single-channel 12" combo packs 15 watts of all-tube power into a small package and comes at an attractive price. Anyone who has experienced an all-tube amplifier first hand will know that 15 watts are not to be underestimated - the resulting volume is definitely enough for the rehearsal room and for small stages. However, the TUBE15's strengths only truly come to the fore when it is used for recording. Whether it's as an affordable studio amp or as a first tube amplifier for beginners, the TUBE15 is always an excellent choice.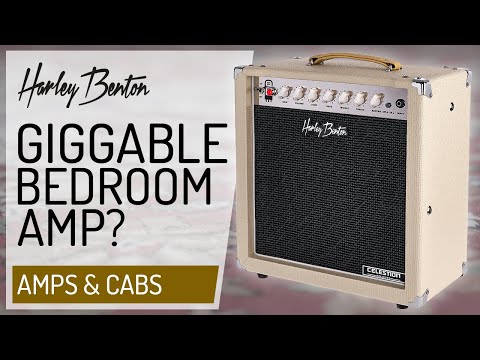 All manner of useful features
At the core of the Harley Benton TUBE15 Celestion are three ECC83 (also known as 12AX7) preamp tubes and two EL84 power amp tubes. The amp's power output can be reduced from 15 watts to one watt at the push of a button, which also makes the TUBE15 perfect for use at living room volume. The amp is loaded with a 12" Celestion Seventy 80 speaker, and also features a full three-band EQ section to shape the tone to suit your taste. What is more, the Harley Benton TUBE15 additionally features a real spring reverb unit that can be activated via footswitch as well as an effects loop with connections on the rear panel (where you will also find an output jack for connecting an external speaker cabinet).
It can whisper - or it can roar
The Harley Benton TUBE15 Celestion is an all-tube amplifier in the entry-level price segment that offers unrivalled value for money and a set of features that one can normally only expect at much higher price points. The option of reducing the power output to one watt means that the amp can be pushed to its limits and its characteristic overdrive sound recorded without rattling the windows and waking the neighbours in the process. At the same time, the TUBE15 Celestion can be quickly and easily connected to an external speaker, turning the diminutive combo into a fully-fledged half stack.
About Harley Benton
Since 1998, the Harley Benton brand has been catering for the needs of numerous guitarists and bassists. In addition to an extensive range of stringed instruments, Thomann's house brand also offers a wide choice of amplifiers, speakers, effect pedals, and other accessories. In total, the range includes over 1,500 products. Built by established names in the industry, all Harley Benton products combine quality and reliability at attractive and affordable prices. The continuous expansion of the range ensures that Harley Benton always provides new, exciting, and innovative products that keep players perfectly in tune with the musical world, day after day.
A pint-sized beast
Tube amplifiers have a character all their own: They respond dynamically to the individual guitarist's playing style and deliver a crisp, precise sound. Above all, however, they produce a very specific style of overdrive. Pushing the Harley Benton TUBE15 Celestion to the limit by cranking the gain and volume controls to the maximum delivers the authentic, richly layered crunch that is synonymous with all-tube amplifiers. And switching the output power down to one watt lets you get this sound at manageable volume levels at home and keep the neighbours happy at the same time. The TUBE15 is therefore ideal for recording some great-sounding guitar tracks at home and for practising without having to compromise your tone - and it comes at an unrivalled price.
This is what customers who viewed this product bought