Multi-Effects Unit for Electric Guitar
Guitar FX / amp modeller / vocal processor

High-resolution 7-inch touchscreen with an intuitive user interface

Realistic and responsive amp, cabinet and microphone modelling

Extensive library of guitar and vocal effects including Antares Auto-Tune

Amp Cloner captures the sound of your favourite amp, preamp, distortion, overdrive or fuzz pedal

Direct Wi-Fi connection to the HeadRush Cloud for clone sharing, preset sharing and firmware updates.

Wi-Fi streaming music practice tool for easy song learning

Bluetooth audio connection for play-along with mobile devices

Powerful custom multicore DSP system with seamless preset switching

Road-ready steel chassis with durable built-in expression pedal and universal power supply

12 Footswitches with customisable colour LEDs and OLED scribble strip display screens

Virtually unlimited import of IR files for guitar and bass cabinets

Stereo FX loop for integration of pedals and external devices and 4-cable method connectivity

Premium looper with save/load function and MIDI sync

Record and amplify via the built-in USB audio interface (up to 24-bit / 96 kHz)

Dimensions (W x D x H): 63 x 31 x 10 cm (24,8" x 12,2" x 3,94")

Weight: 7,6 kg (16,8 lbs)
Connections:
Input for guitar: 6.35 mm jack

Input with switchable 48 V phantom power for microphones: Combo XLR / 6.35 mm jack

2 Outputs with switchable ground lift: XLR

2 Outputs switchable between amp or line level: 6.35 mm TRS jack

Headphone output: 3.5 mm jack

MIDI input and output: 5-pin

Stereo FX loop: 2x 6.35 mm jack

External amplifier output: 6.35 mm jack

USB-A input for importing/exporting files directly from/to a USB drive and for connecting external USB MIDI controllers
Available since
March 2023
Multi-workstation for guitar, bass, and vocals
The Headrush Prime provides an all-round package for guitarists, bass players, and vocalists alike, all packed into a sturdy floorboard housing complete with expression pedal. Driven by a multicore DSP system and operated intuitively via a 7" colour touchscreen display, the new top-of-the-line model from Headrush features extensive and realistic amp, cab, and effects modelling, including the industry-standard "Antares Autotune" for vocal pitch correction. The "Amp Cloner" function can also be used to capture the features and sounds of other amps, cabs, or pedals, and the user can also import virtually unlimited guitar and bass IR files from third parties. The Prime's generous range of features additionally includes both a looper and a USB audio interface for recording and reamping, as well as an extensive range of connection options using Wi-Fi and Bluetooth.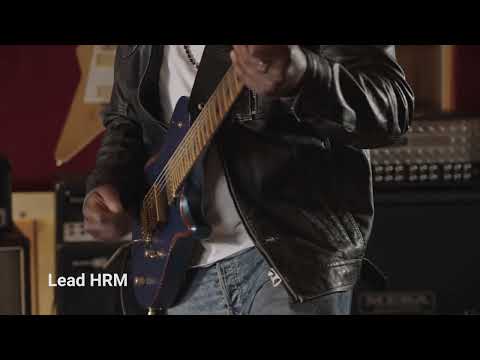 User-friendly operation
The Headrush Prime's 7" touchscreen display lets the user compile and edit guitar, bass, and vocal rigs at lightning speed with just the touch or swipe of a finger. The device is packed with an extensive library for all three instruments, which in addition to high-quality effects includes a multitude of amp, cab, and microphone models as well as a special section dedicated to vocals, which has been equipped with features including the Antares Autotune algorithm. Thanks to the inclusion of a Wi-Fi function, the Headrush Prime can also be used as a practice tool and can be connected to the Headrush Cloud for the purpose of sharing presets or generated Amp Cloner profiles. The 12 footswitches with colour LEDs and OLED screens provide navigation support, and key parameters such as the master volume or AUX output level can be quickly accessed via the corresponding hardware controls.
Maximum connectivity
The Headrush Prime's claim to being a tool for the professional scene is emphasised not only by its wide functional scope and premium-quality sound, but also by the number of available connections and interfaces. In addition to a jack input for guitars and basses, the device also features a combined XLR/jack socket with phantom power, two balanced and unbalanced stereo outputs, an FX loop, a headphone connection, a MIDI input and output, an external amp output, two sockets for expression pedals, and an AUX input for feeding in external sound sources. Wireless operation is also possible courtesy of the Wi-Fi function, allowing direct connection to the Headrush community and, of course, through Bluetooth, for playing back or importing audio. Thanks to this extensive range of on-board features, the Headrush Prime is optimally prepared to handle any situation, from the living room to a live gig.
Amp & Pedal Cloner
A particular highlight of the Headrush Prime is without doubt the "Amp & Pedal Cloner" function, which accurately captures the sound of amplifiers, cabs, or distortion pedals to realistic effect, allowing many additional accents to be added to the existing range of available sounds. Once the recording has been made, users can leave their heavy tube amps at home and edit the various cab types, microphones, and impulse responses in the Headrush Prime's onboard memory. The Amp & Pedal Cloner function not only ensures that the sound produced by the cloned device is reproduced with maximum precision, but also captures the feel and dynamic response of the original in order to ensure the most authentic playing experience possible.
The tool of choice for professionals
The combination of three different sections for guitar, bass, and vocals makes the Headrush Prime a unique tool and the go-to solution for professional use in virtually any musical style. Used as a modeler for guitars and basses, this robust floorboard processor offers a wide range of amps, cabs, and top-notch effects produced to the level of quality for which Headrush is known, as well as other useful gimmicks such as a practice tool and a looper with a recording time of up to five minutes. The addition of the standalone vocal section complete with premium effects expands the application range of the Headrush Prime, creating a highly effective tool for singer/songwriters or providing a complete solution for high-quality studio recordings.
About Headrush
Headrush is part of inMusic Brands and is thus in good company with well-known industry names such as Alesis, Akai, M-Audio, and Numark. Headrush makes products for guitarists, including high-powered active speakers and the innovative "Pedalboard" and "Gigboard" multi-effect boards. The latter were created by the makers of the legendary Avid Eleven rack processor – in other words, by top professionals. Headrush products are also popular with professional guitarists, including Tracii Guns, founding member of L.A. Guns, Robert Guiringer, guitarist for Kendrik Lamar and Eminem.
Extensive flexibility from the word "Go"
The range of functions available with the Headrush Prime allows guitarists, bassists, and vocalists to customise every aspect of their sound, making it a highly versatile solution. In addition to conventional guitar or bass applications involving a power amplifier and cab(s) in the rehearsal room or on stage, the balanced outputs enable direct connection to a mixing desk, allowing even challenging vocal tracks to be recorded in high quality. Alternatively, the USB audio interface is available for recording directly to a computer, and users can also take advantage of the slick reamping option to create the appropriate sound. With its extensive range of options, the Headrush Prime is, without doubt, one of the most innovative devices of its kind, adding yet another quite exceptional multi-FX processor to the existing Headrush lineup.
This is what customers who viewed this product bought