Hercules DJ Control Inpulse 500 White
Hercules DJ Control Inpulse 500 White - all-in-one DJ controller; DJ Control Inpulse 500 controller in limited white edition; controls per deck: 1x filter knob, 3 x equalizer knobs, 1 x gain knob, 1 x volume knob, 1 x VU meter, play/pause, cue, shift, sync, jog wheels with touch detection, 8 x pads x 8 modes (hot cue, loop, slicer... ), vinyl, slip, quantize, loop in/out buttons; general controls: 1 x cross fader, overall level knob, headphone volume knob and cue/mix knob, mic volume knob with high equalizer knob and low equalizer knob, Aux volume knob and filter knob, master VU meter, filter/effects console with 4 effects buttons and 2 filter knobs; master output (speaker): 2 x 6.35 mm jack and 2 x RCA; headphone output: 3.5 mm stereo mini jack and 6.35 mm stereo jack; Aux input: 2 x RCA + 3.5 mm stereo mini jack; microphone input: balanced 6.35 mm jack; 44.1kHz / 24-bit; for use with PCs or notebooks with USB 2. 0 or higher and operating system: Windows 10 / macOS 10.14 or higher; dimensions (W x D x H): 542 x 296 x 70 mm; weight: 3.2 kg; included in delivery: Hercules transport case, braided USB cable, Serato DJ Pro Upgrade Key and DJUCED licences, quick start guide and warranty information.
incl. software
Serato DJ Pro
Stand Alone Mixer Function
No
available since
January 2022
Do you like this product?
Clap-o-meter
for Hercules DJ Control Inpulse 500 White
Does it make you yawn or does it make you go "yay!"?
Thank you for your feedback!
Change opinion
Flagship
Hercules represents with its flagship DJControl Inpulse 500, here in a limited white edition including Serato DJ Pro and a soft case. This 2-deck controller provides everything any ambitious DJ will need. Two jog wheels allow for precise time manipulation and search within each deck track, both in vinyl and CD modes. In addition to the two channels for the decks, an aux and a microphone channel are both added, so that nothing will stand in the way of creative performances. The mixer is equipped with a traditional three-band EQ and of course a staple DJ filter. Both channels can be monitored separately via cue mix. On top of that, eight performance pads per channel allow samples and loops to be fired at will.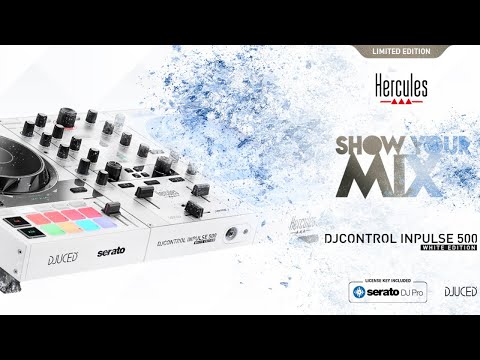 All-round control
The Hercules DJControl Inpulse 500 is a classic all-in-one DJ controller - this means it does not itself produce the sound, but rather provides a haptic and intuitive interface that works in conjunction with computer-based DJ software, which will play the music from the computer. Included in the bundle is DJUCED, the impressive proprietary software which Hercules has developed in-house. The Inpulse 500 White Limited Edition also includes the more professional and well-established software Serato DJ Pro. In addition, the DJControl Inpulse 500 acts as the main audio interface, so that all interaction with the DJ controller is concentrated in one place once the music gets going - because nothing is more distracting than having to constantly inspect what is going on with the computer when in the middle of a performance. This special version comes with a soft case with adjustable carrying strap.
Upwards ambition
Until now, Hercules had produced mainly entry-level devices in its DJControl Inpulse series - and the Inpulse 500 retains all these beginner-friendly qualities. However the Inpulse 500 is more: Its full-size jog wheels and performance possibilities needn't hide behind the competition in terms of hardware and functionality. In addition, the compatibility of the Inpulse 500 with the included Serato DJ Pro allows users to aim for a more professional use. The Inpulse 500 is not only a good controller for beginners, it will easily see you through your first gigs and never let you down.
About Hercules
French manufacturer Hercules has been making all kinds of affordable audio equipment for over 30 years. The choice ranges from pro audio speakers and headphones to gaming accessories. However, the focus is currently on entry-level DJ equipment. Hercules knows how to produce well-designed equipment at impressively low prices, while always keeping beginners in mind. For example, specific models of DJ controllers come with tutorial functions that help budding DJs learn correct beat-matching and other essential DJ skills.
Helping hands for budding DJs
A good selling point of Hercules controllers to newcomers is the 'beat match guide' functionality. LED lights inform the DJ in real time whether a track needs to be sped up or slowed down in order to match the master deck. Minimal increments are indicated, and this function can be disabled at any time. The 'Beat Align' indicator under each deck indicates whether the tracks are in sync, or out of "lock". This can be a great tool for developing the ear, as well as rhythm and tempo, since beatmatching requires some practice - and is not learnt overnight. Of course, any help function can also be disabled at any time.