Electric Bass
Spruce top

Flamed maple back and sides

Maple one-piece neck

Jatoba fretboard

Top and back feature white binding

Scale: 76 cm (30")

Nut width: 42 mm

22 Frets

Pickups: 2 Höfner Ignition Staple humbuckers

Individual machine heads with pearloid plastic buttons

Original Tea Cup potentiometer knobs on the control panel

Colour: Sunburst

Includes a certificate of authenticity and a "Bassman" sticker
Available since
January 2020
A little piece of music history
Höfner is synonymous the world over with high-quality, German-made guitars and basses that have helped to shape the history of modern music, and at the vanguard of these legendary instruments is the 500/1, better known as the "Beatle Bass" thanks to its inextricable ties with its most prominent user, Sir Paul McCartney. Höfner's Ignition Series, which is now in its enhanced second generation, was created in order to allow a wider audience of musicians to get their hands on this legendary instrument. The key characteristics of the Höfner 500/1 design - a semi-acoustic construction, a compact body shape, a short scale length, and two humbucking pickups - have remained unchanged since it was first introduced in the 1950s, and the Ignition Series SE bass gives players all of these features as well as the associated cult factor at a very attractive price.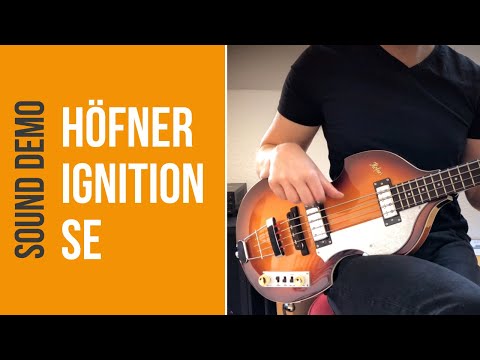 A violin among basses
Soon after it first appeared in 1956, the Höfner 500/1's design earned the bass its famous nickname, the "Violin Bass". The Ignition Series SE bass features a maple body with a top made from spruce, and the neck (also made from maple) features a 22-fret jatoba fingerboard with a scale length of 76cm (30"), which is a full 10cm (4") shorter than that of a conventional long-scale bass guitar and provides enhanced playing comfort. The bridge also takes its cues from those of classical stringed instruments, and the two Höfner humbucking pickups are governed by passive electronics that comprise two dedicated volume controls and three tone switches, providing an extensive palette of vintage and retro sounds. The authentic "Beatle Bass" look is completed by a timeless sunburst finish, white binding on the front and back of the body, and a white pearloid pickguard.
Back in style
It goes without saying that the Höfner 500/1 will have a place in the heart of any Paul McCartney fan - they don't call it the Beatle Bass for nothing, after all - but fans of Liverpool's Fab Four are not the only ones who will find this bass interesting: Its light weight and compact dimensions also make it a blessing for bassists who don't want to shoulder anything too heavy, while guitarists looking to make the transition to bass will in turn appreciate the short scale length. Short-scale basses in general have been enjoying something of a comeback in recent years, so this classic bass is once again "en vogue" - helped all the more by its eyecatching looks, which make it the perfect bass for players looking to take a break from the mainstream with their choice of instrument.
About Höfner
The Höfner company has a long tradition and was founded by Karl Höfner in Schönbach at the end of the 19th century. Initially, the product range consisted mainly of bowed string instruments, and the first guitars were added around 1930. After the Second World War, the company was relocated to Möhrendorf in Bavaria. In the 1950s, the company flourished thanks to new musical trends, and basses were now introduced in addition to guitars. Legendary models were created during this time, such as the President, the Committee, and the 500/1 short-scale bass, which made music history a short time later with the Beatles. The subsequent boom in Beat music quickly brought Höfner enormous demand and enduring world fame. Today, Höfner is one of the best-known and largest manufacturers of bowed string instruments and of archtop, semi-acoustic, and solid-body guitars, as well as a wide range of basses.
True vintage
Authenticity is very important in the world of music - and where instruments are concerned, this applies particularly to sound and looks. This bass's shorter scale length means that it delivers a bassier sound than a long-scale bass with the same string gauges, but the trade-off is that it sacrifices a certain amount of definition and sustain - ideal for 60s Pop, Rock, and Soul music, Blues, and other "vintage" styles in which a transparent and highly defined bass sound intrudes too much into the foreground and does not sit comfortably in the mix. Players who want to get REALLY authentic can string the 500/1 with a set of flatwound strings, which get even closer to that vintage sound heard on so many legendary 50s, 60s, and 70s recordings.
This is what customers who viewed this product bought