Effect Pedal for Electric Guitar
Modelling Dual-DSP effects processor for up to 9 simultaneous effects

Support for additional (third party) Impulse Responses (IR Loader) via HoTone Editor

USB port for editing the IRs/effects or for using the Ampero as a USB audio interface

Drum Machine with 100 patterns

Integrated looper with 100s Mono und 50s Stereo

Controls: Volume, Menu/Value

3 Rotary buttons for touch screen operation

Effect on LED

4" Touchscreen display with 800 x 480 pixel resolution

4 Footswitch buttons

Expression pedal

24 Bit signal processing up to 120 dB S/N ratio

Power consumption: 500 mA

Powered by 18V DC power adapter (included)

Dimensions (W x D x H): 320 x 147 x 46 mm

Weight: 1.4 kg
Note: Battery operation is not supported.
Included Modellings:
244 Effects

64 Amp models

60 Cab models

Over 100 pedal models

198 Presets

Microphone Type and Position Modelling

"Black Tech" acoustic guitar simulation
Connectors:
Input: 6.3 mm jack

AUX in: 3.5 mm jack

Stereo Line Output: 2 x 6.3 mm jack

Stereo Out: 2 x XLR

EXP In: 6.3 mm TRS jack

MIDI in: 5-pin MIDI

Headphone output: 3.5 mm jack

USB port

Power adapter connector (female connector 5.5 x 2.1 mm, negative pole inside)
available since
February 2019
Integrated Expression Pedal
Yes
Connections for Pedals or Switches
No
A whole rig in one affordable modelling floorboard
Modelling floorboards and multi-effects units that give the player innumerable guitar and bass amplifier sounds as well as a variety of different effects to choose from, all packed into a compact, stage-friendly housing, have been a popular solution among musicians for a long time and are now offered by countless manufacturers. HoTone's Ampero fits right into this category: A feature-packed floor unit that has been kept small and affordable. It includes a modelling amplifier, an effects section, a looper, multiple impulse response-based speaker simulations, and a USB audio interface for fast and uncomplicated recording - making it suitable not only for the stage but for the studio as well.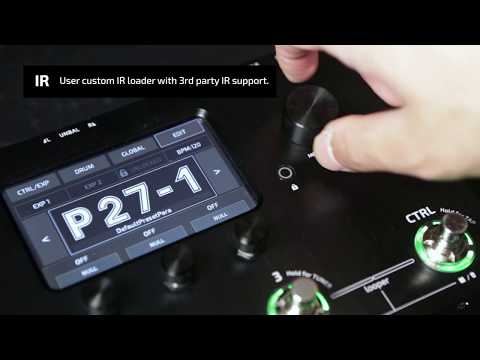 Plenty of storage options
The Ampero is equipped with a dual DSP effects processor and has a preconfigured and logically strucured effect chain comprising nine blocks, in which time-based effects are placed after the amplifier while effects that require the unaffected guitar signal are placed before it. 64 different amplifier simulations and over 244 effect variations are available, including bass and acoustic guitar preamps. The speaker simulations are based on over 60 impulse responses, and ten memory slots are also available for user IRs. The Ampero also comes complete with a tuner and MIDI control as well as a USB port that allows the unit to be used as an audio interface with the Ampero Editor software. Additionally, a pair of XLR outputs and switchable input impedances provide the required level of flexibility for using instruments like acoustic guitars. Last but not least, the soft-touch colour display, five colour-coded footswitches, and an expression pedal complete the intuitive and straightforward user interface.
Sonic versatility at your fingertips
The Ampero is primarily aimed at guitarists looking for an affordable all-in-one solution for practice and for use in their home studio and on stage, and it allows great results to be achieved in no time at all thanks to its wealth of amp simulations and effects as well as its intuitive operation. The Ampero's extremely compact size also means that it will easily fit into a bag or rucksack, making it ideal for players who move around a lot and need a small, lightweight rig. Beginners in turn will greatly appreciate the Ampero's affordable price as well as its ease of operation with highly usable factory presets and a preconfigured and logically structured effect chain. Confusion is thus kept to a minimum, all the more so because the Ampero Editor software includes detailed explanations of how the various amplifiers and effects are structured and used.
About HoTone Audio
HoTone Audio is a company in Huan, China, which was founded in 2012 by guitarist Guo Runbo. HoTone Audio is well known for small effect pedals and nano amplifiers for guitarists and bassists. The team behind it has a reputation for professional expertise and innovative technical design. Their products make increasing use of digital technologies such as DSP systems, modelling, and USB connections, while at the same time remaining affordable and practical, and therefore accessible to all musicians.
Your constant companion
The HoTone Ampero is an extremely versatile tool, ideally suited to composing and putting together song ideas at home, for example. And features like the AUX input, which lets players jam along to their favourite backing tracks, and the onboard looper, drum machine, and metronome, all of which can of course be used silently thanks to the Ampero's headphone output, make it a great companion when practising. The Ampero is no less flexible on stage, however: By virtue of its numerous connection options, it can be used either as a stand-alone solution or in combination with an amplifier. An extra expression pedal or an external footswitch can also be connected, and the "Lock" function prevents any unintentional changes to the user's presets if things get a little rough on stage.
In the spotlight: Impulse responses (IRs)
The process of digital convolution is based on so-called impulse responses (IRs for short). IRs are essentially composed of information about the frequency response of a space or a piece of equipment, which is determined using a short test signal and measured at the output. The usable signal is digitally combined with one of these impulse responses and thus takes on its frequency characteristics. The use of modern processors makes this convolution process possible in real time and is commonly used to simulate the frequency response of rooms and speakers.
This is what customers who viewed this product bought