This item runs exclusively on an operating voltage of 230 and therefore requires a voltage transformer to run in your country of United States.
Electric Guitar Amp Head
All tube

Power: 20 watts

2 Channels: Clean and Lead with Lead / Boost function

Power Soak: 20/5/1/0 watts

Preamp tubes: 2x 12AX7

Power tubes: 2x EL84

Classic 3-band EQ

Red Box AE Ambience Emulation DI output with the settings Vint. / Mod. & Small / Large to connect the amp directly to the PA or recording setup

Serial FX loop

1 Speaker output: 8 - 16 Ohm

Dimensions: 35 x 15 x 15 cm

Weight: 5 kg

Incl. bag

Corresponding foot switch: Article Nr 548114 (not included)
available since
April 2016
Power Amplifier Tubes
EL84
Boutique sounds in a lunchbox format
The Tubemeister Deluxe 20 from Hughes & Kettner delivers the uncompromising boutique sounds for which the company's flagship TriAmp Mark 3 is already famous, packed into the popular lunchbox format. With its two channels and onboard boost function, this compact 20-watt head covers everything from crystal-clear cleans through to dynamic crunch and powerful high-gain sounds. In addition to a power soak to reduce the power amp's output to as little as one watt, the Tubemeister Deluxe 20 also features the legendary Red Box AE speaker simulation, which makes this amp ideal for recording in the studio. The obligatory effects loop is of course also included, as is a connection for the optional footswitch to allow the player to change between the two channels and turn the booster on and off.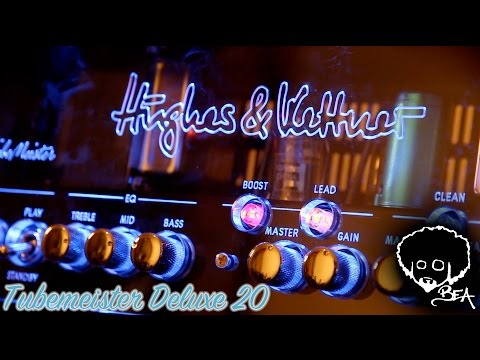 Intuitive controls let you dial in an amazing tone in seconds
The control panel of the Tubemeister Deluxe 20 is clearly laid out and the controls themselves are illuminated in blue, ensuring optimum ease of use even in the darkest of corners. Both channels have a dedicated master and gain section, and share a powerful three-band EQ that allows the diminutive amp head's already impressive basic sound to be further enhanced. The panel also includes buttons for channel selection and for the booster (which gives the lead channel an extra push), and these functions can also be carried out using the optional footswitch. In order to properly push the amp's power stage into saturation, the rear panel also features a power soak, which allows the power output to be reduced from 20 watts down to five watts or even one watt. And should you wish to record without a speaker cab, the multi-mode Red Box AE will be a valuable asset.
A versatile lunchbox amp
Whether you are jamming at home or using it for live gigs, in the rehearsal room, or in the studio, the Tubemeister Deluxe 20 will always cut a fine figure with its power soak, Red Box AE, and two-channel design (with the booster effectively providing a third channel). Professional musicians will appreciate the amp's impressive sounds, which come extremely close to those of much more expensive boutique amplifiers, and it will also deliver plenty of power and presence in any situation when coupled with the right speaker cab. And at just five kilos, the Tubemeister Deluxe 20 is a real lightweight that is nonetheless manufactured to the same high level of quality for which Hughes & Kettner is known.
About Hughes & Kettner
Hughes & Kettner is one of the largest German suppliers of guitar and bass amplifiers. Founded in 1984 by Hans and Lothar Stamer under the name Stamer Musikanlagen GmbH, the manufacturer from St. Wendel in the Saarland can boast of its numerous innovations. For example, its first venture into the field of guitar amplifiers, the ASR64 from 1986, was the first programmable amplifier in the world. Thanks to its compact format, the Cream Machine of 1987 can be counted among the very first mini tube amplifiers. Equally influential were the Red Box analogue speaker simulation, the first six-channel amplifier (the Triamp), and the ZenTera, which used modelling technology in an integrated amplifier even before Line 6.
Jam in the morning, rehearse at midday, and gig in the evening
To make sure that you have plenty of headroom in a live setting and don't get drowned out by your bandmates, it is important to use a speaker cabinet of sufficient capacity. The TubeMeister Deluxe 20 is not picky in this regard, and it can be used with a 1x12", 2x12", or for larger gigs even a full 4x12" cabinet; what is more, the amp provides connections for speaker cabs with an impedance of eight or 16 ohms. For recording, on the other hand, speakers are not strictly necessary, since the Red Box AE with its different setting options provides a great-sounding solution which ensures that dynamics and thus an authentic playing feel are not lost.
This is what customers who viewed this product bought