This item runs exclusively on an operating voltage of 230 and therefore requires a voltage transformer to run in your country of United States.
Guitar amplifier head
Power: 100 W

4 channels with all-tube technology - no semiconductor in signal path

Preamp tubes: 5 x ECC 83

Power amp tubes: 4 x EL34

Individual 3-band EQ as well as gain and volume for each channel

12 basic sounds can be chosen directly via foot switch or MIDI

EL34 power amplifier with presence and resonance control

2 switchable and programmable master volume controls

Programmable parallel FX loop with hardware bypass

Digital reverb with individual controls for each channel

Series insert loop with hardware bypass circuit

Emulated DI out

MIDI IN and MIDI THRU

Dimensions:: 740 x 310 x 215 mm

Weight: 22 kg

Foot switch included

Suitable dust cover: Article no. 150488 (not included)
Suitable case: Article no. 227873 (not included)
available since
February 2007
Power Amplifier Tubes
EL34
It's all about the tubes
Marshall's JVM series comprises the company's most modern and versatile amplifiers. The initials "JVM" stand for Jim and Victoria Marshall, the company's founder and his daughter, which shows just how proud Marshall is of these amps. The JVM410H is the 100-watt model, and its four channels feature all-tube technology without a single semiconductor in the signal path. Its controls are highly flexible, however, and it also features full MIDI compatibility. The head is sturdily built, and its user interface is clearly and systematically laid out despite the immense wealth of setting options on offer.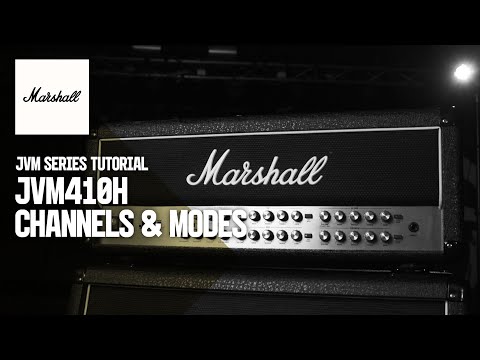 Gain in three dimensions
The JVM410H's four channels are each equipped with a typical Marshall EQ section comprising bass, middle, and treble controls, which is complemented by resonance and presence controls in the master section. The latter are essentially bass and treble controls but, unlike those in the preamp's EQ section, they instead shape the tonal characteristics of the amp's power stage. Each channel can be operated in three different gain modes – green, orange, and red – which makes a total of 12 different sounds available, and the master section also includes two switchable master levels and a dedicated reverb control for each channel.
No compromise
The JVM410H is a professional-level amplifier that does not compromise. Its four channels, each with three different modes, mean it has the right sound for every situation, so those looking for pure, undiluted Marshall tone will find it here at every turn. The amp's versatility and sound quality make it worth its weight in gold in the studio, whilst its ease of operation will prove invaluable on stage. With its 100 watts of output power, the JVM410H is loud enough for any stage imaginable, but it also features a Silent Mode in which the power stage is deactivated, leaving the preamp stage active so that the Emulated Line Out can be used for silent recording with the speakers muted.
About Marshall
Marshall, the manufacturer from Milton Keynes in Great Britain, is an indispensable figure in the world of electric guitar. The tube amplifiers of company founder Jim Marshall († 2012) have been writing Rock music history since 1962 with names like Pete Townshend, Jimi Hendrix, and Eric Clapton. The classics of the JTM, JMP, and JCM 800 series are still highly sought-after today, as they shaped the sound of overdriven and distorted electric guitar more than any other product. To this day, the combination of the amp and 4x12" cabinet - the "Marshall stack" - is synonymous with the energy and power of the Rock music genre. Alongside these landmark achievements, however, Marshall has always kept its finger on the pulse of the times and a close eye on the needs of up-and-coming musicians.
Marshall's flagship
The JVM410H is designed to deliver classic Marshall tone in a state-of-the-art package. Not without good reason have the JVM amplifiers become Marshall's flagship series: The JVM410H effortlessly reproduces the sounds of legendary Marshall amps from decades past while also offering the flexibility of a modern digital amplifier. So, if a Marshall amp that makes no compromises whatsoever is what you are looking for, look no further.
This is what customers who viewed this product bought