This item runs exclusively on an operating voltage of 230 V and therefore requires a voltage transformer to run in your country of United States.
Tube Amp Head for Electric Guitar
Gain boost function

Two voicings (Normal, High Treble), which can be mixed steplessly via the Tilt control

Switchable power reduction for full sound in any environment

1 Channel

Power: 20 watts (3 watts, 0.5 watts)

Preamp tubes: 3x ECC83 (12AX7)

Power tubes: 2x EL34

Controls: Gain - Tilt - Bass - Middle - Treble - Master - Presence

Switches: Power On / Off - Output Low / Mid / High - Gain Boost (Pull Volume)

Series effects loop

Connections: Input (6.3 mm Jack) - DI Out (6.3 mm Jack) - FX Send & Return (2x 6.3 mm Jack) - Footswitch (6.3 mm Jack)

Speaker outputs: 3x 6.3 mm Jack (16 ohms / 8 ohms)

Dimensions (W x D x H): 520 x 225 x 220 mm

Weight: 9.4 kg

Including footswitch
Available since
April 2018
Power Amplifier Tubes
EL34
An affordable Rock classic with modern enhancements
With the Origin 20H, Marshall has gone back to what it does best – and has put it all into a budget-friendly package. This puristic 20-watt single-channel amp is fitted with two EL34 power tubes and delivers a sound reminiscent of the legendary JTM45 and JMP Super Lead 1987 amplifiers whilst offering contemporary features such as a master volume control, a gain boost function, and an effects loop. A footswitch for switching the boost and effects loop is also included.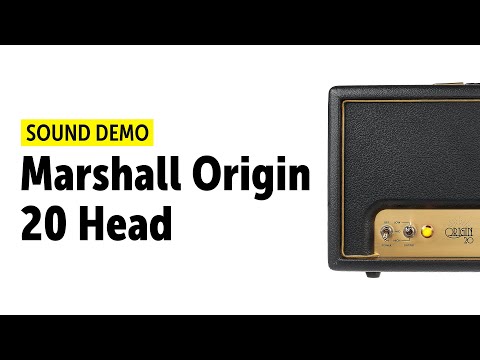 Dynamic preamp and power amp crunch
Plenty of output from the power stage and a perfectly matched preamp stage, both equipped with all-tube technology, are at the core of any Rock guitarist's needs. The straightforward circuitry of the Origin 20H head is aimed at musicians looking for that classic Marshall crunch at an affordable price. The level of gain can be controlled independently of the output volume and can be further enhanced using the switchable boost function, conveying a genuine "Vintage Rock" spirit. In addition, the Tilt control allows you to blend in a second, more treble-rich voice with the normal one, which was achieved on the classic 1987 and 1959 models by bridging the inputs. The Origin 20H also gets its overdriven sound from the power amp, however – and since the output power can be reduced from an already-moderate 20 watts to 5 watts or even all the way down to 0.5 watts, you can now get that sought-after sound without peeling the paint off the walls in the process.
For musicians, not collectors
Rare vintage models or even current reissues of Marshall classics, which are often hand-wired, seldom fall within the budget range of most beginners or up-and-coming players. Thankfully, the Origin series now delivers that classic Plexi sound at a much more affordable price. The Origin 20H head caters to guitarists who appreciate British Rock sounds and the purist single-channel concept. With its potent EL34 power stage and compact, lightweight design, this amp head is ideally suited to use in the rehearsal room and on stage, but can also be used in the living room by lowering the output power to as little as 0.5 watts.
About Marshall
Marshall, the manufacturer from Milton Keynes in Great Britain, is an indispensable figure in the world of electric guitar. The tube amplifiers of company founder Jim Marshall († 2012) have been writing Rock music history since 1962 with names like Pete Townshend, Jimi Hendrix, and Eric Clapton. The classics of the JTM, JMP, and JCM 800 series are still highly sought-after today, as they shaped the sound of overdriven and distorted electric guitar more than any other product. To this day, the combination of the amp and 4x12" cabinet - the "Marshall stack" - is synonymous with the energy and power of the Rock music genre. Alongside these landmark achievements, however, Marshall has always kept its finger on the pulse of the times and a close eye on the needs of up-and-coming musicians.
True Marshall tone for every application
For an all-tube amplifier, the Origin 20H is compact, lightweight, and affordable. The focus here is on that dynamic crunch for which Marshall is known and loved. For an extremely fair price, you'll get that typical Brit Rock sound in your living room, on stage, and of course in the studio. Its variable output power, power amp saturation capability, and useful extras such as a foot-switchable boost and an effects loop certainly add value to the package. Put simply, the Origin 20H is practical and to the point!
In the spotlight
Tilt control
Everyone is familiar with the two input pairs on Marshall's classic 1959 and 1987 heads – one for the normal "warm" channel and one for the crisp-sounding "high-treble" channel. To use both channels simultaneously, players had to connect the two input sections with a patch cord. The Origin Series' Tilt control now eliminates the need for this "bridging": You can dial in the desired tonal balance between both channels by simply turning the knob.
This is what customers who viewed this product bought