Millenium MPS-1000 E-Drum Set Bundle
Bundle offer comprising
Millenium MPS-1000 E-Drum Set
E-Drum Complete Set

Complete e-drum set in the look of acoustic drumsets

Wooden shell

Drum pads with double-layered mesh heads

Fully playable cymbal pads

Colour: Grey Line
E-Drum module:
820 Sounds

40 Preset kits

40 User kits

70 Songs

Quick Record

Metronome

Compressors

Equalizer

23 Effects

335 MB storage space for user samples

8 Individually assignable direct outs

Colour 3.2" TFT LCD

9 Illuminated faders for pad volume

Bluetooth 4.0 for line in

2x 6.3 mm Jack main outputs

1x 3.5 mm & 6.3 mm Stereo jack headphone output

8x 6.3 mm Jack direct outputs

1x 3.5 mm Stereo jack line input

USB memory

USB MIDI
Pad configuration:
20" x 16" Kick drum pad

13" x 5.5" Two-zone snare pad

10" x 06" Two-zone tom pad

12" x 06" Two-zone tom pad

14" x 14" Two-zone tom pad

13" Two-zone hi-hat pad with controller

2x 15" Two-zone crash pad with stop function

18" Three-zone ride pad with stop function
Hardware package:
3 Boom cymbal stands

Hi-Hat pedal

Snare stand

Kick drum pedal

Double tom stand

Drum module stand
AKG K-92
Headphones

Closed

Circumaural

Impedance: 32 Ohm

Sensitivity: 113 dB SPL/V

Frequency range: 16-22000 Hz

Max. input level: 200 mW

3 m Cable with 3.5 mm jack and 6.3 mm adapter

Weight: 200 g
Millenium MDT4 Drum Throne Round
Drum Throne

Round seat

Diameter: 28 cm

Double-braced

Continuously adjustable in height (without fixed increments)

Min. height: 53 cm

Max. height: 63 cm

Colour: Black
Vic Firth 5A American Classic Hickory
Drumsticks

Size 5A

American Classic Series

Hickory wood

Wooden tips

Teardrop tips

Ideal for rock and as practice sticks

Length: 406 mm

Diameter: 14,4 mm
Available since
September 2021
The MPS-1000 is the top model among the Millenium e-drum sets. The most striking feature are the wooden shells equipped with mesh heads, which give the impression of an acoustic drum kit. The centrepiece of the kit is a 20" bass drum, supplemented by 10" and 12" rack toms as well as a 14" floor tom, and a 13" snare drum. Also on board are a 13" hi-hat, a 15" crash, and an 18" triple-zone ride. However, the kit doesn't just look great on the outside: With 820 sounds including an extensive effects department and 335 MB memory for storing your own samples - corresponding to around 30 minutes of stereo sampling - the inner values are also just right. Thanks to the Bluetooth interface, you can drum along wirelessly to music coming from your smartphone. In this bundle, the drum set comes with a drum stool, closed headphones, and an additional pair of drumsticks - a well-rounded complete package!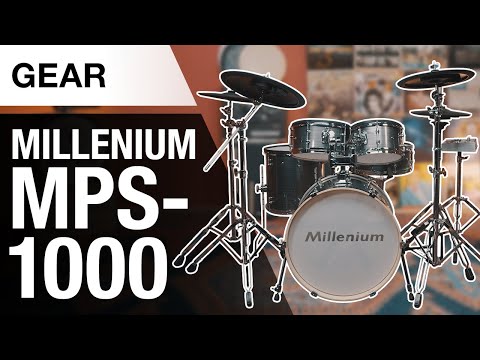 Editing in real time
The MPS-1000 module can be operated extremely conveniently via a coloured 3.2" LCD screen. Nine volume faders allow quick access if adjustments need to be made on the fly. All of the pads are connected to the module using a 25-pin D-Sub connector, which makes cabling a lot easier. In addition to 820 sounds and 80 drum kits - half of which can be freely assigned as user kits - the module features 70 play-along songs and 15 memory slots for your own recordings. Mesh heads on all drums ensure joint-friendly drumming with an authentic playing feel, and the rubber playing surfaces of the generously dimensioned hi-hat and cymbal pads register your hits on the entire playing surface. The drum stool is height-adjustable and the headphones also allow you to practise at a low-noise level.
Drumming in style
Advanced drummers with high expectations in terms of looks, user-friendliness, and sound will make an excellent choice with the Millenium MPS-1000 E-Drum Set. On the one hand, the kit is a perfect "plug-and-play" instrument for spontaneous - and thanks to Bluetooth even wireless - drumming to your favourite songs, but also offers those who like to modify sounds or import their own samples into the module a lot of creative freedom. Due to its appealing look, the MPS-1000 not only cuts an excellent figure in your basement or rehearsal room at home, but is also completely suitable for the stage. With all its accessories, the bundle is also suitable, for instance, for drummers who want to get a second complete kit for the rehearsal room.
About Millenium
Millenium is one of Thomann's in-house brands and has been an integral part of the store's range since 1995. More than 800 products – from drums and percussion through to accessories such as microphone stands, racks, and recording workstations – bear the Millenium label. These products are made by renowned companies who also manufacture products for other well-known brands. Since they are imported directly from the factory without any further distributors or sales companies, they can be sold at particularly attractive prices. Incidentally, one in every four Thomann customers has already purchased at least one Millenium product.
The first "beat" is with the eye
Every drummer can confirm that looks play a vital role in a drum set, and while most e-drum kits are easily recognised as such, this does not apply to the Millenium MPS-1000 at all. If you put it on stage at a school concert or a larger private event, most viewers will think that they are looking at an acoustic drum kit, especially as it comes with 40 excellent-sounding, predominantly acoustic preset drum kits. Due to the elegant foil on the drum shells, the look is reminiscent of the numerous vintage drums that are currently highly sought-after, while at the same time looking fresh and modern. All of this ensures that the MSP-1000 will always look resplendent wherever it is – stage, rehearsal studio, or living room.