Compact Keyboard Controller
32 Velocity-sensitive synth-action mini keys

2 Touch strips for pitch and modulation

8 Touch-sensitive control knobs

OLED Display

4D-Push-encoder

Smart play

Machine integration

Funtionality in the following hosts: Ableton Live, Logic ProX, Garage Band, Pro Tools (from 2021.10), Cubase and Nuendo

NKS (Native Kontrol Standard) compatible

USB powered

Pedal input: 6.3 mm jack

USB port

Dimensions (W x D x H): 475 x 167 x 50 mm

Weight: 1.45 kg

Includes KOMPLETE instruments and FX: Monark, Scarbee Mark I, Reaktor Prism, Komplete Kontrol software, Machine Essentials, Komplete Start, Ableton Live 10 Lite
Available since
February 2019
Pitch Bend / Modulation
Yes
Sustain Pedal Connection
Yes
Dimensions
475 x 167 x 50
Native Instruments has now added a new beginner-level controller to go alongside its Komplete Kontrol A series: The Komplete Kontrol M32. This controller is optimally designed for use with the pre-mapped instruments and effects found in the NKS and Komplete plug-ins and, thanks to its control buttons and touch-sensitive rotary encoders, provides direct access to the transport, mixing, and editing functions found in the most popular DAWs. Users can therefore enjoy a faster and more intuitive workflow without having to constantly reach for their computer mouse and keyboard. The Komplete Kontrol M32 comes complete with a powerful software bundle comprising software synthesizers and Komplete instruments with a total of 6,100 sounds and presets, which gives budding music producers an solid and versatile basis to get started.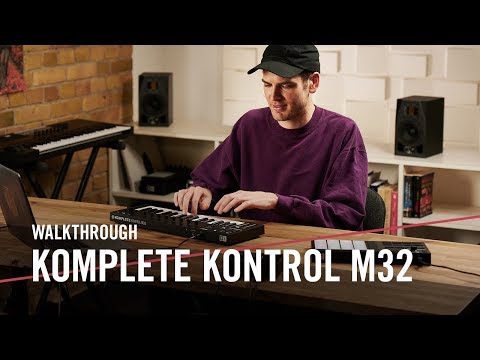 MIDI keyboard and software bundle
The Native Instruments Komplete Kontrol M32 features a smaller footprint than the company's A25 model, but its keyboard, which comprises 32 velocity-sensitive keys, adds half an octave to the latter's range, and the keys have been reduced to a compact size that provides a comfortable playing feel. The eight touch-sensitive rotary controls, which are pre-mapped to the most useful controls on all Komplete and NKS plug-ins, and the touch-sensitive pitch and mod strips can be used to modify the key parameters of the current preset and record these to the user's DAW while playing. The Komplete Kontrol M32 is USB-powered and can thus be easily combined with a laptop to create a setup that can be used on the go, while the corresponding Komplete Kontrol software provides a connection to the NKS control system that lets the user directly browse and preview the libraries of instruments, samples, and loops.
The ideal first controller
The combination of an NKS-compatible keyboard and a software bundle that includes Maschine Essentials, Monark, Reaktor Prism, Scarbee Mark I, the extensive Komplete Start package, and the Ableton Live Lite DAW makes the Native Instruments Komplete Kontrol M32 ideal as a starter set for modern song production in any genre. The fact that the keyboard is pre-mapped to the different instruments simplifies numerous production steps and keeps the workflow pleasantly streamlined, and while the M32 may lack the Light Guide, touch strip, and large display of the company's S-series models, the creative Smart Play functions (Scale, Chord, and Arpeggiator) are still included.
About Native Instruments
Native Instruments is a Berlin-based company, founded in 1996, which specialises in products for computer-assisted music production. The company develops a wide variety of products: Software solutions such as Komplete, which hosts a huge range of virtual instruments that emulate both acoustic and electronic instruments in hi-fi quality, and Reaktor, which lets you create your own virtual instruments - through to hardware products such as beat-making and DJ controllers. Native Instruments' goal is to inspire and encourage musicians with its innovative products. To this end, more than 500 people are employed at the company's headquarters in Berlin and at other locations including Los Angeles, Toronto, Tokyo, London, Paris, and Shenzhen.
Faster, simpler, NKS
Although the Native Instruments Komplete Kontrol M32 keyboard is suitable for use as a normal USB/MIDI controller for all DAWs and plug-ins, its focus is really on the Native Kontrol Standard (NKS), which is now used not only by Native Instruments but also by numerous other manufacturers. The M32 gives the user consistent control of NKS-compatible software instruments and effects with pre-mapped parameters, and they can also easily search loop and sample libraries as well as preview the available options. Users thus also benefit from an enhanced workflow when working with extensive libraries of presets and sounds in a studio production environment, and laptop-based setups used on the go will also benefit from the consistency that comes from working with NKS plug-ins, because a large number of operations can be triggered from the M32's keyboard without the use of a computer mouse.
This is what customers who viewed this product bought