This item runs exclusively on an operating voltage of 230 and therefore requires a voltage transformer to run in your country of United States.
Amp Head for Electric Guitar
Mark Tremonti (Alter Bridge) Signature Model

2 Channels: Clean and Gain

Power: 15 W - reducible to 7 W

Preamp tubes: 6x JJ EC83S

Power tubes: 2x JJ 5181

Gain in the gain channel: Gain / Master / Treble / Middle / Bass

Clean Channel controls: Volume / Treble (Pull Boost) / Middle / Bass

Includes foot-switch and protective cover

Dimensions: (W x D x H): 35.6 x 20.3 x 18.4 cm

Weight: 8.1 kg

Suitable case: Article Nr. 509100 (not included)
available since
December 2018
Power Amplifier Tubes
6L6
High-quality signature amp
With the MT15 amp, PRS has launched a high-quality and ultra-compact "lunchbox" amplifier that has been custom-made for Alter Bridge mastermind Mark Tremonti. This 15-watt, two-channel head is a thoroughbred all-tube amp and delivers dynamic crunch and transparent clean tones in addition to the rich distortion sounds that you would expect from a Mark Tremonti signature amplifier. A particularly practical feature is that if necessary, the power can be switched down to 7 watts, which means you can enjoy the sound of an all-tube power amplifier pushed to the limit without destroying your hearing - in the studio and elsewhere.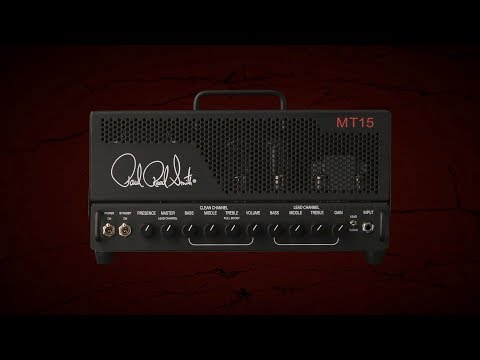 Full-throttle Rock tones
Despite its compact size and low weight of 6kg, the MT15 has everything a quality-conscious guitarist needs. Its chassis houses eight tubes (six JJ ECC83s for the preamp and two JJ 5881s for the power stage) that supply the two separately adjustable channels with authentic tube amp tone. Even with plenty of gain dialled in, the transparency with which the amp does its job is outstanding, so heavy drop tunings, riffs, and single notes remain clear and well-defined. The clean channel is also perfectly tailored to Mark's playing style and suits open tunings and finger-style parts perfectly and, thanks to the boost that can be activated via the push/pull potentiometer, can also be coaxed into powerful and dynamic crunch territory.
For guitarists with ambition
Thanks to its classic design and separately adjustable channels, the MT15 will feel at home in virtually any musical style, so this compact head will not only find favour with Rock musicians and Mark Tremonti fans. It can also be used in a range of different locations, whether in a live setting, in the studio or in the rehearsal room. And thanks to its all-tube power output and effective EQ controls (including separate dials for volume and gain), the MT15 promises a flexible and relaxed performance even in a high-decibel band environment. And if you want to enhance the MT15's great basic sound with your favourite effects, you will find the corresponding effect loop connections on the rear panel.
About Paul Reed Smith Guitars
Paul Reed Smith Guitars is an American manufacturer of top-of-the-range electric guitars. Based in Stevensville, Maryland, the company was founded in 1985 by Paul Reed Smith, who had already been making guitars on his own since the mid-1970s as part of his music degree. PRS Guitars owes its breakthrough to guitar legend Carlos Santana, who liked the guitars so much that he soon ordered custom-made instruments from the firm. Since then, the product range has grown to include basses, acoustic guitars, and amplifiers. The list of PRS artists is abundant with big names: John Mayer, Mark Tremonti, Alex Lifeson, and Mark Holcomb are just a handful of the signature artists who testify to the quality of PRS instruments.
A hero in every situation
Whatever genre you may be into, the MT15 is an absolute blast for any occasion. Its high-quality construction and the use of premium components make this amp especially popular with ambitious guitarists. Whether you are looking for rich high-gain sounds, dynamic crunch, or warm clean tones, the MT15 delivers optimum results across the board while retaining its typical Mark Tremonti transparency and definition in any situation. This of course makes it interesting for a wider audience besides just Rock musicians. If you are looking for a compact, no-nonsense head that feels at home in many genres, this is the amp for you. And thanks to the option of reducing the power from 15 to 7 watts, the range of possible applications is expanded even further.
This product is currently sold out
These are other customers' choices: