USB Condenser Microphone
Polar pattern: Cardioid

Integrated pop protection

MAx. sound pressure level: 121 dBA (@ 1% THD)

Frequency range: 20-20000 Hz

Built-in 24 bit / 48 kHz audio interface with USB-C connection

Class Compliant (no driver installation required)

Headphone output: 3.5 mm stereo jack with volume control

Switchable direct monitoring for latency-free microphone signal

USB powered

Swivel steel housing with matte black coating

Removable magnetic table base

System requirements: from Win 10, from Mac OS 10.12

Microphone dimensions (W x D x H): 54.5 x 43.9 x 108.1 mm

Dimensions of table base (D x H): 89.3 x 32.4 mm

Weight: 585 g

Includes USB cable
Available since
February 2020
Plug in and go
Rode's NT-USB Mini is a compact USB microphone that offers excellent sound quality. It requires no driver installation, and its cross-platform compatibility means it works on both Windows and Mac devices. Though not strictly required for everyday use, the included "Rode Connect" software accesses the mic's internal DSPs, allowing you to further streamline the setup of your microphone with a set of comprehensive functions adapted to a variety of podcast and streaming applications. The NT-USB Mini also features a built-in pop shield to effectively reduce plosives, a latency-free, direct-monitoring headphone output, and a detachable magnetic base for easy free-standing operation – though it can of course be mounted on regular table stands or boom arms.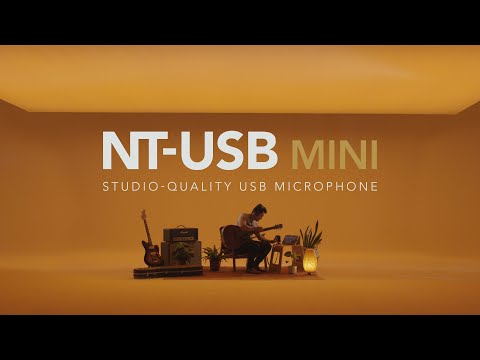 Focused on one source
The NT-USB Mini features a professional-grade electret condenser capsule for optimum results in any recording situation. As with all cardioid capsules, the mic focuses mainly on sound sources placed directly in front of it, so that ambient noise is well suppressed. According to the manufacturer's specifications, the frequency response of the Rode NT-USB Mini ranges from 20 to 20,000 Hz, with internal AD conversion rates of up to 24 bit / 48 kHz. The USB-C port and the 3.5 mm headphone output are located on the back of the microphone, while the volume control and two LEDs for monitoring the battery level are situated on its front.
Recording for dummies
The NT-USB Mini is an affordable solution for high-quality recording anywhere. Mount it as you see fit or simply use it free-standing, connect it to a computer without the need to install dedicated drivers – and enjoy its superb sound quality. Good recordings are rarely achievable with such ease, and it will look great wherever you place it. Whether you're recording vocals or instruments, podcasting or streaming live, the Rode NT-USB Mini will meet all the requirements for making professional-sounding recordings. This high-performance product will thus appeal not only to beginners, but also to seasoned professionals looking for an easy-to-use mobile recording setup.
About Rode
Founded in Sydney, Australia in 1990, Rode is a specialist in high-quality studio microphones. With its very first in-house, completely Australian-built model, the NT2 large-diaphragm microphone, the company created a classic which is still produced in its current and enhanced version, the NT2-A. An extensive range of studio and live microphones has also been added, regularly updated, and expanded over the years. These new additions include a variety of professional microphones which are designed for video and mobile applications and can be connected directly to SLR cameras or smartphones.
The "Rode Connect" software
"Rode Connect" is a powerful software solution for podcasting and live streaming which provides access to the NT-USB Mini's integrated DSP-powered effects. These include a compressor, a noise gate, and APHEX's "Aural Exciter" and "Big Bottom" plug-ins. Up to four NT-USB Minis can be connected to a single computer without the need for complicated setup and routing operations when podcasting. Furthermore, a "mix minus" mode prevents echoes and feedback issues when multiple mics are being used simultaneously. For streaming applications, Rode Connect optimises the mic's signal with that of third-party software and implements dedicated output controls in various streaming applications such as OBS and Xsplit.
This is what customers who viewed this product bought