Digital 2-Channel Wireless Microphone Set
Compatible with cameras, smartphones, Mac and PC

2.4 GHz band

Range: 260 m (free line of sight)

TX terminal transmitter with integrated microphone

Polar pattern: Omnidirectional

Limiting sound pressure level: 123.5dB SPL (1 kHz @ 1 m)

Frequency range: 20 - 20,000 Hz (internal microphone)

3.5 mm TRS input (lockable) for connecting the Lavalier II

GainAssist automatic level control

32 GB internal memory for over 40 hours of audio (WAV uncompressed)

32-Bit float recording

SMPTE timecode generator

3.5 mm TRRS jack for camera or headset allows monitoring and simultaneous recording of a third microphone signal

Power supply: internal LiPo battery (4200 mAH)

Battery capacity: 7 hours (charging via USB-C)

Dimensions (per module): 47 x 44 x 20 mm

Weight (per module): 36 g
Set consisting of:
2x TX terminal transmitter

1x 2-Channel receiver

2x Lavalier II microphone

1x Charging case

1x Accessory case

2x MagClip GO

1x 3.5 mm TRS spiral cable (SC2)

1x USB-C to Lightning cable (SC21S)

1x USB-C to USB-C cable (SC22)

1x USB-C to USB-C cable (SC34)

3x Fur windscreen (TX)

2x Head windscreen (Lavalier II)
Available since
September 2023
Transmission system
Digital
Channels Lapel Microphone
2
Transmitting System
Digital
Receiver Width in mm
44 mm
Power Transmitter
Li-ion Battery
Receiver Height in mm
20 mm
Receiver Depth in mm
47 mm
Microphone Type
Microphone Plug/Lapel Omnidirectional
Transmitter Input
3,5mm TRS
Power Receiver
Li-ion Battery
The Rode Wireless PRO is a high-performance two-channel microphone set that packs a recording function, timecode generator, and headphone amplifier into an ultra-compact design. The set comprises two transmitters (each with an integrated microphone), a receiver, two lavalier mics, a charging case, and a range of other useful accessories. According to the manufacturer's specifications, the Wireless PRO has a maximum range of 260m and can provide approximately seven hours of operation on a single battery charge, while the charging case itself has sufficient capacity to fully charge the transmitters and receiver twice, providing up to 21 hours' total operating time. And thanks to its smart GainAssist technology, the Wireless PRO allows even beginners and inexperienced users to create recordings with perfectly balanced sound.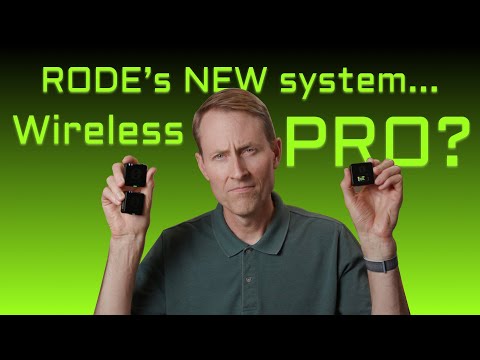 Extensive compatibility
The Rode Wireless PRO's receiver features an analogue output in 3.5mm mini-jack format as well as a digital USB-C interface and is thus compatible with cameras, tablets running iOS and Android, Windows computers, and Mac systems. The analogue output also serves as a headphone output with its own gain control and can also be used to connect a headset and thus record a third microphone signal. The receiver's bright LC display allows the user to easily adjust and control the audio levels as well as a range of other functions, and recordings can be made to the internal 32GB memory at the touch of a button. And passages that are too loud or too quiet can easily be normalised later on using a suitable DAW thanks to the Wireless PRO's 32-bit float technology.
For skilled content creators
The Rode Wireless PRO possesses several features that go above and beyond those of its little brother, the Rode Wireless GO II, and do full justice to its name. These include an internal timecode sync function, shorter switch-on time, larger range, lockable input sockets for the lavalier mics, and many more. In addition, a much wider range of adjustments can be made on the receiver itself without the user having to utilise the Rode Central App on their smartphone or computer. The biggest difference from the previous model, however, is the Wireless PRO's 32GB memory, which allows up to 44 hours of audio to be recorded directly to the transmitter and is sure to find favour among filmmakers and content creators who make routine use of its functions. Users who don't need these additional features can of course opt for the more affordable Wireless GO II.
About Rode
Founded in Sydney, Australia in 1990, Rode is a specialist in high-quality studio microphones. With its very first in-house, completely Australian-built model, the NT2 large-diaphragm microphone, the company created a classic which is still produced in its current and enhanced version, the NT2-A. An extensive range of studio and live microphones has also been added, regularly updated, and expanded over the years. These new additions include a variety of professional microphones which are designed for video and mobile applications and can be connected directly to SLR cameras or smartphones.
The perfect touring companion
Thanks to its compact and extremely lightweight design, the Rode Wireless PRO can be discreetly attached to the clothing of speakers, presenters, musicians, or actors for use in virtually any recording situation. The set, which accordingly features a pair of Rode's MagClip GO clips, is tailored for mobile applications such as vlogs, interviews, podcasts, travel documentaries, behind-the-scenes footage, making-of videos, and more. Users who intend to use the set for speech-based applications should also consider adding the Rode Interview GO adapter, which converts the Wireless GO transmitter into a compact handheld microphone for speaking in front of the camera. And because the Wireless GO set includes five faux-fur windshields for the transmitters, the receiver, and the lavalier mics, there is also no danger of unwanted wind noise when filming or recording outdoors.
This is what customers who viewed this product bought