All-In-One USB Audio Interface
For podcasters, gamers and streamers

4-channel digital stereo mixer with motorised faders, LED meter,

Mute switch and display for custom logos per channel

For Windows 7/8/10

LED and display colour changeable (RGB)

Integrated TC-Helicon vocal effects: Reverb, delay, pitch, gender, megaphone, robot, hardtune

Sampler function - import and recording

"Beep" button to hide politeness-critical words

Different profiles can be created

Up to 24 bit / 48 kHz AD/DA converter

+48 Phantom power

Includes GoXLR app (download) for Windows 7/8/10
Connections:
Microphone input: XLR and 3.5 mm mini jack

Stereo line input: 3.5 mm mini jack

Stereo line output: 3.5 mm mini jack

Stereo headphone output: 3.5 mm mini jack

Optical S/PDIF input for Xbox or Playstation

USB

Power supply connection
Recording / Playback Channels
2x2
Number of S/PDIF Connectors
1
Number of ADAT Connectors
0
Numer of AES/EBU Connectors
0
Number of MADI Connectors
0
Max. sample rate (kHz)
48 kHz
Max. resolution in bit
24 bit
Connection Format
USB port Type B
Zero latency monitoring
1
An audio interface for streaming
The TC-Helicon GO XLR is a USB audio interface for Windows that offers users an all-in-one solution for streaming podcasts, games, or similar content. The four-channel mixer, with motorised faders and freely assignable LCD labels, ensures intuitive control of the volume levels of assigned sources during live transmissions and lets you adjust both the numerous hardware inputs and several virtual audio channels on your computer (e.g. voice chat, game sound, etc.). An onboard sampler and a directly integrated effects section with a selection of vocal FX offer additional functions that are usually only available with extra hardware or complex software setups. This makes the GO XLR a complete control hub for the audio part of streaming.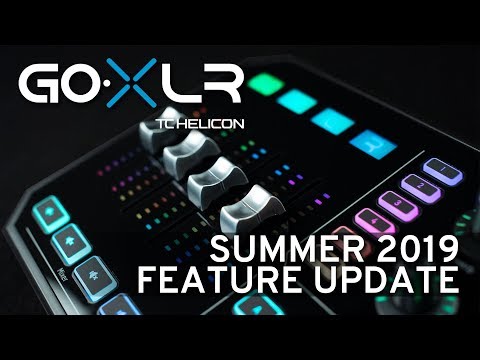 Easy to set up
The heart of the TC-Helicon GO XLR is its accompanying app, which can be used to assign the four motorised faders to the appropriate input channels, control the routing of the output channels, and set up a connected microphone (level, gate/expander, equaliser, and compressor), among a host of other things. You can connect dynamic microphones or simple headset microphones, as well as condenser microphones that require phantom power. The app can also be used to change settings for the effects, select samples for dedicated sample pads, and adjust the coloured LEDs of the buttons and faders. Another very useful function is the ability for all non-global settings to be stored in presets for different applications.
Perfect for live streams
The TC-Helicon GO XLR offers all the audio functions required for streaming games, tutorials, podcasts, and screencasts in one compact box that is far more manageable and uncomplicated than, for example, a conventional compact mixer. Streamers will appreciate the GO XLR's onboard sampler, which is not included in the smaller GO XLR Mini, and its FX section. This includes both simple reverb and echo, in addition to which more drastic effects such as pitch shift, gender, megaphone, robot, and hardtune effects are also on offer, lessening the burden on your computer. Also helpful are the mute buttons for each fader channel, which affect either all of the output channels or an individual one (e.g. stream channel or voice chat only), and a beep button to censor any profanity or "offensive" words.
About TC-Helicon
TC-Helicon was founded in 2000 as a subsidiary of TC Electronic in cooperation with IVL Technologies Ltd. and has since specialised in voice recording technology. TC-Helicon focuses primarily on portable audio interfaces. The product range also includes various signal processors designed for the voice, in the form of effect pedals or compact devices with microphone stand mounts. Since 2015, TC Helicon has belonged to Music Tribe, the holding company of Behringer, which has brought brands such as Midas and Klark Teknik under one roof.
A wealth of interfaces
The TC-Helicon GO XLR offers a wide range of physical and virtual input and output channels and is therefore ideally equipped for a wide variety of streaming situations. On the hardware side, there are two mic inputs (XLR and 3.5 mm jack for headsets), an analogue line-in for playback devices (e.g. smartphones), and an optical S/PDIF input for game consoles (e.g. Xbox or PlayStation) as well as a headphone output and a line out (e.g. for connecting a dedicated streaming computer) on offer. On the software side, five input channels (chat, game, music, sample, and system) and three output channels (broadcast stream mix, chat mic, and sample) are available. All of these virtual channels can be used as inputs or outputs in appropriate applications.
This is what customers who viewed this product bought