Three-dimensional Microphone Modelling System
For reproducing the sound behaviour of different microphones including transient reproduction, proximity effect and three-dimensional directional characteristics

Changing microphone type, directional characteristics and other properties is possible even after recording

Listen to the sound of different microphones

Reduce crosstalk, unwanted room colouration, and other common recording problems using Off-Axis Correction (TM)

Stereo recordings with a single microphone

Includes 2 capsule microphone and DSP plugin
Sphere L22 microphone:
Output impedance: 200 Ohm

Recommended load impedance: 1000 Ohm

Replacement noise level: 7 dB-A

Peak SPL: 140 dB (with activated -20 dB attenuation)

Attenuation options: -10 dB and -20 dB

Sensitivity: 22 mV/Pa

Connector: XLR-m (5-pin)

Requires phantom power: 44 - 52 V

Dimensions: 225 x 63 mm

Weight: 770 g

Includes breakout cable, microphone shock mount, microphone clip, carrying case and dust cover
Sphere DSP Plug-In:
Microphone Models LD-47, LD-49, LD-67, LD-87, LD-12, SD-451, RB-4038, DN-57, Sphere Linear

Supported plug-in formats UAD, AAX Native, VST2, VST3, Audio Units (Mac only)

Natively supported operating systems: (AAX, VST and AU) Mac OSX 10.8.5 and higher, Windows 7 and higher

Apollo interfaces and UAD-2 hardware (AAX, VST, AU and RTAS): Mac OSX 10.9.5 and higher, Windows 7 and higher, AAX DSP support for Pro Tools HDX

System requirements: 4 GB of RAM, 200 MB of free hard disk space, Internet connection, compatible plug-in host application (DAW software) with support for AAX, VST2, VST3, AU or UAD, two phantom power mic preamps
available since
August 2017
Switchable Polar Pattern
No
One mic, many sounds
The Townsend Labs Sphere L22 replicates the most sought-after microphones with the help of two capsules for mono and stereo recording and a DSP plug-in. From the world-famous large-diaphragm Neumann U 87 to various small-diaphragm and ribbon mics to the SM57 plunger coil, it brings together everything that has any standing in the audio world. Another big plus is that the microphone type can also be selected during post-production. The sound can also be modified with numerous features such as a variable polar pattern, reflection filters, or off-axis correction. This sets the Sphere L22 apart from many of its competitors. The scope of delivery also includes a carrying case with breakout cable, a microphone shock mount, and a clip.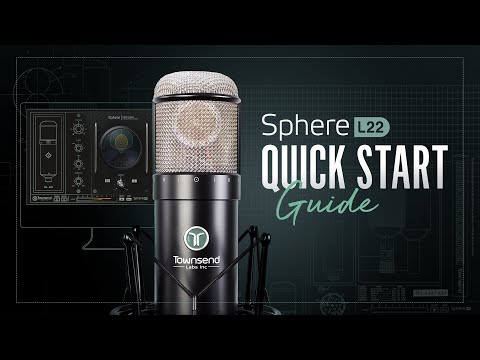 Reproduce over 20 microphones
With this two-channel FET condenser microphone, whose signals are sent from a five-pin XLR out via the adapter cable into two three-pin XLR inputs for recording, over 20 microphones can be reproduced thanks to the plug-in. The available selection ranges from the world-famous Neumann U 87 to the SM57, but it does not end there. In addition, the recording angle and the off-axis response can be varied. The microphone can handle a maximum of 142 dB SPL, with a latency of only 1.6 ms at 96 kHz. For operation, both microphone inputs or preamps must supply phantom power. Both Mac OSX (from version 10.8.5) and Windows (from version 7) operating systems are supported, as well as common plug-in formats. In addition, the Sphere L22 is compatible with Apollo interfaces and UAD-2 hardware such as sound cards.
Also for difficult acoustic conditions
With the Townsend Labs Sphere L22, both Windows and Mac users can enjoy renowned microphone sounds in a budget-friendly way. Studio operators will surprise their musicians with short recording sessions, as they only have to deal with microphone selection, transient behaviour, or the proximity effect in post-processing if required. Those who work at live concerts in noisy environments or in small studios under difficult acoustic conditions will benefit from popular features such as the sE Reflexion Filter, the Aston Halo, and the Kaotica Eyeball as well as a three-stage high-pass filter. For those who are just setting up a studio, the Sphere L22 allows you to record a complete band with different instruments one after the other.
About Townsend Labs
Townsend Labs was founded by two specialists whose expertise is reflected in the company's products. One of them, Erik Papp, was CEO and owner of Summit Audio for over a decade, making him a renowned expert in high-end mic preamps and audio gear. Namesake Chris Townsend previously worked in programming for Pro Tools at Avid, where he developed plugins, was responsible for the development of the Eleven Guitar Amp Simulator, and created the Avid ReVibe Room Plugin. In 2017, Townsend Labs partnered with Universal Audio to ensure the best possible compatibility between the two manufacturers' products.
Recording session in your home studio
To record a band one member at a time with the Townsend Labs Sphere L22, first position it in front of the drums with the circle symbol in the main recording direction. In this way, the drums are taken care of with the Sphere 180 plug-in in XY stereo. Mono signals such as the electric bass should also be recorded with both capsules, so that subsequent changes such as a new polar pattern to reduce background noise are possible. For guitar, after clicking on the Dual button, different types of capsules can be assigned to the two channels in the software, like when recording with two different mics that can be mixed without phase shifting. For vocals, the microphone is selected individually so that it best suits the singing voice and the style.
This is what customers who viewed this product bought