This item runs exclusively on an operating voltage of 230 V and therefore requires a voltage transformer to run in your country of United States.
Active 2-Way Nearfield Monitor
5" Woofer (45 W) + 1" Tweeter (25 W)

70 W biamp

Bass reflex system

Frequency range: 54 Hz - 30 kHz

XLR input, balanced

6.3 mm jack input, balanced

Adjustable input level

Room control and high trim response control

Dimensions (WxHxD): 170 x 285 x 222 mm

Weight: 5.3 kg

Price per item
Amplifier power per unit (RMS)
70 W
Analogue Input (Jack)
Yes
Analogue Input (Mini Jack)
No
Manual frequency correction
Yes
Frequency range min.
54 Hz
Frequency range max.
30000 Hz
Dimensions in mm
170 x 285 x 222
Speaker Hous8ing - Woofer System
Bassreflex
Affordable studio-quality reference sound
Not without reason, the Yamaha HS series are among the best-selling active nearfield monitors in their category worldwide. The HS 5s are a high-performance bi-amplified system consisting of a 1" tweeter and an 5" woofer, driven by separate 25 W and 45 W amplifiers and housed in neatly crafted bass-reflex cabinets. Thanks to a well-thought-out design based on the manufacturer's decades of experience, the speakers are able to develop their full potential without any significant colouring at high volumes. The result is a high-quality reference sound, present throughout the entire HS series, which is both natural-sounding and balanced across the audible spectrum - and all at a distinctly affordable price.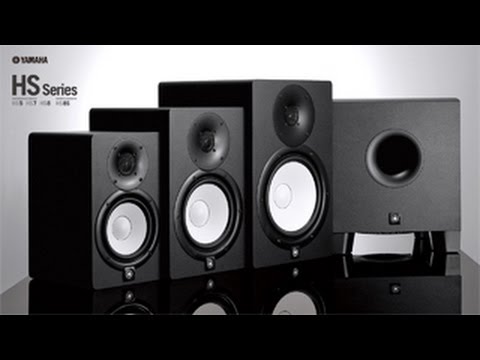 Perfect for small spaces - but not exclusively!
Yamaha specifies a frequency response of 54 Hz to 30 kHz - an impressive feat indeed given the HS 5's 5" woofer, the smallest in the series. This makes it the ideal candidate for small spaces which can often reflect too much bass. Of course, the HS 5 can also be combined with the compatible Yamaha HS 8S subwoofer. The "Room Control" and "High Trim" functions provide the speaker with dedicated EQs, one for bass and one for treble, so that the necessary corrections can be made, for example, when the speaker is placed directly against a wall.
A reliable monitor
The Yamaha HS series of active nearfield monitors are an ideal choice for anyone looking for affordable and reliable equipment. The speakers do not flatter the sound or seek to artificially differentiate themselves from the competition with exaggerated bass and treble responses - and thus pave the way for professional quality music productions.
About Yamaha
For decades, Yamaha has been one of the world's best-known manufacturers of musical instruments and audio technology. The Japanese company's long history began at the end of the 19th century with the harmonium. The product range has constantly expanded since then, which has made Yamaha one of the few manufacturers today to offer almost the entire range of existing musical instruments: From upright and grand pianos to guitars, wind instruments, and bowed string instruments and from drums and percussion to electronic keyboards and synthesizers. Yamaha is also a major force in the field of audio engineering as a manufacturer of mixing consoles, amplifiers, PA systems, and more. Yamaha's guiding principle is to combine traditional craftsmanship with state-of-the-art technology.
Perfect for the home studio
Whether in a recording or mixing situation, Yamaha's HS series offers faithful sound reproduction, making it an ideal speaker for the home or project studio. But in the tradition of the famous NS-10, the HS can of course also be used as a secondary system in larger studios. With a suitable monitor controller, you can listen to your work on two different pairs of speakers and better assess the quality of your mix.
This is what customers who viewed this product bought