Keyboard
61 Keys with touch response

820 Sounds

290 Styles

64-Voice polyphonic

Pitch bend wheel

Motion-effect button and 2 Live Control knobs

GM/XGLite compatible

Effects (Reverb, Chorus, Master EQ, DSP1: 42 types, DSP2: 12 types)

One Touch Setting

Style File Format (SFF) compatible

Groove Creator (35 grooves, 5 sections)

30 Preset songs

Midi Recording (5 Melody + 1 Style/Groove Creator)

SMF format 0+1

USB Audio Player & Recorder (Wav, 44.1 kHz, 16 bit, stereo)

Quick Sampling (44.1 kHz, oneshot or loop, 4 user samples, sampling time approx. 9.6 seconds, sampling input: aux in, mic input, USB audio or Wav file)

Functions: Dual, Split, Harmony (26), Arpeggio (152), Articulation, Registration Memory, Metronome, Tuning (427 - 453 Hz), Octave Keys, Melody Suppressor.

USB to Device

USB to Host (Midi + Audio)

Aux input: 3.5 mm stereo jack

Headphone output: 6.3 mm stereo jack

Audio output: 2x 6,3 mm jack

Microphone input with vocal effects

Loudspeaker 2 x 6W with Mega Boost function

Battery operation possible (6x AA, not included)

Dimensions (WxDxH): 992 x 404 x 136 mm

Weight: 7.0 kg

Colour: Black

Incl. power supply unit (PA-150) and music stand
Available since
February 2022
Illuminated Push-Button
No
Storage Medium
USB to Device
Dimensions in mm
992 x 404 x 136
Fully-equipped PSR-series keyboard
The Yamaha PSR-E473 is a portable keyboard for practising and composing musical pieces, and this model differs from the Yamaha PSR-E373 in that features a larger number of voices, a 64-voice polyphony, and additional functions which include a pitch bend wheel. The 14 Super Artificial Lite Voices provide a replication of sound and velocity reponse that is true to the original sampled instruments, and in addition to the recorder, which is capable of recording both audio and MIDI data, this keyboard includes a built-in microphone input to allow the user to record vocals as well as a USB port for transferring MIDI data to a computer. Additional opportunities for producing music are provided by the "Groove Creator" and "Quick Sampling" programmes (for creating rhythms and incorporating audio files, respectively). All of these features make the PSR-E473 a powerful keyboard with an integrated workstation that can be used to record entire songs.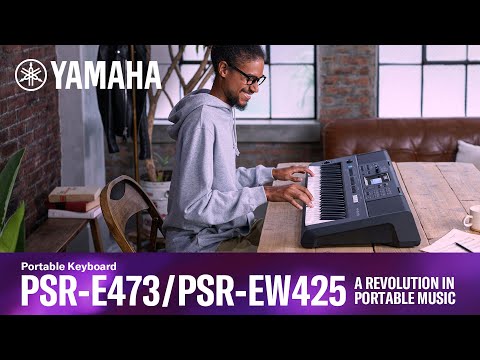 A voice for each hand
The Yamaha PSR-EW473 features 61 keys whose touch response can be adjusted from "soft" to "hard", and the velocity sensitivity can also be deactivated entirely by selecting the "fixed" option. The buttons adjacent to the display can be used to select the desired voice, practice song, and accompaniment style, and the user can also directly recall one of the 820 voices using the number keys rather than manually searching. These voices include acoustic and electric pianos, organs, string and wind instruments, guitars and basses, synth sounds, percussion, and even sound effects. It is also possible to layer two sounds on the keyboard thanks to the "Dual Voice" function, and the keyboard can be configured to allow each hand to play a different voice. The sound of the voices can be further enhanced with the Yamaha PSR-E473's DSP and motion effects, the latter of which include various filter, pitch, and modulation effects.
For expressive performances and productions
The Yamaha PSR-E473 has been designed for up-and-coming keyboard players looking for a versatile and authentic-sounding practice instrument that allows vocals to be performed at the same time. Vocals can also be enhanced with reverb and chorus effects for a more vivid performance, and backing tracks from external signal sources such as smartphones can be fed in via the AUX input on the rear of the keyboard. The Live Control section's rotary controls, labelled A and B, are assignable to specific functions in order to control parameters, e.g. to shape effects during the performance. Connecting the Yamaha PSR-E473 to a computer via the USB port (located on the rear) also allows the user to play virtual instruments from any DAW using the keyboard, which can also run on battery power (requiring six AA batteries, sold separately), so on-stage performances are possible whenever and wherever, even if no mains power connection is available.
About Yamaha
For decades, Yamaha has been one of the world's best-known manufacturers of musical instruments and audio technology. The Japanese company's long history began at the end of the 19th century with the harmonium. The product range has constantly expanded since then, which has made Yamaha one of the few manufacturers today to offer almost the entire range of existing musical instruments: From upright and grand pianos to guitars, wind instruments, and bowed string instruments and from drums and percussion to electronic keyboards and synthesizers. Yamaha is also a major force in the field of audio engineering as a manufacturer of mixing consoles, amplifiers, PA systems, and more. Yamaha's guiding principle is to combine traditional craftsmanship with state-of-the-art technology.
Extensive recording options
Players can record their entire performance with the Yamaha PSR-E473 as a .WAV file using the onboard recorder and take it with them on a USB stick. All files are created in 44.1kHz/16-bit quality. When recording MIDI data, users can store up to 10 recordings as songs with up to 19,000 notes, which can also be stored on a USB flash drive. Songs can subsequently be edited and sounds replaced in any DAW via the MIDI data, and Yamaha's "Rec'n'Share" app allows synchronous recording of audio from the keyboard with a video shot on a smartphone, a feature that makes it possible for players to quickly and easily record videos of their performances and publish these on their social media channels.
In the spotlight
Groove Creator and Quick Sampling
The "Groove Creator" programme allows the user to combine existing preset patterns and grooves in order to create an individual accompaniment for their performance. These grooves can be started and stopped using the corresponding buttons, and in addition to setting the tempo as a numerical value, the user also has the option to set it manually using the "Tap" button. Tension can easily be created by pressing the keyboard's "Musical Climax" button, and a counter on the display shows when the end of this effect will be reached. The "Retrigger" function in turn can be utilised if a rhythmic break effect is desired. Using "Quick Sampling" lets the user record short audio files of a song and play them afterwards, which also works with .WAV files from a USB stick connected to the keyboard's USB port.
This is what customers who viewed this product bought