Electric Drum Set
With 2Box DrumIt 3 electric drum module

4 GB Storage space for samples from Randy Black and Simon Phillips, among others

Multilayer sampling techniques

Metronome

Song player

Supports a variety of pads from different manufacturers, three-zone snare drum pads, and up to 3x three-zone cymbal pads

15x 6.3 mm Stereo jack trigger inputs

4x 6.3 mm Mono jack direct outputs

1x 6.3 mm Stereo jack line input

1x 6.3 mm Stereo jack headphone output

MIDI input and output

USB port for data transfer

Via the free-of-charge Kit- & Sound Editor for Windows and Mac, various modification possibilities are at your fingertips for creating multilayer sounds with up to 127 velocity levels

Includes a rack, hi-hat stand and cables
Set configuration:
1x 10" Two-zone mesh head snare pad

3x 8" Two-zone mesh head tom pads

1x Rubber kick drum pad

1x 14" Hi-Hat pad, including controller for the stand

1x 12" Two-zone crash pad, including stop function

1x 14" Three-zone ride pad, including stop function
available since
January 2020
Open sound architecture - endless possibilities
The 2box SpeedLight Kit is an e-drum set for the discerning player and features the powerful Drumit Three module, which is also sold separately. While the almost four gigabyte-strong internal sound library already offers a tremendous amount of sonic variety, the spotlight is really on the open sound architecture, which enables multi-sample imports into the module with the help of the 2box Editor software. With this, there are really no more limits to sound creativity. Of course, the SpeedLight Kit also features mesh heads and comes with a hi-hat stand, leaving only a bass drum pedal to be bought separately.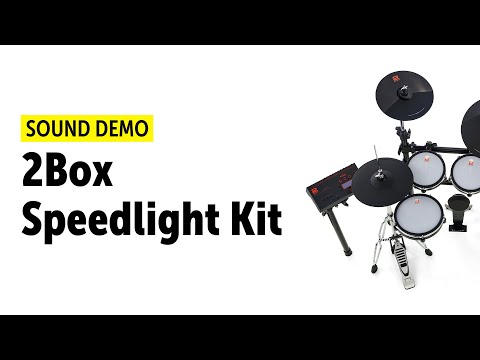 Authenticity in the limelight
The SpeedLight Kit comes with dual-zone mesh head drum pads and includes 8" toms and a 10" snare, while also featuring comfortably large cymbal pads with a 12" dual-zone crash and a 14" three-zone ride. The hi-hat pad is mounted on the included stand, and with its 13" diameter hardly differs from its acoustic counterparts. The Drumit Three module is the centre of the kit and can be completely customised thanks to its open sound architecture. This means that music sample imports with 128 levels of dynamics are possible, something that no sound module with a standard design can do and which allows for extremely authentic sound progressions. Moreover, the module offers a great variety of routing capabilities, which pay off especially when performing live.
You can leave your computer at home
Until now, going for high quality and dynamic sounds with authentic sound progressions had the major disadvantage of being dependant on your computer's sample libraries. With the 2box SpeedLight Kit, this problem is now a thing of the past, as the four-gigabyte memory allows you to permanently import even extremely elaborate sample sounds. The authenticity of the sounds is matched by the playing feel of the mesh head pads, which not only offer a similar rebound to that of real drum heads, but also go easy on the joints and can be played at low volume.
About 2box
2box was founded in Stockholm in 2007 by Bengt Lilja and specialises in the production of electronic drums. Lilja, who had already been involved in the development of the Clavia ddrum 4 five years earlier, had a huge success when he presented the 2box DrumIt Five e-drumset during NAMM 2008. The specificity of the DrumIt Five resides in its open sound architecture, which enables the import of high-resolution multisamples and thus produces extremely realistic sounds within a previously unobtainable dynamic range. Besides e-drum modules and complete sets, 2box also markets drum triggers and other e-drum accessories.
Ready for the stage
As standard, the 2box SpeedLight Kit comes with superb sounds that include not only acoustic drum sounds but also a substantial range of electronic and percussion sounds. The kit thus offers more than "plug and play" benefits: It also provides a wide range of options for sound tinkerers and especially for drummers who want to use their own high-resolution sample sounds in the rehearsal room, at home, or on stage. The four line-level outputs along with a separately selectable headphone output and the numerous signal routing options give you a tremendous advantage, particularly in a live setting.
This is what customers who viewed this product bought