Europe's Biggest Service Center
How can we help you?
Service for us isn't just about repairing and caring for your equipment, we believe service starts with the selection of products we offer you, right the way through to how we ship your equipment.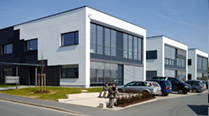 Before

For us service starts with the selection of products we offer you. We are available by phone, email and in our shop to offer help and advice, prior to you making your purchase.

During

It's all about fine-tuning! We are always looking at ways to improve our logistics and stock capacities enabling us to deliver your items even quicker.

After

If you find yourself facing technical problems, we won't let you down: We have teams of in-house technicians to help you quickly and efficiently.

Personal contact

We have a team of experts to help and advise you by phone, email or in the shop.

Europe's Largest Warehouse

Our ware­house offers the best avail­ab­ility and quickest pos­sible ship­ping. 90 % of all orders leave our ware­house within 30 minutes of us receiving them.

3 year warranty

We extend the war­ranty to a total of 36 months –without any addi­tional costs for you.

Online guides

Our detailed online guides offer hints and tips, as well as technical know-how for beginners and professionals.

Quick shipping, great shipping conditions

Any order above 199 EUR is shipped free of charge to main­land UK and Ire­land - no matter what it weighs or how big it is.

PLEK-Service

A pleked guitar feels better and sounds better! Therefore our Guitar-Workshop-Team offers this service just for you.

Extensive product information

In addi­tion to product videos, sound samples and 360° pic­tures, our web­site also offers test reports and cus­tomer reviews for many dif­ferent items.

Satisfaction guarantee

If you do not like the item you have bought you can return it within the first 30 days, no questions asked.

Maintenance and repair service

We have eleven fully equipped work­shops with trained spe­cial­ists who are able to main­tain and repair your equip­ment.
Our technicians and specialists are here to help you quickly, professionally and most importantly efficiently if something does go wrong.