Alesis Turbo Mesh Kit Bundle
Bundle offer comprising
Alesis Turbo Mesh Kit
E-Drum Set for Beginners

Tom and snare pad equipped with mesh heads

Turbo drum module with 120 sounds

10 Drum kits

30 Integrated play-along tracks

Training and metronome functions

CD/MP3 AUX input for playing along with songs

USB/MIDI connection for playing with virtual instruments and recording

Stereo line outputs and headphone output

Required floor space: Approximately 110 x 80 cm
Kit configuration:
1x 08" Single-zone snare drum pad

3x 08" Single-zone tom pads

3x 10" Single-zone cymbal pads

Kick drum and hi-hat pedal

Aluminium rack
Millenium MDT4 Drum Throne Round
Drum Throne

Round seat

Diameter: 28 cm

Double-braced

Continuously adjustable in height (without fixed increments)

Min. height: 53 cm

Max. height: 63 cm

Colour: Black
the t.bone HD 200
Headphones

Circumaural

Closed

Rotatable earcups

57 mm driver

Frequency range: 20 - 20,000 Hz

Sensitivity: 110 dB

Impedance: 32 Ohm

Max. input level: 100 mW

3 m cable with 3.5 mm jack plug and 6.3 mm adapter

Weight without cable: 244 g
Available since
December 2018
Feels like playing a "real" drum set
The Turbo Mesh Kit from Alesis is a fully equipped electronic drum set that features mesh head pads for the snare and toms, and it sells for less than 300 euros – a bargain given its feature set. The special mesh heads feel very close to those of an acoustic drum set. The Turbo Mesh Kit control module includes ten different drum kits as well as 30 play-along songs and is really child's play to operate, as it dispenses with complicated submenus. The five integrated practice settings will be especially helpful to those just starting out.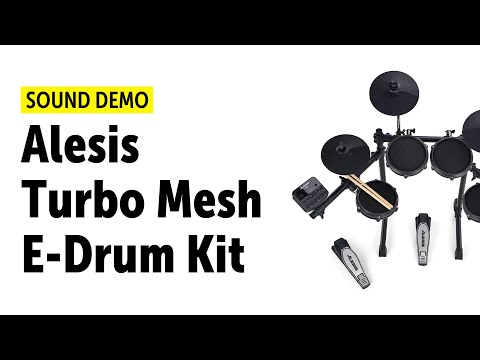 120 sounds in one unit – what more could you want?
The Alesis Turbo Mesh Kit allows you to play the drums in a small space without annoying your flatmates or neighbours, and it comes at an extremely affordable price – a great combination. The ten pre-pre-configured drum kits cover a wide range of styles and draw from a stock of 120 sounds, so you can be sure that drumming on this kit will never get boring. The authentic sounds include acoustic drum kits, percussion instruments, and a wide range of classic electronic sounds. Everything is controlled via a compact and clearly laid-out module equipped with a USB interface for connecting to a computer. For a small extra charge, this bundle includes a drum stool and a set of headphones in addition to the kit itself, so you can start playing immediately.
Practise without annoying the neighbours
A regular acoustic drum kit is loud – much too loud for a rented flat or for neighbours with sensitive ears. Electronic drum sets are a well-established, inexpensive alternative and, when they also take up as little space in your apartment as the Alesis Turbo Mesh Kit, the decision really becomes a no-brainer. Budding drummers can practice on this e-drum set in the same way they would on a "real" drum kit while making good use of the extra "practice" functions – not to mention the ability to switch between different drum kits at will. With its eight-inch pads and fully height-adjustable rack, the Alesis Turbo Mesh Kit is also suitable for children and adults alike.
About Alesis
Alesis was founded in 1984 by Keith Barr in Hollywood, California, and has become one of the leading manufacturers of signal processors, drum machines, synthesizers, and other studio equipment. The company's most successful products during its early years were the MIDIverb, the HR-16 drum machine, and the ADAT multitrack digital recorders. In 2001, Alesis was acquired by Numark owner Jack O'Donnell and is now part of his InMusic parent company alongside brands like AKAI, Denon, and many other well-known names in the audio manufacturing industry. Alesis has also been a major player in the field of e-drums for many years and offers a large choice of products in all price ranges.
Ideal for both beginner and advanced levels
The Alesis Turbo Mesh Kit is a great choice for anyone – child or adult – just starting out and looking for a quiet, affordable, and versatile electronic drum set with useful practice features. The height is fully adjustable, so even young children (from about six years old) can sit comfortably behind the kit. However, the Turbo Mesh Kit is also the perfect solution for experienced drummers who want to practise quietly or simply work on ideas in between band rehearsals. In addition to the 30 preset songs, the AUX input can be connected to external sound sources to play along to your favourite tunes and, thanks to the USB connection, you also can access and control high-quality virtual drum software on your computer and raise the Turbo Mesh Kit to a completely different level.