Hybrid Synthesizer
Touch keyboard with 25 keys

Velocity dynamic with polyphonic aftertouch

Digital oscillator with synthesis methods like Karplus Strong, Harmonic OSC, Superwave and Texturer

Analog state variable filter (-12 dB/oct.) with selectable lowpass, bandpass and highpass characteristics

LFO with 6 vibration modes

2 Envelope generators

Modulation matrix with 5 sources and 7 targets

Arpeggiator

Step sequencer with 4 automation tracks and random parameters

Paraphonic mode

OLED display

Mono line output: 6.3 mm Jack (balanced)

CV / Gate / Pressure Outputs: 3.5 mm Jack

Clock In / Out: 3.5 mm Handle

MIDI In / Out: 3.5 mm TRS jack

USB port

Dimensions: 311 x 233 x 55 mm

Weight 1.02 kg

Includes 12V DC power supply unit

Suitable bag: Article Nr. 485323 (not included)
Number of simultaneous Voices
1
Sound Engine
Digital Analog Hybrid
MIDI interface
1x In, 1x Out
Number of Analog Outputs
1
Dimensions
311 x 233 x 55 mm
Anyone who loves extraordinary synthesizers simply has to experience the Arturia Microfreak. This compact hybrid synthesizer includes a digital oscillator with various synthesis processes. This unique audio source is combined with an analogue multi-mode filter and flexible modulation options. Other unique features include the velocity-sensitive, capacitive touch keyboard that offers unique modulation options while playing as well as the polyphonic step sequencer with a parameter recording facility. This produces unconventional sounds that are full of character and give each track its own individual touch - so despite its diminutive size, the MicroFreak gives you plenty of room for experimentation.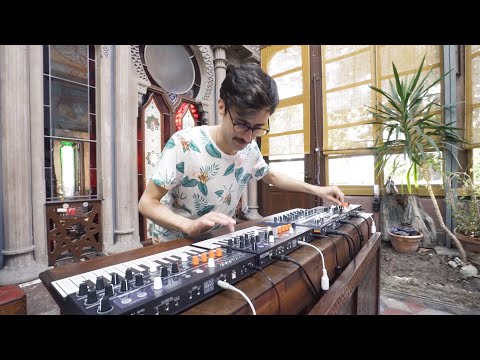 An oscillator like no other
The heart of the four-voiced paraphonic Arturia Microfreak is its digital oscillator, which handles 12 different synthesis processes including standard waveforms, wavetable synthesis, and FM as well as rare and extraordinary processes such as Karplus Strong synthesis, granular formant oscillator, and modal resonator. This guarantees an impressive variety of sounds, which is further enhanced by the fact that the oscillator type can be modulated. Modulation in general is one of the top features the Arturia Microfreak delivers: Modulation sources and targets can be easily connected with each other via a flexible matrix. What is more, the sequencer has four tracks for modulation data, so that fader movements can be recorded and played back.
Get your "freak" on!
The Arturia Microfreak is a great tip for all synthesizer freaks who like to experiment with extraordinary synthesis processes and unique sounds. With its many different types of sound generation, it can create sounds that cannot be obtained from most other synthesizers, so if you want your music to get a very special touch, the Arturia Microfreak is the right choice. And thanks to the Microfreak's many operating elements, this variety of sounds can be easily explored without having to delve into endless menus. While other synthesizers with such a complex sound generation are often complicated to use, the Microfreak invites you to experiment right away.
About Arturia
Arturia's success story began with software emulations of well-known analogue synthesizers such as the Moog Minimoog, Sequential Prophet-5, and Oberheim SEM. The popular software instruments included in the V Collection are still flagship products of the French developer today. Over time, Arturia has gradually expanded its range and now also offers a host of hardware devices, ranging from synthesizers and keyboard controllers to sequencers. Since then, the former software developer has thus also become a household name in the world of analogue synthesizers and other equipment.
A must-have for adventurous tone chasers
The compact Arturia Microfreak can be easily integrated into any setup. It has USB and MIDI interfaces, via which it can be connected not only to DAW software but also, for example, to an external sequencer such as the Arturia Keystep. What's more, it is a great addition to an analogue modular system thanks to its CV/gate outputs and clock input/output and, with its extraordinary touch keyboard and its powerful sound, it makes a great impression on stage. A bold synthesizer for those who like to experiment and are looking for new sounds and ways of expression.
In the spotlight
Capacitive keyboard
The Arturia Microfreak doesn't have any moveable keys in the traditional sense. Instead, the "keys" are covered with hundreds of electrical contact points that are triggered by the touch of the player's fingers. By analysing the area touched, the keys can also detect the strength of the pressure, allowing you to control various parameters on the Microfreak and configure this process in the modulation matrix. The playing feel on this capacitive keyboard is of course different to that of a conventional keyboard; in return, however, it offers a great range of new possibilities. Besides this, it is reminiscent of a vintage classic from 1973, from which Arturia has copied the capacitive keyboard.
This is what customers who viewed this product bought