Studio Headphones
Closed-back

Circumaural (full size)

Dynamic

40 mm Drivers with rare earth magnets and copper-clad aluminum wire voice coils

90 Degrees swiveling earcups

Frequency Range: 15 - 22000 Hz

Maximum Power: 1300 mW at 1 kHZ

Impedance: 47 Ohm

Peak SPL: 98 dB

3m Cable with 3,5 mm stereo mini-jack

Single-side cable output

Weight (including cable): 265 g

Weight (excluding cable): 205 g

Colour: Black

Includes 6.3 mm adapter and carry pouch
Available since
February 2014
Frequency range
15 Hz – 22000 Hz
Type Of Connector
Mini Jack
Style meets versatility
Audio-Technica's ATH-M series is a line of closed-back, studio-quality monitoring headphones and includes models to suit any budget. What all of these headphones have in common is a sturdy construction, a high-resolution sound with a slight emphasis on the bass and treble frequencies, and a circumaural design to ensure a high level of comfort even during longer sessions. The ATH-M models also have relatively low impedance values, which means they can provide a reasonable level of volume even when used with mobile devices that perhaps lack the output power of a headphone amplifier or audio interface. These headphones are additionally suitable for DJs and for use in noisy environments thanks to their good sound isolation.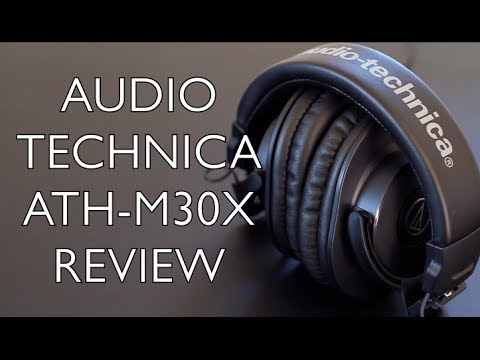 Solid and reliable
The ATH-M30X model from Audio-Technica's ATH-M series features 40mm drivers and CCAW coils driven by neodymium magnets, delivering an impressive sound that can easily compete with much more expensive headphones. Unlike its "little" sibling, the ATH-M20X, the M30X model is foldable, making it ideal for use on the go. The headphones are steplessly adjustable, and the earcups are also generously padded and can be swivelled by 90°, allowing them to be set to any desired position. The left side has a fixed 3m cable ending in a 3.5mm mini-jack connector, and a threaded adapter for 6.3mm connections is included in the scope of delivery.
Extensive features without breaking the bank
The ATH-M30X's closed-back design and effective sound isolation make it the perfect companion for noisy recording sessions where - for example - the drum tracks are being recorded in the same room. At the same time, crosstalk is reduced during vocal recordings when the singer has the backing tracks turned up loud on their headphones. Thanks to their linear frequency response, these headphones also cut a fine figure in production and mixing applications. Excellent sound isolation and a good volume level are important for queuing tracks in noisy clubs, so DJs will doubtless also appreciate the ATH-M30X's circumaural design. Those looking for headphones to primarily enjoy listening to music will be pleased with the model's tight bass response and clear treble frequencies, both of which are impressive at this price point.
About Audio-Technica
The Japanese company Audio-Technica was founded in 1962 and at first manufactured affordable phono cartridges. The company has since become acclaimed for a whole range of quality audio products. Audio-Technica released their first headphones in 1974. The company later gained huge popularity among musicians with the release of the AT4060 tube microphone. Audio-Technica focuses on high-quality components at affordable prices. Today, their product rang offers a wide variety of microphones, headphones, and turntables as well as many other accessories.
CCAW voice coils
In loudspeakers as well as headphone drivers, the coil attached to the diaphragm vibrates in a magnetic field. The aim is to make the coil as light as possible so that the diaphragm can oscillate freely and is not slowed down by its own inertia even in the high-frequency range. While a copper coil has the highest inductance, i.e. vibrates particularly strongly in the magnetic field, an aluminium coil weighs less. Audio Technica's CCAW solution stands for Copper-Clad Aluminum Wire. As a compromise, an aluminium wire coated with copper is used in the coil. This makes it possible to create a very light coil with a high vibrational frequency response.
This is what customers who viewed this product bought