Avid Pro Tools Studio UPD EDU S/T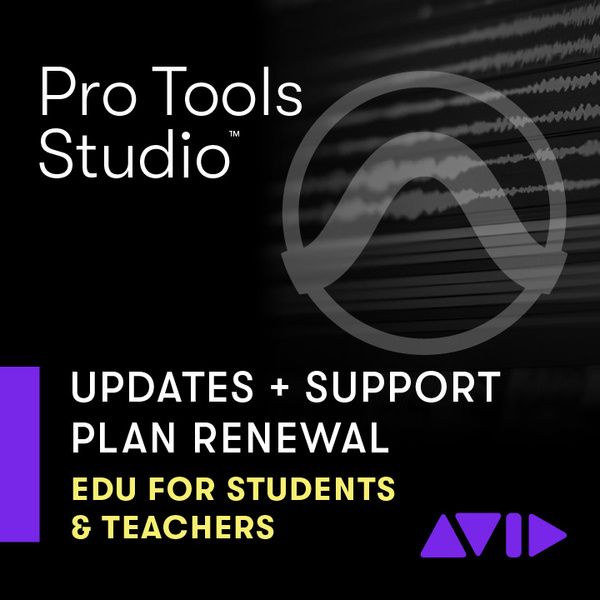 Please activate your javascript. You're currently missing out on our lovely designed product gallery and its useful features (zoom into the very last pixel of each picture, 360 view, videos and more). We wouldn't miss them for the world.
Educational Version
ATTENTION! This software version can only be purchased under certain conditions set by the manufacturer! Please be sure to read our notes on EDU conditions in the "Smart Navigator" at the bottom of this page before adding the item to your shopping cart!
Updates and Support Plan Extension EDU Student / Teacher (Download)
For owners of a current Pro Tools Studio EDU Student / Teacher permanent licence with active update plan

Extends an existing / active update plan by 12 months

Includes all Pro Tools updates within the 12-month term
Note:

Not applicable for: regular Pro Tools Studio perpetual licences, Pro Tools annual licences, Pro Tools perpetual licences with expired Update & Support Plan or older Pro Tools versions up to 12!
System Requirements
Format: E-Mail

License validity: 12 months

Copy protection: iLok 2 / iLok 3 (401447) / iLok Cloud

Simultaneous activations: 1

Windows: from 10 (64-Bit)

Mac OS (64 Bit): 10.14.6 / 10.15.7 / 11.6 / 12.3

CPU min.: Intel Core i5

RAM min. (GB): 16

min Space on HD (GB): 15 GB

Additional System requirements: Internet Connection for Installation and Activation, ASIO-comp. Audiointerface (Windows)
available since
April 2022
Audio- / Effect Plugin
No
Audio-MIDI-Sequenzer (DAW)
No
Misc. Musicians Software
No
Virtual Instrument / Sampler
No
The shipping costs are calculated on the checkout page.
Available immediately
Available immediately
We can send you a download license immediately once you have purchased this product.
Standard Delivery Times