Electric Guitar
Body: Pine

Bolt-on neck: Maple

Fretboard: Maple

Black dot fretboard inlays

Neck profile: C

21 Narrow Tall frets

Nut width: 42 mm (1.65")

Scale: 648 mm (25.51")

Fretboard radius: 241 mm (9.49")

Bone nut

Pickups: 2 Fender-designed Alnico single coils

Master volume knob, master tone knob

3-Way toggle switch

Single layer black pickguard

Tele string-through-body bridge with 3 saddles

Vintage style machine heads

Nickel hardware

Ex-factory stringing: Fender 250L NPS .009 - .042 (article no. 133191)

Colour: Butterscotch Blonde
Available since
October 2019
The sound of the 50s
The Fender Squier Classic Vibe '50s Telecaster MN BB brings back the legendary "Tele" sounds of the 1950s in an authentic-looking and affordable package. This guitar combines a solid pine body that provides ample sustain with a one-piece maple neck adorned with contrasting black dot fingerboard inlays for easier orientation. The ensemble is completed by a black scratchplate and chrome machine heads together with a pair of classic AlNiCo single coil pickups just like those found on the original Fender Telecasters in the 1950s. The version shown here is finished in Fender's classic "Butterscotch Blonde" colour, as indicated by the "BB" suffix in its name.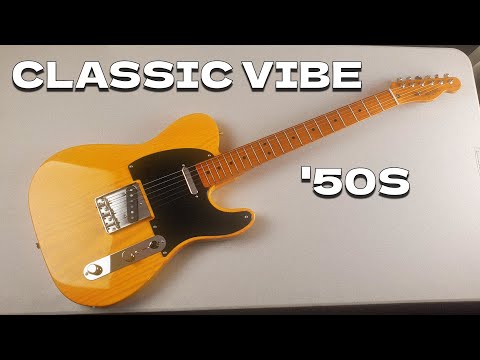 The embodiment of versatility
The two AlNiCo pickups in the Squier Classic Vibe '50s Telecaster MN BB deliver a warm and melodious single coil sound and are governed by a three-way selector switch that allows them to be used separately or together. The neck features a comfortable C profile that will suit a range of different playing styles, perfect for a guitar that, from its very inception, has been used for everything from strumming through to more complex styles like chicken pickin' and even solo shredding. The guitar's immense usability is enhanced even further by its long 648mm (25.5") scale length, which not only makes it comfortable for players with large hands but also ensures plenty of presence and attack in the sound.
The next stage
In keeping with its classic "old school" features, the Squier Classic Vibe '50s Telecaster MN BB features a typical three-way Tele-style bridge with through-body stringing as well as a set of vintage-style machine heads. And you don't need to be a fan of 50s sounds to enjoy this guitar: Anyone who has taken their first musical steps on a beginner's guitar and is looking to upgrade to an instrument that is still affordable but delivers absolutely solid performance and enhanced playing comfort will find exactly what they are looking for here. What is more, the Classic Vibe '50s Telecaster's scale length makes it ideal for adults and teenagers alike.
About Squier
Fender is without doubt one of the most legendary guitar and amplifier manufacturers of all time. The company was founded in 1946 by its namesake Leo Fender († 1991), whose innovative ideas brought a breath of fresh air into the musical world. His Telecaster, Stratocaster, Precision Bass, and Jazz Bass are not only classics – they also continue to shape the styles of musicians in countless genres to this day. Incidentally, Squier has existed as a company since the 19th century. It supplied Fender with strings right from the start, before being acquired by the company in 1965. Fender has been producing its iconic guitar and bass models at beginner-friendly prices under the Squier brand since 1982.
From Blues to Pop
The Squier Classic Vibe '50s Telecaster MN BB is the perfect choice for budget-conscious musicians who want to be sure they are still getting proven Fender quality: Whether it's Blues, Country, Americana, Rock, or Pop, this guitar will deliver the typical Tele sound, and players can be sure of both solid handling and immense playing comfort. Those who already own an expensive Fender USA 50s-style Telecaster can also consider this model as a high-quality backup instrument that won't dent their finances too much. And if your primary guitar is temporarily sidelined during a gig due to a broken string, this Classic Vibe Telecaster will provide the perfect substitute while maintenance is carried out.
This is what customers who viewed this product bought