DJ Controller with Built-In USB Audio Interface
Supports music streaming services - Beatport ADVANCED, Beatsource, SoundCloud GO+ or TIDAL

150 mm jog wheel per deck

Vinyl feel with pressure detection

8 Performance pads per deck to control 8 modes (hot cue, roll, slicer, etc.)

Effect rack with 2 FX knobs and dry-wet slip

Quantizer

Loop in/loop out buttons

Master output: 2x RCA (stereo)

Headphone output: 3.5 mm mini jack (stereo)

Audio resolution: 24-bit/44.1 kHz

Beatmatch guide with Intelligent Music Assist: built-in light guide for easy learning of beatmatching and Intelligent Music Assistant

For operation with PCs or notebooks with USB

Dimensions (W x D x H): 480 x 286 x 52 mm

Weight: 1.8 kg

Includes Serato DJ Lite & DJUCED software (compatible with Serato DJ Pro), DJ Academy with full, built-in video tutorials and integrated interactive help, and braided USB cable on controller
available since
January 2023
Controller type
All in one
incl. software
Serato DJ lite
Stand Alone Mixer Function
No
Compact DJ controller with sound card
The Hercules DJ Control Inpulse 300 MK2 is a fully equipped DJ controller with an integrated USB audio interface. Each of the two decks comes with a touch-sensitive 150mm jog wheel, a three-band equaliser, a bidirectional filter, and no less than eight performance pads for hot cues, loops, slices, and samples, which provide both beginners and experienced DJs with an impressive range of functions in an ultra-compact design. This controller is compatible with Serato, but it can also be used with music streaming services such as Beatport ADVANCED, Beatsource, SoundCloud GO+, TIDAL, and Qobuz.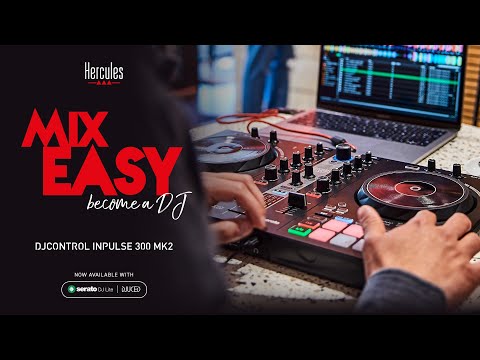 Next generation of a top seller
In collaboration with Serato, Hercules has launched the next generation of its top-selling Inpulse 300 DJ controller: The DJ Control Inpulse 300 MK2. Its new jog wheels are slimmer, turn more smoothly, and offer a higher touch sensitivity, which is absolutely essential for perfect scratching, and the redesigned rubber pads with improved back-lighting now respond even faster to the DJ's actions. Thanks to the company's cooperation with Serato, this DJ controller is perfectly compatible with Serato Pro and even allows the brand new Serato Stems to be intuitively used via the hardware. It also comes with a free license for Serato Lite and Hercules' DJUCED software, so DJs can get started with mixing right away.
Extremely easy to use for novice DJs
The Inpulse 300 MK2 can be powered solely via a laptop and the included USB cable without a mains power adapter. The master output then simply needs to be connected to the PA system, and the user can enjoy a particularly rich sound thanks to the professional 24-bit/44.1kHz audio resolution. Of course, a headphone output for cueing is also included. This Hercules DJ controller will win over all kinds of users with its numerous innovative features that make it easy to get into mixing, especially for beginners. They will quickly learn how to manually match the beats of tracks thanks to the Beatmatch Guide's dynamic lights, which are located next to the pitch faders and below the jog wheels – and of course, there is also the famous sync button for automatic synchronisation.
Perfect for beginners and occasional DJs
With its high-quality design, the Inpulse 300 MK2 is the ideal choice not only for ambitious beginners who want to buy their first controller but also for professional DJs who require a reliable and compact tool for preparing mixes for club gigs or rocking the occasional after-party while on tour. Taking up no more space than a laptop, this DJ controller fits into any backpack and can be set up in seconds – always ready for DJing, just about everywhere thanks to its USB-powered audio interface, even outdoors in conjunction with a portable Bluetooth speaker. In a nutshell, the Hercules DJ Control Inpulse 300 MK2 simply offers a great deal of DJing power in an ultra-compact design and at a very attractive price.
About Hercules DJ
French manufacturer Hercules has been making all kinds of affordable audio equipment for over 30 years. The choice ranges from pro audio speakers and headphones to gaming accessories. However, the focus is currently on entry-level DJ equipment. Hercules knows how to produce well-designed equipment at impressively low prices, while always keeping beginners in mind. For example, specific models of DJ controllers come with tutorial functions that help budding DJs learn correct beat-matching and other essential DJ skills.
Always ready to party
The Hercules DJ Control Inpulse 300 MK2 comes as a budget-friendly complete package of high-quality features that allow users to start DJing right away. They can simply download the software, import the songs, connect the controller – and they're all set and ready to party. DJs who require new tracks for mixing can use Hercules' specially developed DJUCED DJ software to connect the controller to their favourite streaming service and get instant access to millions of songs via Beatport, Beatsource, SoundCloud GO+, TIDAL, or Qobuz for direct mixing on the Inpulse 300 MK2. What is more, hot cues and loops can be set on the streamed tracks and are immediately available whenever the track is reloaded – starting a DJ career has never been easier.
In the spotlight
Beatmatch Guide
With today's omnipresent sync button, manual beatmatching may appear rather anachronistic to some. However, not every track has a perfect grid, which is particularly true for older Funk, Disco, or House music with a highly variable tempo, and means that DJs cannot fully rely on automatic synchronisation. With its innovative Beatmatch Guide, the Hercules DJ Control Inpulse 300 MK2 helps inexperienced DJs learn in a fun way how to manually beatmatch and mix two songs. They will find it particularly easy to manually adjust the BPM of tracks in accordance with the LED arrows next to the tempo faders and decide whether a track needs to be accelerated or slowed down for mixing thanks to the additional LED arrows below each jog wheel. This way, the integrated Beatmatch Guide quickly teaches novices all the essential skills of a professional DJ who knows how to beatmatch without any technical aids whenever necessary.
This is what customers who viewed this product bought