AmplifierSince the introduction of modeling technology into the guitar amplifier world, guitarists have been able to access a variety of sounds and effects with relatively little effort.
But what if you want to take your own favourite sounds instead of the manufacturer's sound specifications? Prior to the release of the Kemper Profiling Amp, there were not many alternatives: either, as before the digital revolution, they dragged their entire equipment from place to place, or tried to adapt the modeled sounds of the modeling amp as far as possible to their own desires.
Kemper breaks new ground here. Instead of using predefined emulation of different amplifier models, the Profiling Amp (Nomen est Omen) creates an exact image of the sound set on the amplifier together with the connected speaker and microphone. This combines all the personal favourite sounds in one device. In addition, the sound profile can be edited with various floor effect emulations, master effects, equalizer, and so on. A separate amp fleet is not a mandatory requirement, because the Profiling Amplifier is already equipped with a large number of classic amplifier profiles. In addition, a large Kemper community has now established itself in the world where sound profiles are exchanged over the Internet.
Powerhead version with 600 watt class D amplifier

600 watts into 8 ohms, 300 watts into 16 ohm

Dimensions (W x H x D): 37.8 x 21.7 x 17.3 cm

Weight: 6.5 kg

Colour: Black
Connections:
Mic input

Line In

Alternative input

Direct out

Monitor out

Master out (Jack & XLR)

S / PDIF digital input and output

Midi In / Out / Thru

2 x footswitch (jack)

Network & USB
Available since
June 2013
Footswitch connection
Yes
Connections for Pedals or Switches
1
The new generation of guitar amplifiers!
For a long time now, many guitar amp manufacturers have been on a quest to pack the sound of the world's most legendary amplifiers into a single unit – none of them with any real success until, in 2012, Kemper opened a new chapter in amp history with its Profiling Amplifier. Using the entirely new and unique "profiling" technology, the sound of any desired amplifier can be recorded with a microphone and then further edited and shaped in the Profiling Amplifier PowerHead. The Kemper's high-performance electronics and high-quality DSP effects, extensive routing options, wide selection of cab and microphone models, and intuitive user interface – styled after that of a real guitar amplifier – let you revive these legendary sounds, enhance them with contemporary features, and store them permanently: An ingenious concept that has ushered in a new era in guitar amplification.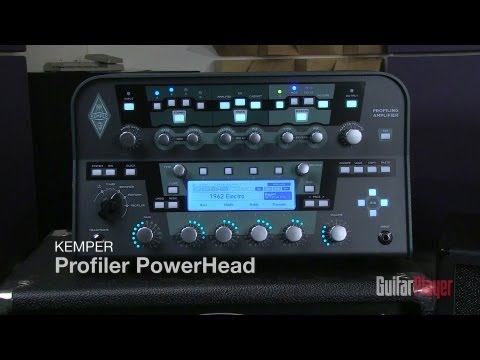 The best guitar amps of all time, emulated to perfection
The search for that perfect amplifier ends with the Kemper Profiling Amplifier PowerHead thanks to its profiling technology, which gives guitarists countless amp models at their fingertips and also lets them directly record and preserve the sonic characteristics of any amplifier they want: In other words, the boundaries of flexibility have now been completely re-drawn. Innumerable other digital editing options make the Kemper Profiling Amplifier PowerHead without a doubt one of the most flexible guitar amplifiers on the market. When paired with the right speaker cab, the head's integrated 600-watt class D power amp is also ready to unleash the fury on stage.
An ultra-flexible powerhouse for tone-chasers with pro aspirations
The Kemper Profiling Amplifier PowerHead has compact dimensions and is ready for whatever challenges are in store, so there can be no doubt that this is a thoroughly professional piece of equipment. Fans of old vintage treasures can now harness the sound and characteristics of the originals – which are usually ruinously expensive and often very rare – and shape these to suit their own tastes without having to spend a fortune getting their hands on the real thing first. This powerhouse amp will delight tone-chasers and sound nerds alike with its extensive range of features and win over recording musicians with its impressive connectivity, which allows it to replace numerous guitar amps in the studio and ultimately save everyone a large amount of time and effort when it comes to cabling and miking.
About Kemper Amps
German firm Kemper Amps, or rather its founder Christoph Kemper, is no stranger to the music industry. His very first product, the virtual-analogue Access Virus synthesizer, was far ahead of its time and brought the company both unexpected success and an impressive reputation within the music profession. Continuing the momentum of this success, the company then developed the "Profiler" technology, which allows an astonishingly realistic reproduction of the sound of a miked amplifier to be made and thus represents the dawn of a new era in digital amplifier simulation. This technology is currently available in different variants of the Kemper Profiler system: As a basic head, as a top with a powerful Class-D power amp integrated, as a rack-mountable unit, and even as a floorboard.
The Profiler is up for anything
Whether it's right next to the mixing desk in your studio rig, on stage with 600 watts of pure power behind it from the integrated class D power amp, or in your living room for some quiet practice, the Kemper Profiling Amplifier PowerHead's outstanding flexibility means that the amp's potential knows no limits other than those of the player's imagination. The wide range of connection options include on-board digital interfaces, such as an S/PDIF input and output and two USB outputs, which make it easy to record the Profiling Amplifier PowerHead's signal to a DAW with zero loss in the studio. The Kemper Profiling Amplifier PowerHead comes with presets of many of the best amplifiers of all time already installed, however, so your quest for the perfect tone can begin right away.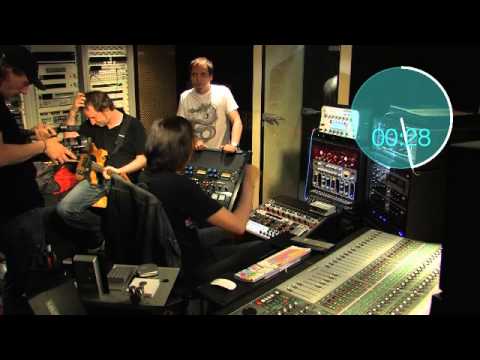 In the spotlight: Profiling
In fundamental terms, the Kemper Profiler is primarily a highly specialised measuring device which, by means of a complicated algorithm, is capable of precisely replicating the tonal characteristics of a signal chain. Generally, this chain first and foremost includes the amplifier that is to be emulated, the cabinet to which this is connected, and the microphone that is placed in front of it. This standard setup can additionally be expanded by adding pedals, which can also be profiled as part of the chain if desired. An "amp only" profile can of course be created, however, by connecting the amplifier to a DI box instead of a conventional speaker cabinet. To determine the characteristics of the individual signal chain, the Kemper then sends various measurement signals through the amplifier that is connected, on the basis of which it then creates a so-called "profile" – which even professional musicians have difficulty in distinguishing from the original in terms of sound and dynamics. The user can subsequently customise this profile by fine-tuning a range of different parameters before naming and saving it. In this way, players can archive their entire amplifier collection virtually without restriction and take it with them to gigs and into the studio.