Portable sampler with step sequencer
Maximum polyphony: 8 voices

Memory for up to 200 samples (8 MB, 130 seconds)

Sample frequency: 31.25 kHz / 16 bit

"Analogue Isolator" for bass and treble

Integrated reverb effect

Swing control

Pattern chain function

Sequencer: 10 parts, 16 steps

16 Memory locations for patterns

2 Different step jump modes

Start Delay

Functions: Motion Sequence, Active Step, Step Jump, Swing

Sample import via USB or via the AudioPocket app for iOS

Multi Touch Keyboard

LED display

Power supply via 6 AA batteries or mains adapter (Korg KA-350 - not included)

Dimensions (WxHxD): 193 x 45 x 115 mm

Weight without batteries: 372 g

Includes sync cable and 6 AA batteries
Connections:
Stereo headphone output: 3.5 mm mini jack

Sync input and output: 3.5 mm mini jack

MIDI input

Micro-B USB
Available since
September 2020
Control
MIDI, Trigger Pads
Optional Expansions
Korg Volca Series
Special Features
Battery Powering
With its Volca series, KORG introduces a line of compact analogue synthesizers that are easy to play and can be used to create entire productions. The Volca Sample, as its name suggests, is a sample-based drum machine with a 16-step sequencer. The illuminated control knobs allow the samples to be extensively edited via twelve different parameters, while the "Tempo" and "Swing" controls can be used to adjust the rhythm. A digital reverb unit is also on board to add extra spatial effects to the performance. This second-generation drum machine expands on the original Volca Sample with an additional USB port for computers as well as a larger storage capacity for samples and new sounds.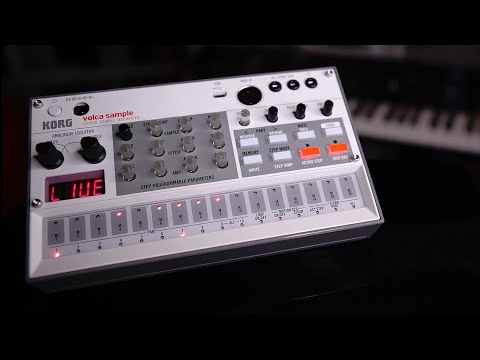 Clearly designed sequencing
The Volca Sample features an eight-voice polyphony and a sequencer with 16 steps for playing ten sequences simultaneously. Up to 16 patterns can be stored and arranged into a song, with a maximum of six patterns. In live performance mode, the 16 keys reproduce rhythms in a fixed grid, whereas in step mode they enable steps. In addition, 150 internal samples and 50 memory slots for your own samples are also included, thus offering sufficient space for a total of 130 seconds of audio with an internal memory of 8MB. A two-pole filter and an envelope are used to process the samples, while start and end points can also be specified. The FUNC key activates additional functions for the 16 keys, including the motion sequence, which records automations of the adjustable sample parameters.
Created for successful performances
Electronic music artists will find in the Volca Sample a compact drum machine that allows them to create sample-based rhythms in the smallest of spaces, ideal for beginners and advanced musicians alike. The Volca Sample is a rompler, as it does not record the programmed sequences, making it particularly suitable for live performances - which is also thanks to its clearly designed user interface with illuminated controls that are especially useful in dim lighting conditions. In addition, the Volca Sample can be operated wirelessly using AA batteries - six of which are included in the scope of delivery, as is a sync cable for synchronising with other Volca Samples. The Volca can also be transported safely and conveniently using one of the optionally available cases.
About Korg
For many years, the Korg brand has been synonymous with innovative synthesizers, workstations, keyboards, digital pianos, and more. With instruments such as the MS20, Polysix, Wavestation, KRONOS, and the Volca series (to name but a few), the Japanese company founded by Tsutomu Kato and Tadashi Osanai in 1963 has created legendary synthesizers whose names are music to the ears of many keyboard players. In addition, the Korg company is the inventor of the world's first handheld tuner, the WT-10. However, Korg has always stood for quality and innovation, not only in analogue synthesizers, digital workstations, arranger keyboards, and digital pianos, but also in guitar amplifiers. After Korg acquired the brand rights to Vox Amplification Ltd. in 1992, Korg expanded the Vox brand to include inexpensive digital guitar amplifiers with integrated modelling technology, in addition to new versions of the legendary AC30.
Sample recording with the app
One of the latest features of the Volca Sample is the chain mode for patterns with two different step-jump modes. In addition, a delay can be used to shift the starting points of individual parts, creating varied rhythms. The "Audio Pocket" app for iOS records new samples and sends them directly to the Volca Sample, so new sounds can be recorded quickly and easily via a smartphone. In this way, new rhythms can be composed from ambient sounds. Volca Sample users can also download exclusive sample packs and demo songs by two artists: Moe Shop and Torenia.
This is what customers who viewed this product bought