Optical Tube Compressor
High-quality components and Cinemag transformer from US production

With Black Lion Audio T4BLA opto element

Control modes switchable between compression and limiting

Controls for input gain and peak reduction

Calibratable VU meter for information on level or gain reduction

Input / output: 6.3 mm TRS jack balanced

Construction: 19" / 2 U

Dimensions (H x W x D): 88 x 438 x 250 mm

Weight: 3.7 kg
Available since
February 2023
Attack/Release Adjustable
No
Modern "2A" limiting and compression
In order to create the Lin2a, Swedish manufacturer Lindell Audio has entirely recast the iconic mono optical compressor/limiter of the late 1960s. The original model was the world's first dynamics processor with an optical-electronic control element. Entire generations of producers have sworn by its clean and musical renditions which have worked wonders worldwide on vocal and bass recordings (among others). The Lindell Audio LiN2A has remained faithful both technically and in spirit to the original model, while modernising its appearance. The Lin2A delivers its characterful sound at a fraction of the price of a vintage model: compared to its current competitors, the Lindell Audio LiN2A falls within the mid-range price category.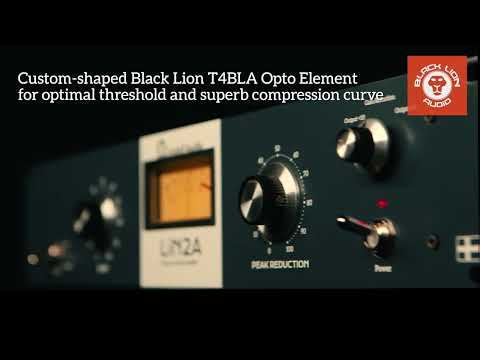 Simply genius
Though the Lindell Audio LiN2A's amplification is tube-driven, it is not a true tube compressor per se. The LiN2A is an optical compressor that takes full advantage of this technology in order to produce highly musical and artefact-free renditions. Like its predecessor, the LiN2A features only two control knobs, making it unbelievably simple and intuitive to operate. A switch selects between compressor or limiter operation (which respectively correspond to 3:1 and ∞:1 ratios). The Lin2A features high quality components, including a superb 'opto element' by Black Lion Audio, US manufactured Cinemag transformers and carefully selected tubes. The Lindell Audio LiN2A might not be a perfect replica, but it is undoubtedly crafted to very high standards, and is more than capable of convincingly reproducing the original's distinctive tonal characteristics and ease of use.
Sound and personality
Thanks to its unique tonal qualities, the forefather of all optical compressors has been held in the highest esteem for almost six decades. And that hasn't changed to this day. Quite the contrary: the Lindell Audio Lin2A's tubes effortlessly add warmth, volume, and liveliness to (sometimes over-clinical) DAW recordings, even without using any noticeable compression if so desired. Vocals and acoustic instruments which require subtle dynamic processing will greatly benefit from the Lin2A's smoothness and transparency. Moreover, one doesn't need a professional budget to acquire a Lin2A. And considering the price, a few minor compromises (for example the use jack input as opposed to XLR) can easily be overlooked.
About Lindell Audio
Lindell Audio was founded in 2010 by Swedish producer Thomas Lindell, who as resident producer at Göteborg's illustrious Bohus Studios has collaborated on numerous hit albums. The company's products are designed to match Thomas's personal demands in terms of sound quality, features, and user-friendliness, true to his motto of "Recording equipment by producers for producers". After initially offering modules for the API-500 rack – based loosely on various pieces of classic gear – Lindell Audio began to manufacture 19" devices that are unmistakably inspired by legendary vintage equipment. Alongside a high level of quality, Lindell Audio's philosophy also includes a commitment to affordability, and for this reason the company's products are developed in Sweden and manufactured in China.
Tracking and mix made smooth
Like the classic compressors of the past, the Lindell Audio LiN2A is capable of significantly enhancing sources that require subtle processing. Vocals and acoustic instruments are particularly notable in this regard. Whether as part of the recording chain while tracking or added later to a mix channel, the LiN2A will showcase its qualities. When combined with other vintage gear (or contemporary replicas), it will effortlessly deliver that authentic 60s sound. In a modern studio environment, it adds a highly appreciated touch of liveliness and warmth to the sound.
In the spotlight
T4 Element and tube configuration
The Lindell Audio LiN2A hides some very interesting extras under the hood. To reduce manufacturing costs, Lindell Audio has replaced the original tubes (12BH7, 6aq5, 2 x 12AX7) with a similar, but more affordable, selection (respectively 6n6 and 6p1). However, the LiN2A can easily be upgraded and made even more authentic by replacing the tubes themselves. An additional socket, specifically designed to accommodate the 6aq5 tube, has been provided to this effect. Thomas Lindell has asked Black Lion Audio, a highly reputable specialist in analogue/vintage audio gear, to provide the T4BLA Opto Elements for smooth gain reduction and transparency. The T4BLA Opto Element is the fruit of extensive research and analysis of the original configuration, thus conferring an authentic sound to the Lindell LiN2A.