Multi-Effects Pedal
Multi-effect processor with the helix sound

Over 300 effects and models from the Helix, M series and other Line6 products

6 Simultaneously usable amplifiers, boxes and effect blocks - including looper and IR loading

Coloured LC display

Integrated audio interface

3 Footswitches with colour-coded LED rings

MIDI In and Out

Expression pedal connection

Input: L / Mono and Right

Output: L / Mono and Right

USB

MIDI In and Out / Thru

Headphone output

FX loop

Aux in

Dimensions: 17.8 x 12.6 x 6.6 cm

Weight: Approximatey 800 g

Connection for 9 V DC 3 A power supply

Includes power supply
Available since
November 2018
With the HX Stomp, Line 6 has packed all the sonic capabilities of its renowned Helix into a compact-sized pedal. The result: A pocket-sized all-in-one digital system for ambitious guitarists and bassists. In terms of hardware, the HX Stomp simulates the core elements of a conventional setup: Amps and miked cabinets and both upstream and downstream effects of all kinds, which of course can be stored and configured as desired. The HX Stomp's high-performance signal processor enables it to generate two complete signal chains comprising amplifier and cabinet models or to act as a versatile multi-effects unit – and the pedal can even be used as a USB audio interface.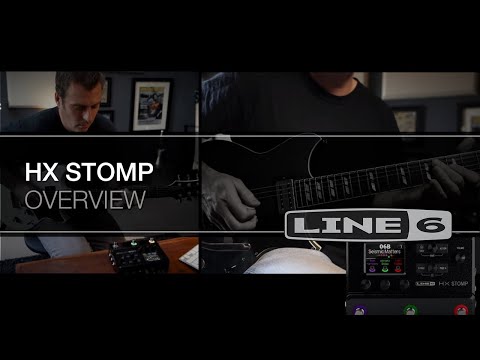 A pocket-sized guitar rig
The HX Stomp includes first-class simulations of 62 amp channels, 37 speaker cabinets, 17 microphones, and more than a hundred effect types. And thanks to the powerful signal processor, it is even possible to create two separate signal chains, making a storable complete system that fits into your pocket. The HX Stomp's authentic-sounding tone is achieved using sophisticated component modelling, and third-party impulse responses for the cabinet simulations can also be loaded. The colour display makes operation straightforward, while the unit's surprisingly extensive connectivity makes it easy to integrate into a wide range of environments, including USB connection to a computer for recording projects. The HX Stomp is easy to operate despite its small dimensions, and it can also be configured from a computer using the corresponding free editor software.
A turbo charge for guitar and bass
The HX Stomp comes into its own whenever you need a comprehensive selection of amplifier sounds and effects – including storage capability and both MIDI and real-time control – for live applications, during rehearsals, or when working out musical ideas. What is more, the HX Stomp's immense range of amplifier simulations and effects make it ideal for multiple different musical genres – from top 40 cover to Djent Metal – and is also suitable for bass guitarists. And last but not least, the HX Stomp (which receives regular updates from the manufacturer) is also a great choice for use with keyboards and line-level instrument signals.
About Line 6
The American manufacturer Line 6, which has been an affiliate of the Yamaha group since 2014, is one of the pioneers in the field of digital amplifiers for guitarists. The company was founded in 1996 and, that same year, presented the world's first digital modelling amplifier: The AxSys 212. The breakthrough came in 1998 with Line 6's POD, which made sound modelling available in home studios for the first time. Since 2015, the Helix series has provided even more refined simulations. The Variax technology has additionally allowed the Californian firm to model electric guitars sounds with ever more flexibility. Besides effects pedals, Line 6 also offers software and recording technology, and is active in the field of digital wireless systems for sound transmission and small PA systems.
A universal enhancement and safety net
The HX Stomp is a practical all-in-one solution for recording your ideas, and it's ready to go whenever you are. On stage, it is capable of replacing an entire amplifier setup and thus ensuring a consistent sound from night to night while eliminating the stress factor and also offering an impressive range of different tones. At the same time, however, the HX Stomp can be used as a safety net or a recording output with cabinet simulation, or it can be added to an existing setup as a source of supplementary sounds and effects.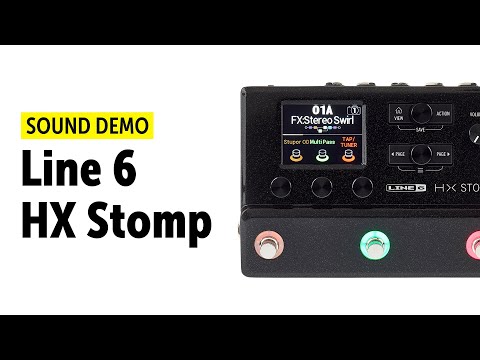 In the spotlight: Component modelling
In component modelling, a real circuit is measured one component at a time and digitally emulated with precisely the same characteristics. This allows an exact analysis of the installed components' individual properties, actuation, and characteristic curves to be made, which results in an overall sound that is closely based on a specific original instead of on a generic circuit diagram, and its responsiveness and playing dynamics are also astonishingly authentic.
This is what customers who viewed this product bought